Paris is potentially the tourist capital of the world. It can be hard to truly immerse yourself in the city when everywhere you look someone is bumping into you with their selfie stick or shouting awful French at a local as they struggle to find the nearest Maccas—not exactly the vibe all of the saved snaps of paradise in your Insta feed gave you. But fear not, because we've teamed up with experts on all things Parisian, L'OR Espresso, to bring you five things you didn't know you could do in Paris.
Plus, there won't be any obnoxious tourists there.

Controversial, we know. But when in Paris, right?! (That is how the saying goes, no?). O'Naturel is Paris' first all-nude cafe allowing diners to enjoy all of the foie gras, gravelax, snails and creme brulee without the restrictions of a waistband. So if dining in the nude wasn't already on your bucket list you'll want to add it because it's probably the most Parisian experience you'll ever have.

Okay, okay—visiting beehives is probably not the quintessential experience you had in mind when visiting Paris. But we encourage you to get your explorer on when you visit Jardin Du Luxembourg to find these hidden beehives. Fun fact, beehives are nestled all over Paris—even on the roof of the Opera House. Whip that one out next time you're at trivia and thank us later. Now, back to the Jardin Du Luxembourg—the beehives are nestled next to the fruit orchard and make for the perfect excursion away from the crowded tourist spots.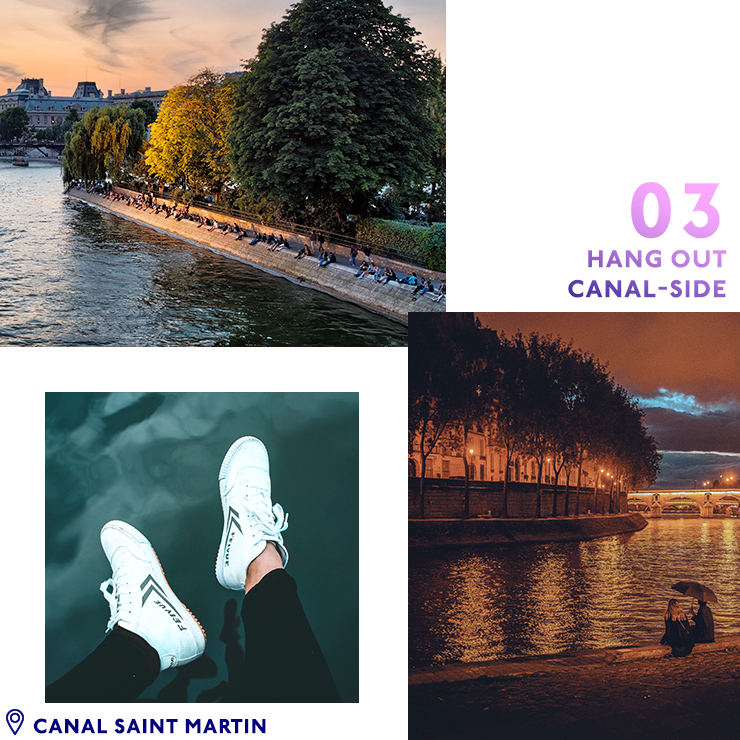 Canals aren't just to be found in Amsterdam, oh no—Canal Saint Martin is a buzzing spot for locals that is often over looked by tourists. You may recognise this picturesque spot from the backdrop of Amèlie. Think iron bridges, stunning vistas, and oodles of Parisian vibes. The area is littered with adorable eateries and bars, and is free from the love-lock-carrying swarms of tourists that crowd the banks of the river Seine. So pop on your sneakers and explore this stunning area by foot.

Parc de Belleville is the go-to spot if you're looking for somewhere with a killer view, but without having to queue up to get that classic Instagram shot. Ahem, Trocadero, we're looking at you. The park features grassy knolls perfect for enjoying a picnic with one of the best views across Paris. Plus, you can be that friend who posts a photo in a totally mysterious location in Paris that makes your friends think you're a total local.

Okay, this one is kind of random, but stick with us: there's a literal hidden mountain in the middle of Paris. Yup. Allow us to introduce you to Parc des Butte Chaumonts. It's truly a weird experience, but you 100% need it on your itinerary. The mountain even comes complete with a replica Roman temple. The park gets mega-crowded in summer when locals head here to soak up that European summer. Plus, there's a great view of Monte Marte from here!
Craving a trip to Paris now? Check out our after-dark guide to Paris for more inspo, and check out L'OR Espresso for a taste of Paris at home.
Editor's note: this article was produced in partnership with L'OR Espresso. Thank you for supporting the partners that make The Urban List possible. To read our editorial policy, click here.