Fact: nothing is more elegant or versatile than a LBD (or, in this case, a LND – little navy dress). You can rock it at a cheeky coffee catch up, on a date night to blow away your first-time Tinder meet-up, or bring the fierce to a casual shopping trip.
This must-have item is one of our favourite pieces from búl's recent collection. It's flattering on all shapes and we're confident it can be worn to any occasion. Want proof? We stalked a few of our favourite fashion goddesses and found the perfect way to style this delicious dress every day of the week. You are most welcome.
Monday | Coffee Catch Up at Venus Wholefoods | Sydney
Keep it Monday-casual with a delicious coffee from Venus Wholefoods, and these to-die-for Acne sneakers. Our girl crush on Emmanuelle Alt only intensifies as she rocks this plaid jacket.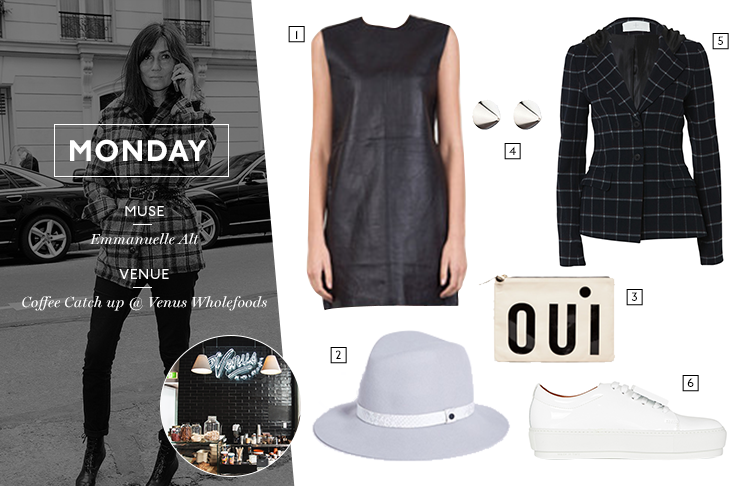 1. Bul Aultbea Dress
2. Rag & Bone Grey Floppy Brim Fedora from Tuchuzy
3. Claire V Oui Clutch from The Standard Store
4. Eddie Borgo Cone Stud Earrings in silver
5. Thakoon Addition Plaid Blazer with hood from Grace
6. Acne Studios Adriana Patent Sneakers from Green With Envy
Tuesday | Date Night at Longhorn Saloon | Melbourne
Sigh. When will our lives be as awesome as Harper and Harley's Sara Donaldson? Probably never, but it doesn't mean we can't copy her gorgeous white-coat-on-black-dress combo at Longhorn Saloon.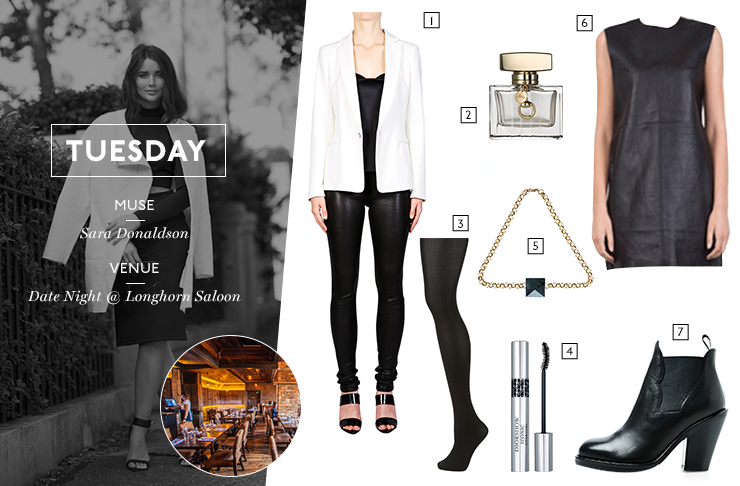 1. Proenza Shouler Blazer from Green With Envy
2. Gucci Premiere Eau De Toilette
3. Wolford Fatal 50 Tights
4. Diorshow Iconic Mascara
5. Alex & Eliza Pyramid Code Necklace in Forest Green
5. Acne Star Leather Ankle Boots from Incu
6. Bul Aultbea Dress
Wednesday | Lunchtime Shopping at Easton Pearson | Brisbane
Be not afraid of these glittery Golden Goose sneakers in all of their glory. Our spirit animal Leandra Medine certainly isn't. Show it off while giving the credit card a good swipe at Easton Pearson.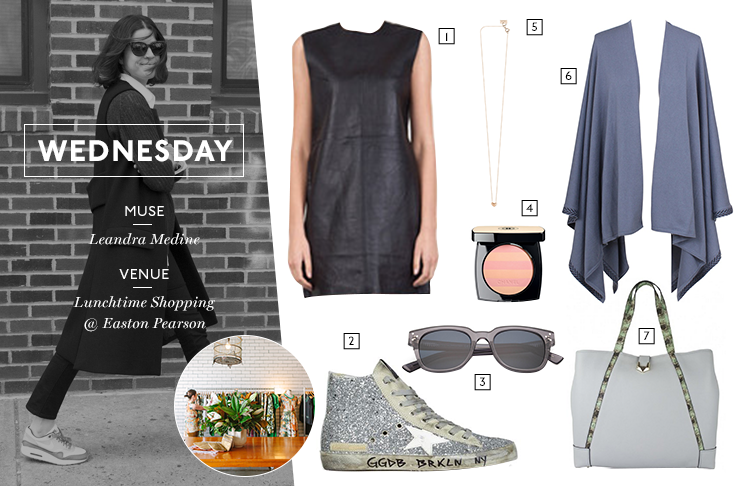 1. Bul Aultbea Dress
2. Golden Goose Francy Moon Silver Sneakers from Camargue
3. Spektre Semper Adamas Sunglasses from The Standard Store
4. Chanel healthy glow multicolour SPF 15+
5. Vanrycke Muse necklace in Rose gold from Me and Moo
6. Ginger & Smart Wanderer Wrap
7. Matthew Williamson Shopper tote from Maryons
Thursday | Just-Because Dinner at Chaco Bar | Sydney
Oh Olivia, is there anything you can't pull off? Beat the winter chill and throw on this white knit by Grace Melbourne while getting your chow on at Chaco Bar. Just don't spill any on your gorgeous knit.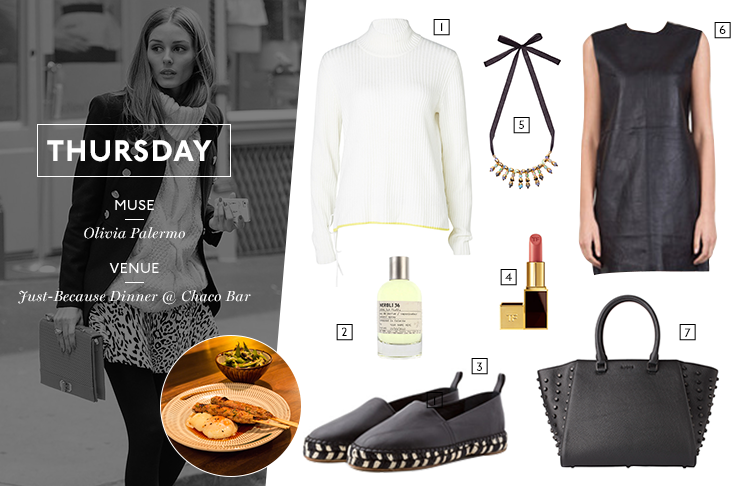 1. Grace Ribbed Jumper with Lacing & Tip from Grace
2. Le Labo Neroli 36 from Mecca
3. Proenza Schouler Leather Espadrilles from Green With Envy
4. Tom Ford Lipstick in Twist of Fate
5. Megan Park Floret Necktie
6. Bul Aultbea Dress
7. AVGVS Dionaea Tote
Friday | End-Of-Week Cocktails at Bomba | Melbourne
If you aren't channelling Kate Moss at Bomba every Friday night, you are wasting your time. Switch up your head-to-toe black and rock this needs-no-introduction jacket by Sydney label Stanzee.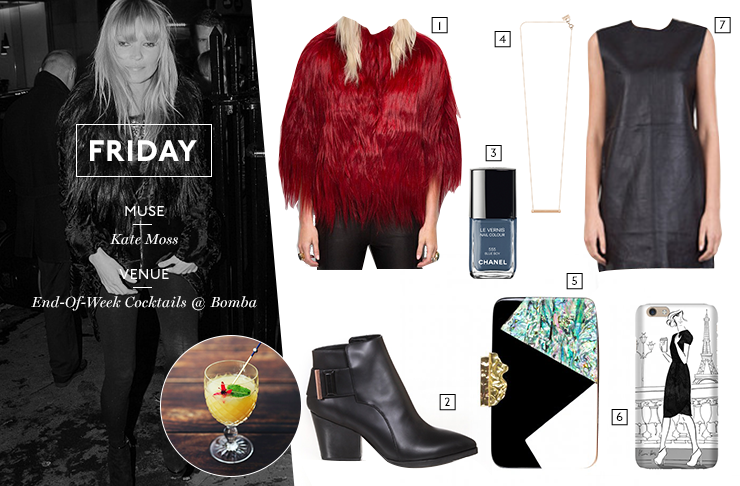 1. Stanzee Billie Jacket from Camargue
2. Ginger & Smart Commander Boot
3. Chanel Nail Polish in Blue Boy
4. Vanrycke Bonnie & Clyde Necklace in Rose Gold from Me and Moo
5. Beyond The Stars Miniauderie from Molten Store
6. Kerrie Hess Café Crème au Siene iPhone Case
7. Bul Aultbea Dress
Saturday | Catch-Up Brunch at King Arthur | Brisbane
Ahhh the classic denim jacket, how you make us swoon. Especially when worn over this leather dress and paired with these incredible Fendi x Thierry Lasry shades. Knock 'em dead at King Arthur.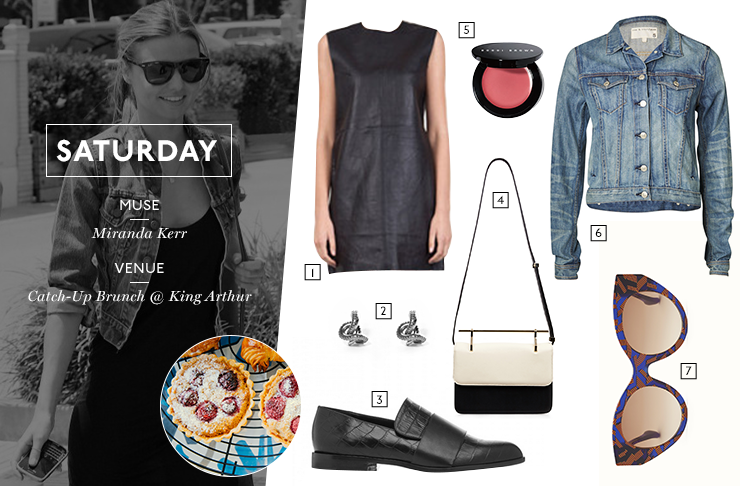 1. Bul Aultbea Dress
2. Percival Luto Graptus Earrings in Silver from Fallow
3. Camilla & Marc Honour Loafer in Black Crocodile
4. M2 Malletier La Fleur Du Mal Handbag from Green With Envy
5. Bobbi Brown Blush In Rouge
6. Rag & Bone The Jean Jacket in Perfect Wash from Grace
7. Fendi x Thierry Lasry Sunglasses from Optiko
Sunday | Long Boozy Lunch at Aqua Dining | Sydney
Long, boozy and full of chin-wags, just the way we like our lunches at Aqua Dining. Cap off the week rocking this eye-grabbing Darcey ring by Chloe and their must-have flap leather chain bag. You deserve it.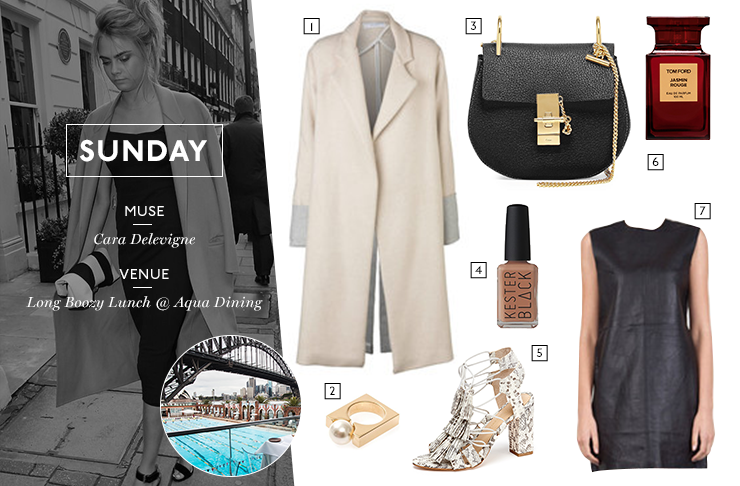 1. Viktoria & Woods Nomadic Long Coat
2. Chloe Square Brass Ring with Pearl from Maryons
3. Chloe Flap Leather Chain Bag from Maryons
4. Kester Black O&M Conditioner Nail Polish in Camel
5. Loeffler Randall Luz Sandal
6. Tom Ford Jasmin Rouge Eau De Parfum
7. Bul Aultbea Dress