Another reality dating show is just about hot off the press in Australia and what better way to celebrate our increasing national deficit in brain cells than with a custom made drinking game. Enter: Boozy Bachie Bingo—the best excuse to drink tropical themed spirits on a school night.
It's time to rally up the group chat and put the cob loaf in the oven because here's how to play the ultimate Bachelor In Paradise drinking game (and you know you're excited AF).

Printed Boozy Bachie Bingo card (see below)
The Boozy Bachie Bingo points list (see below)
A television or streaming device
A bottle of Malibu (or a tropical alternative)
1 writing instrument per player
An open mind and the knowledge that these people are not here to find love, they're here to get Instagram followers and future hosting gigs on drive time radio

Each player skulls a bottle of mixed berry Passion Pop and then fills out a blank bingo card by selecting 25 points from the list provided below (or makes up their own common Bachie words, action or phrases).
Double check that everyone's Bachie Bingo cards are unique.
If one of the 25 points on your Bachie Bingo card happens during an episode, mark the square and do a shot of Malibu.
The first person to mark off five squares in a row and yell, "who wee'd on my bloody Love Fern??' wins and gets to submit one friend of their choosing to the next season of Married At First Sight.

Write 25 of these on your Boozy Bachie Bingo card:
(Hot top: Judging by a recent photo posted by Channel 10, it's looking like the Bachie and Bachettes for the opening episode are (in order of fertility): Tara Pavlovic, Florence Moerenhout, Michael Turnbull, Lisa Hyde, Keira Maguire, Luke McLeod, Davey Lloyd, Jake Ellis, Jarrod Woodgate, Leah Costa, Blake Colman, Nina Rolleston and Eden Schwencke.)
Someone cries.
Jarrod wears a rash vest.
Keira asks Mack if he's a jockey.
Tara says 'mate'.
Apollo does a magic trick.
Michael says he's a professional soccer player.
Someone says, 'this is my second chance to find love'.
Leah says 'strategy'.
Jarrod announces he's moved on from Sophie.
Someone says 'journey'.
Luke gives another man a compliment.
Keira slags someone off & laughs.
Osher walks along a beach in a Hawaiian shirt.
Someone suggests skinny dipping.
Laurina refuses to eat something.
Blake wees on Jarrod's Love Coconut.
Eden challenges someone to a dance-off.
Jarrod smells someone's hair.
Mack asks if anyone needs a top up.
Blake denies literally anything.
Keira gets drunk & falls in the pool.
Osher asks, 'how ya feelin' mate?'
Someone forgets Brett's name.
Davey asks Eden if he's seen Step Up: All In.
A girl says she regrets prioritising their career.
Someone suggests naked beach volleyball.
A previous Bachelor or Bachelorette is mentioned.
Someone boards a yacht.
Flo tells someone they're fat.
Tara does a shoey.
Sam mentions his Double Delight Rose.
Keira wears a choker.
Someone asks Flo where she's from.
Tara compliments someone's 'siq abs'.
Leah starts looking for an immunity idol.
Someone mentions their biological clock ticking.
Lisa talks about her gahp yah in Africa.
Someone (Jarrod) gets sunburnt.
A couple mashes lips in the hot tub.
Someone's job title is 'Marketing Manager'.
Elora juggles fire.
Someone says 'looking for love'.
Two people fight over the same guy/gal.
Nina loses a Kylie Lip Kit in the ocean.
Apollo juggles coconuts.
Someone suggests naked Marco Polo.
Leah finds an immunity idol.
Jarrod accidentally calls another person Sophie.
Someone gets saved from a rip.
Osher rage quits & storms off set.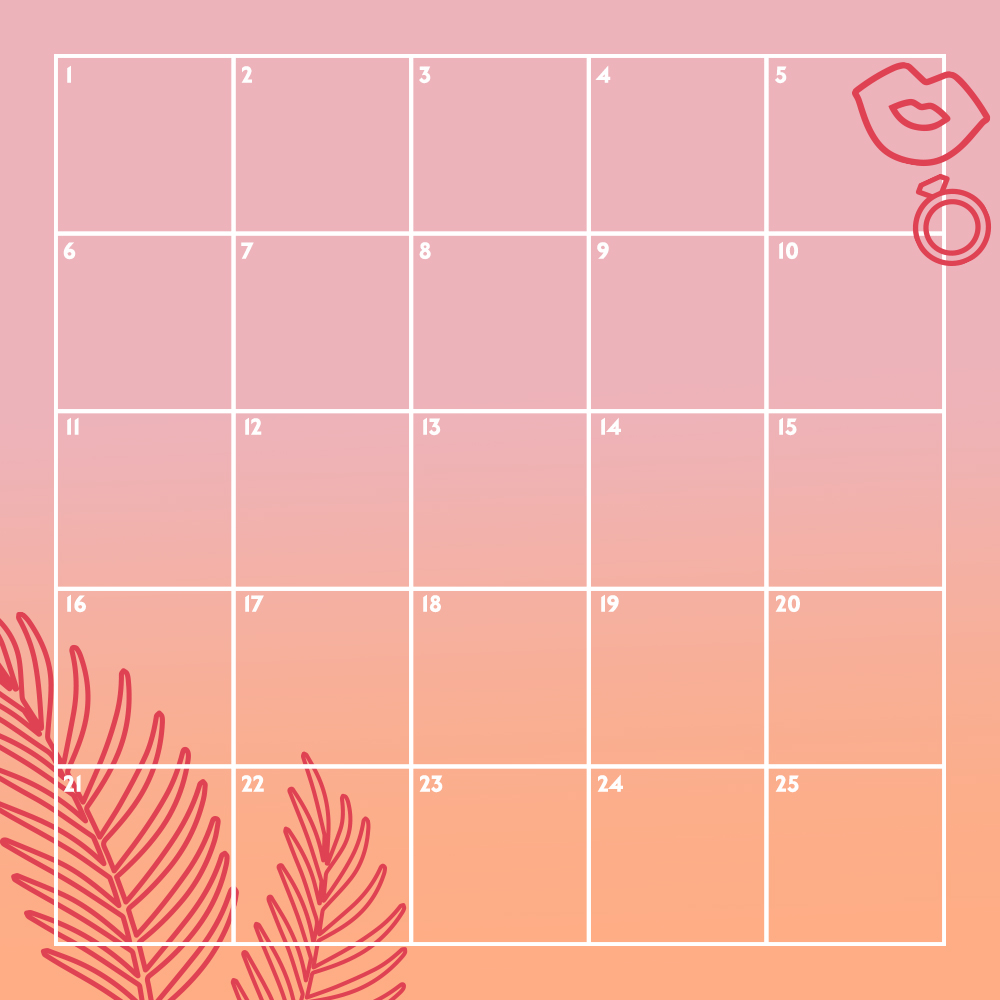 Want to find out more about the Bach-testants? Head here.
Design credit: Sarah Law