As far as Brisbane's best dining institutions go, Venzin Group sits high on the list. They're the crew behind Mons Ban Sabai, Monocle Coffee, Pawpaw Asian Kitchen and Pawpaw Cafe, which just celebrated its 10 year anniversary—a true testament to locals' love affair with their tantalising eats.
The hospitality scene was hit hard during COVID, but luckily for us, Venzin Group took the challenge in their stride by continuing to deliver on their signature crowd favourites while also revitalising their menus with a few new additions and even launching a pop up bakery. So no matter if you're hungry for brekkie, lunch, dinner or a snack, to help you get a taste of it all, we've rounded up the very best dishes you need to sink your teeth into.
Get A Taste Of Southeast Asia At Pawpaw Cafe And Pawpaw Asian Kitchen
If for whatever reason you're yet to unfold a napkin at Pawpaw, here's the rundown. No matter what you're looking for, Pawpaw Cafe in Woolloongabba has you covered with its exotic and authentic Asian dishes no matter the time of day. The menu is loaded with signature dishes and crowd favourites like the eggs benny croissant, beef cheek massaman and the 'Gram-worthy charcoal pancakes with raspberry curd, white chocolate ice cream, fairy floss and berries. Just be sure to wash it all down with one of the signature cocktails like the cold brew martini featuring Monocle cold brew, vodka and Kahlua that is available at any time of day—seriously. Can't get to Woolloongabba? You'll also find Pawpaw Asian Kitchen in Balmoral serving up their trademark Southeast Asian eats for dinner.
In case you missed it, most recently Pawpaw launched a pop up bakery slinging a rotating roster of house-made donuts that are quickly reaching cult status. We're talking coffee-glazed, Nutella, vanilla custard, lemon meringue and so many more. And just a heads up, it's slinging gluten-free and vegan options too. Winning. It's also worth noting that Pawpaw Cafe in Woolloongabba is a stunning space that specialises in intimate weddings, birthdays and baby showers. So, if you've got any big celebrations coming up, you know where to go!
Devour 'Gram-Worthy Thai Dishes At Mons Ban Sabai
As for Mons Ban Sabai, this venue boasts humble beginnings starting over 20 years ago as a small farmers-market stall dishing out Thai curry pastes and offering home cooking lessons. Fast forward to today, the Martha Street venue holds a slew of accolades as one of Brisbane's best Thai restaurants and cooking schools.
Mons is best known for its island duck curry and holy basil stir fry but if you're the type of person who likes to get a taste of all, we highly recommend grabbing a few of the entrees to share. Mons' steamed bao, vegan spring rolls and curry puffs are hands down some of the best Thai starters going around. But best of all? Mons has a big focus on local suppliers and produce with a wine list made up almost entirely of Queenslander wines.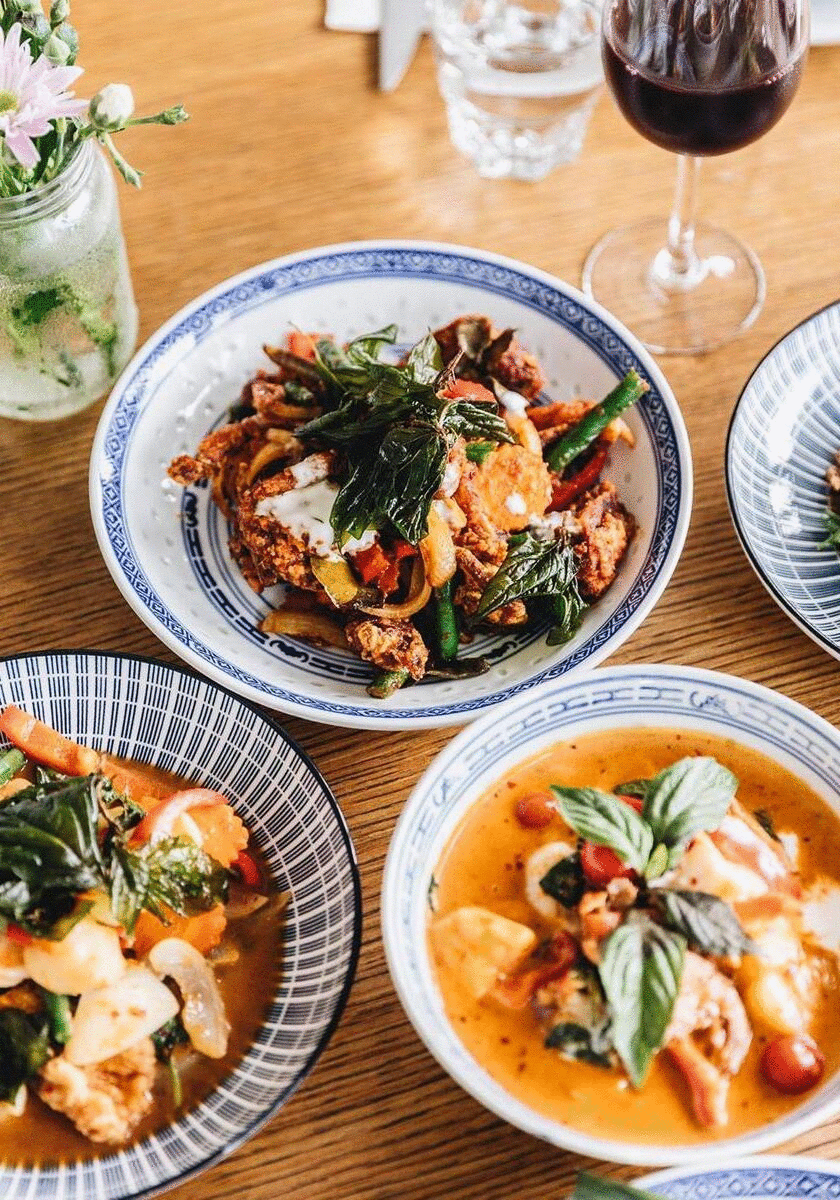 Consider Brekky Sorted Thanks To Monocle Coffee
In July last year Venzin Group added yet another eastern suburb venue to its stable, Monocle Coffee. Tucked away on the corner of Thynne Road and Victoria Street in Morningside, this hideaway venue opened with a menu of fresh boutique salads, crispy pastries and specialty coffee but now the team has added a sit-down food menu to its lineup of eats. We're already drooling over the smashed avo on sourdough toast, breakfast burrito and juicy breakfast burger, so consider your brekkie and caffeine needs, sorted.
Already drooling? Whether you're chasing breakfast, lunch or dinner, book a table with Mons Ban Sabai, Monocle Coffee, Pawpaw Asian Kitchen or Pawpaw Cafe and we guarantee you'll be in for a mighty fine treat.
Editor's note: This article is proudly sponsored by Venzin Group and endorsed by Urban List. Thank you for supporting the sponsors who make Urban List possible. Click here for more information on our editorial policy.
Image credit: Venzin Group