2015 will forever be remembered as the year Brisbane flipped a lid and got fresh. I mean funky fresh. Clean laundry out of the dryer, morning roses newly washed with dew, competition for the people at Woolworths: PHRESH.
It seems as if every facet of life and leisure was elevated this year, and with so many new openings popping up all over the place it's understandable that you might have lost track. Go innovation stations and tuck into this refresher of the best new openings that shook up Brisbane in 2015: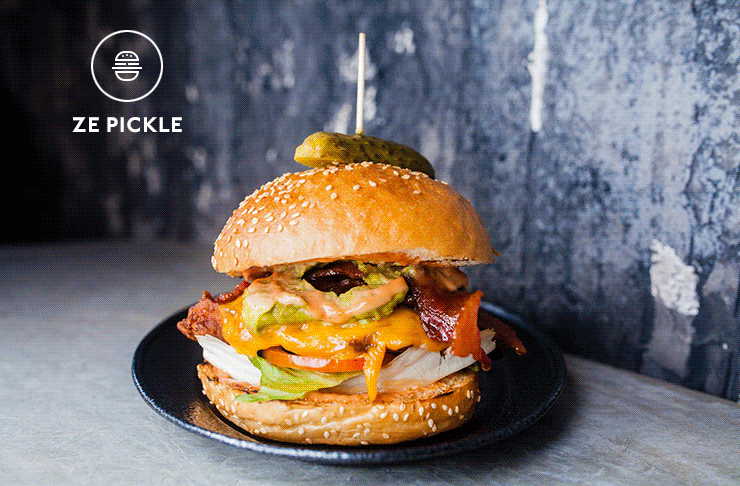 The Stores
With everything under one roof, The Stores is West End's culinary Bunnings. With a cheese closet, wine cellar, bulk bin emporium, expansive library of jams and relish, as well as butchery and curing courtesy of Shulte's meats, West Enders have run out of reasons not to shop local.
Queen of Pops
Leading the way for a sub-tropical coffee revolution, Queen of Pops broke away from the pack to bring us caffeine in the most summer-friendly form: popsicles. They're refreshing, creamy, sweet, and contain a double ristretto in each one for maximum pep. Also, zero burns if you drop it in your lap.
Miss Kay's
In Miss Kay's, our thriving burger scene welcomed the addition of not only some of the most Uncle Sam burger combinations in the game, but also a big-eating challenge known to floor professional chow hounds. Miss Kay's also do an insane breakfast with the notable inclusion of fried chicken waffles and ice cream. Shriek.
Barbara
Live music, buttermilk fried chicken from Lucky Egg, brewskis, and kegs on Sunday; these are the ingredients that make Barbara and give Warner St a reason to be. Open early and closing late every day of the week, just trust us when we say Barbara is here to take care of you.
Billykart West End
The encroaching empire of Ben O'Donoghue has advanced from sister location in Annerley to nest in West End and it's got the city slickers wrapt. Everything at Billykart West End, from breakfast to digestifs and dessert, will slap a stupid grin on your face and give you warm shivers the next time someone mentions 'liege waffles'.
Bao Down Now
Realistically, how much could a steamed bun excite us? A whole lot, apparently. Bao Down Now has completely elevated the bao game and established its status on Brisbane's late night chowscape to rival burgers and pizza. For those who doubted, bao your heads in shame.
Ze Pickle
Since blowing in from the bustling Gold Coast, Ze Pickle has been hard at work ingratiating themselves with the Brisbane palate. To that end, their stake-raising changes to the traditional burger formula mean ubiquitous helpings of Wagyu mince patties, jack cheeze, and a pretty hectic triple burger sandwiched between two grilled cheese sandwiches.
Morning After
Flooded with natural light and more fresh air than you could get by sitting in a park, Morning After is a waking wonder of zip and snazz to brighten your day. They've nicely perfected their operation in time for summer and their avocado toast is in danger of causing a riot.
Nodo Donuts
The donut fad has recently kicked off in a huge way, but Nodo has been infiltrating our favourite café's cake cabinets for long enough to garner a cult following. Ever dedicated to our pleasure, Nodo have very graciously opened their own gluten-free bakery in Newstead where punters and fiends load up on the unofficially prettiest donuts in Brisbane.
Lick!
After wooing us thoroughly with daily sightings in gourmet providore's, guest appearances on dessert menus, and a starring role in the Ekka's strawberry sundaes, Lick! ice creamers and purveyors of joy set up a nifty little parlour in Graceville where you can face plant into all the ice cream you can handle until they cut you off.
Les Bubbles
We regret to inform you that this site is no longer a brothel. Filling out the old stomping ground of crooked cops, Les Bubbles is bringing us back to the bygones. Their signature steak frites promises no shortage of frites and can be chased up with a classic selection of retro sweet from bombe Alaska to apple tarte tatin.
Asana by Pete Evans
That zesty, blue-eyed champ from the TV dropped a #paleo bomb in the CBD and to be honest nobody has fully recovered yet. Rather than casting us back into the Stone Age, Asana has breathed new life into healthy eating with an array of delicious dishes for all times and appetites.
Fitz + Potts
Nundah locals were thrilled to capacity when Fitz + Potts landed earlier this year. The concept of a neighbourhood bar has been gaining traction and we're thrilled to say that Fitz + Potts has exceeded all expectations. A wine bar, beer garden, and cheeky dive in digs like your best mate's house, Fitz + Potts is the perfect place for a mellow mid-week catch up or chillworthy Sunday sesh.
The Bleachers
The same glory behind Ben's Burgers has been sent across the river and reassembled into a schmick new fit out including a DJ booth and backyard bar situation. The Bleachers' bacon and cheese waffle, and the inclusion of Tonkotsu on their eggplant burger are just two examples of The Bleachers' point of difference within Brisbane's vast and flourishing burgerscape.
Eleven Rooftop Bar
The skyscraping good times reached peak altitude when Eleven Rooftop Bar landed earlier this year. With slammin' juice and all the makings of a James Bond location scout's wet dream, this stratospheric haven is a high-flying hotspot for Veuve, views and gin-induced vertigo.
One Wybelenna Day Spa
Conveniently settled in the lushlands of Brookfield, One Wybelenna Day Spa is the tranquil oasis we've been waiting for. Offering half-day indulgences for early markers, couples packages for power pairs, and seasonal spa rituals for summer, One Wybelenna is the perfect respite from all the havoc and mayhem the Christmas season inevitably brings.
Gauge
Gauge's Frankensteinian mash-ups have set about tearing down our expectations and building up a new precedent of foodgasm-induced comas. If parsnip custard and freeze-dried bee pollen on a sourdough waffle isn't a flippin' revelation then what is?
Maker
Willy Wonka's entire meal in a stick of gum has nothing on the complexity and exuberance combusting within each sip of a Maker cocktail. Taking their lead from nearby sister, Gauge, this broom-cupboard mixing house is notorious for its mind-bending creations and transcendent liquours. And you thought the 60s were psychedelic.
Fuel & CO
It's just what we needed and more than we could have hope for. Managing the trajectory of early morning breakfast until evening wine and tapas, there's hardly any reason to ever leave Fuel & CO's cosy little wedge of the Nundah burbs.
Kin + Co.
The latest in Teneriffe's multi-leveled brewspots talked a big game prior to their explosive opening and we are so glad they delivered. Lunchboxes, breakfast boxes, jaffles, coffee, sweets, and widespread hysteria; that's all you'll get at Kin + Co.
Image credits: Ariana Gillrie