As Newstead locals (and enthusiasts), we here at the TUL office are super-duper excited to see the area blooming into the hip and vibrant community it has the potential to be. When we heard that new dining and retail precinct, Mosaic, is due to open up just down the road next year, the team took the opportunity to put on our visionary (unqualified) Town Planner caps and imagine what our ideal neighbourhood would look like.
Should you get inspired by our ideal neigbourhood suggestions, you can play City Planner too, and leave your ideal neighbourhood list in the comments below. In fact, the lovely folks at Mosaic are so keen to hear your suggestions they are offering a $150 voucher to Sixes and Sevens to whoever can come up with the best ideal neighbourhood list!
What are you waiting for? Get suggestin'!
Organic Lunch Delivery Service | What's not to love about recently opened The Farmer's Son? Fresh, healthy lunch, and they bring it straight to you!
Teppanyaki Bar | A good teppanyaki bar means a good night out. The theatre of the traditional Japanese cooking style is so entertaining, and the food is always so fresh!
A Pop-Up Market Space | Jan Powers City Markets are such a great way for busy 9 to 5 workers to get their fruit and veg on, but we need one closer to the office.
Record Store | Anyone with a true appreciation for tunes knows it's vinyl all the way. I love Rocking Horse in the city.
Handmade Stationery Store | Using beautifully handmade letterpress stationery makes everyday in the office feel spesh. Maybe Little Peach Co. could open their first retail store here?
Hole-In-The-Wall Dumpling Bar | Serving dumplings. And just dumplings. We would be there every day if a spot like Happy Little Dumplings decided to call Mosaic home.
Space for a Pop-Up Shop | Everyone loves a good pop-up! An empty space just for new pop-up shops would mean you'd always be stopping by to see who had just popped up.
Fine Dining Mexican | The taqueria trend has well and truly taken hold in Brisbane, but we could definitely use some more refined Mexican dining north of the border. Mamasita in Melbourne does it well.
Organic Japanese | Fresh, tasty sashimi is perfect for summer lunches. It would be great to see something like The City's Bonsai Botanika open up here.
Vegan Bakery | The Baker's Arms in Woolloongabba is full of vegan and gluten free treaties. We need one in walking distance of our office and we'll be there everyday at 3:30pm, without fail.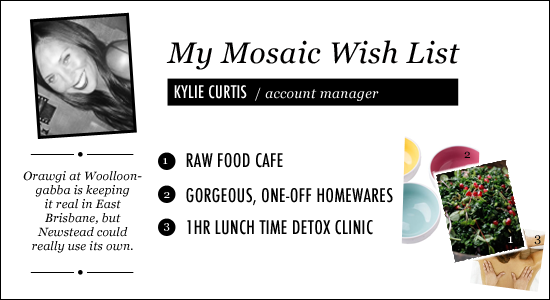 Raw Food Café | Raw food is having a major moment (and it's delicious)! Orawgi at Woolloongabba is keeping it real in East Brisbane, but Newstead could really use its own.
A Gorgeous, One-Off Homeware Store | I get such a kick out of buying homewares that I know no one else will have in their homes—it's like treasure hunting!
1hr Lunchtime Detox Clinic | Maybe you've had a few too many wines on a school night, or maybe you just need to clear your head before back-to-back meetings that afternoon. Either way, it would be great to unwind with an infrared sauna and massage. Function Well are already on to this trend, but it would be great to see more of these places around.
Champagne Bar | There are so many whiskey bars popping up at the moment, but champagne is so much better! With oysters too, please.
Express Nail Bar | It's hard to commit to a full 60 minute manicure, but you still want your nails to be in tip-top shape. Would be great if they did nail art as well!
A Spot for Sunbathing | A nice manicured patch of lawn, a good book, and a big sun hat and that's your vitamin D intake sorted.
Specialty Bookstore | Despite the convenience of iPads, specialty bookstores like Scrumptious Reads on James Street are still kickin' it, which is good for those of us with nostalgic tendencies.
Blow Dry Bar | I had my first blow dry treatment the other day (I know, what have I been doing with my time?), and woah, I felt like I had someone else's hair. What a pick-me-up!
Parking Space for a Food Truck | Food on wheels just speaks to me, and I like the idea of a truck rolling up every now and then to feed the masses.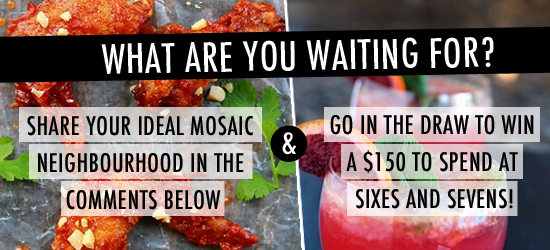 TUL Note: Today's List Love post is proudly sponsored by Mosaic and endorsed by The Urban List. Our sponsored posts will never be a secret - the List Love seal will be stamped on any sponsored material you see on the site. Thank you for supporting the sponsors who make The Urban List possible.
Image credit: Mosaic, Pinterest