Whether you stick to a plant-based diet all the time or you're just looking to be a more conscious consumer and go meatless once a week, South Brisbane's newest eatery has your back. After opening partially back in April for finish-at-home meals only thanks to lockdown, El Planta has finally opened its doors for dining in (or takeaway, if you prefer), with a full menu of plant-based Mexican feeds.
Taking up residence on Hope Street, the new venue is only small, but after operating as a pop-up kitchen at Wandering Cooks for 12 months, owners Adrienne Jory and Rick Gibson are pretty stoked to have a permanent location of their very own. And all that time in lockdown meant they had plenty of time for a DIY venue fitout, which they did—everything from sanding and painting to building the giant shared table that takes pride of place in the centre of the space. More seating outside on the footpath ensures there's plenty of room though, while inside, the walls are lined with framed prints and cacti galore.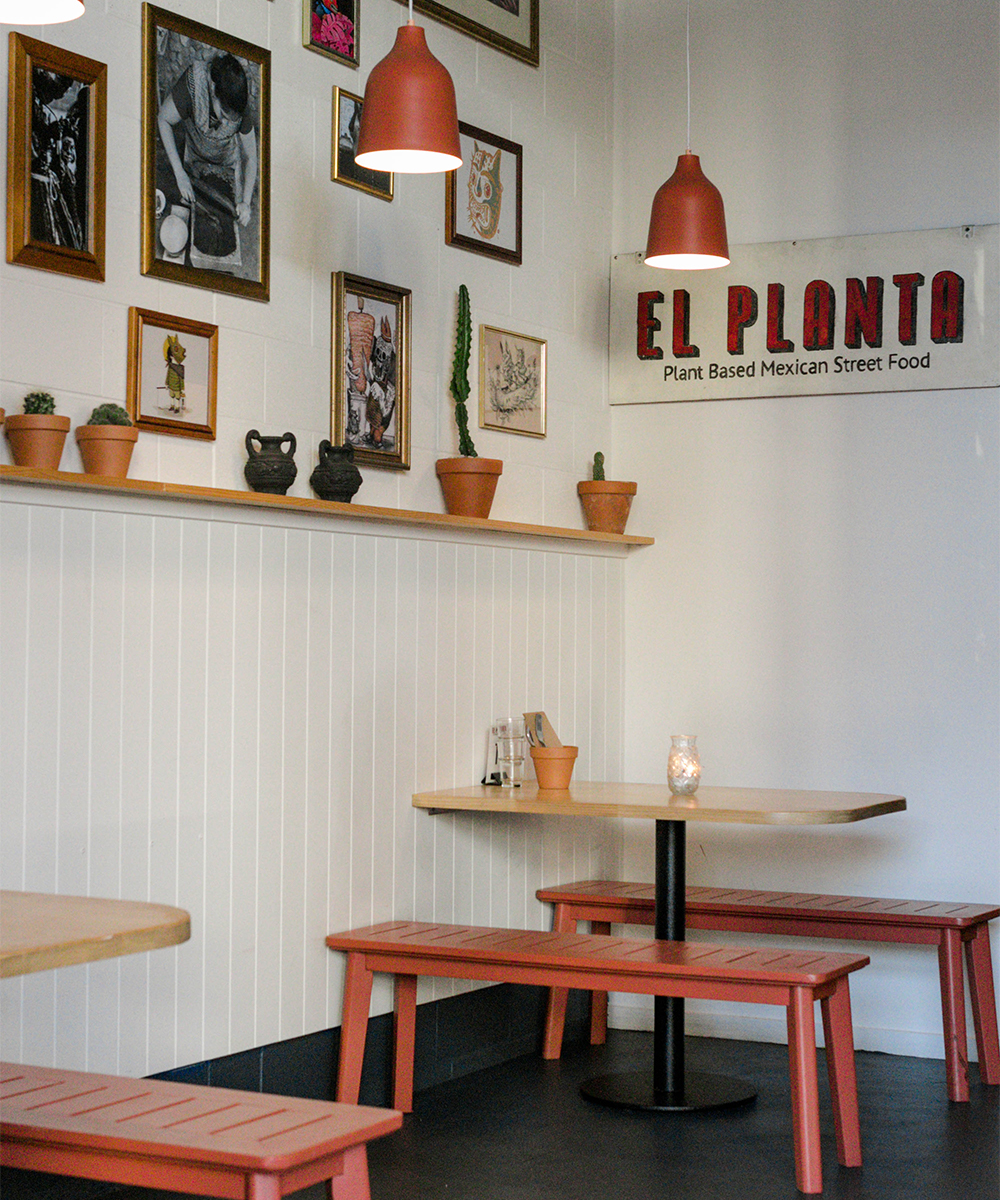 While the menu is entirely plant-based, Jory and Gibson refuse to pigeonhole El Planta as a vegan eatery. "We wanted it to be a good Mexican restaurant that just happened to be plant-based," Gibson says. "We don't want to be known as a 'vegan' restaurant—anyone can dine here, even if they aren't vegan."
Vegan or not, you'll find plenty to tempt you on the menu here. First up, there's the tacos they built a cult following around at Wandering Cooks, which come with housemade tortillas, salsas and sauces. Flavours rotate each week, though you'll always find some version of a pescado, carne asada and al pastor filling on the list. On our visit, the options included a beer battered fish taco (made with heart of palm—not that you'll be able to tell the difference) topped with pickled red cabbage and house made chilli mayo, a carne asada taco stuffed with braised mushroom stem, arbol salsa, avocado and white onion, and a roasted cauliflower number featuring cashew crema, morita salsa, plant-based cheese and toasted cauliflower.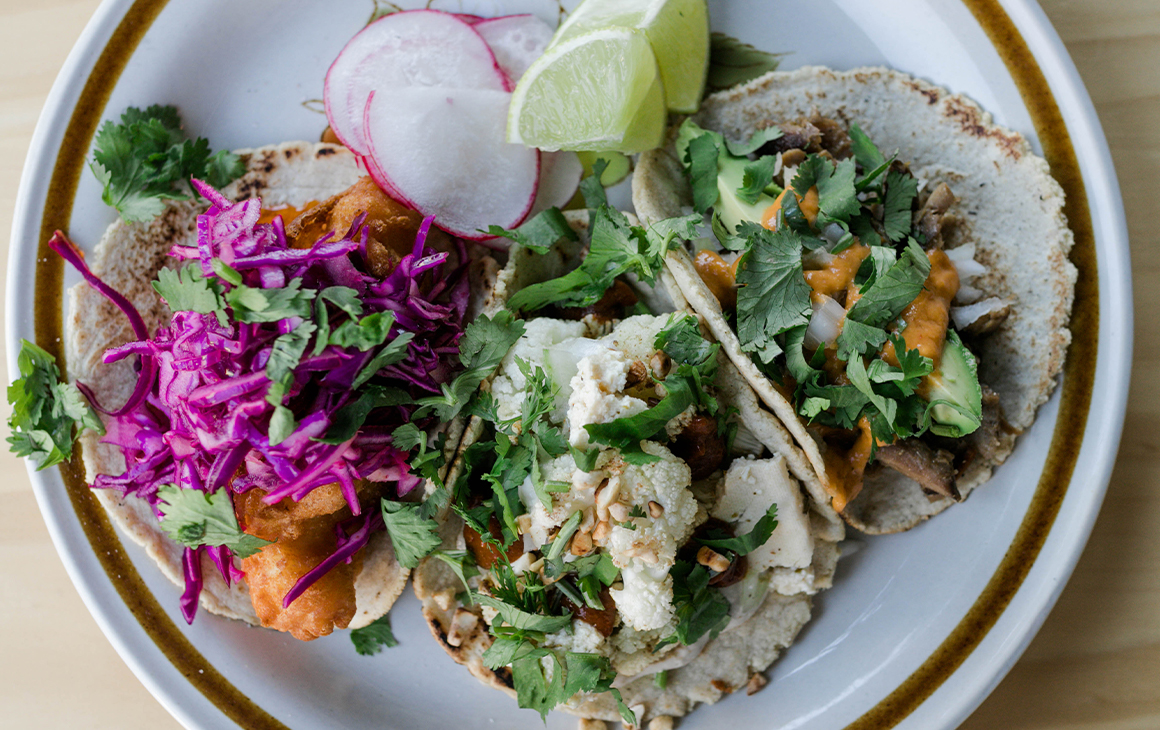 It's not all about the tacos though—you'll also find a selection of snacks to kick things off, including guacamole or plant-based queso with crisp housemade corn chips, grilled corn rolled in chipotle mayo and 'parmesan,' and beer battered onion rings. And mercifully, not a single tofu or chickpea dish in sight. "Being vegan doesn't just mean putting chickpeas on everything!" Jory laughs. "Chickpeas don't belong on tacos!"
Everything remains as close to its plant form as possible, even the few plant-based meats that are created in house, like the plant-based chorizo and slow cooked jackfruit in adobo sauce that takes the place of pulled pork. So if you've been looking for a delicious way to up your five-a-day intake, this is it.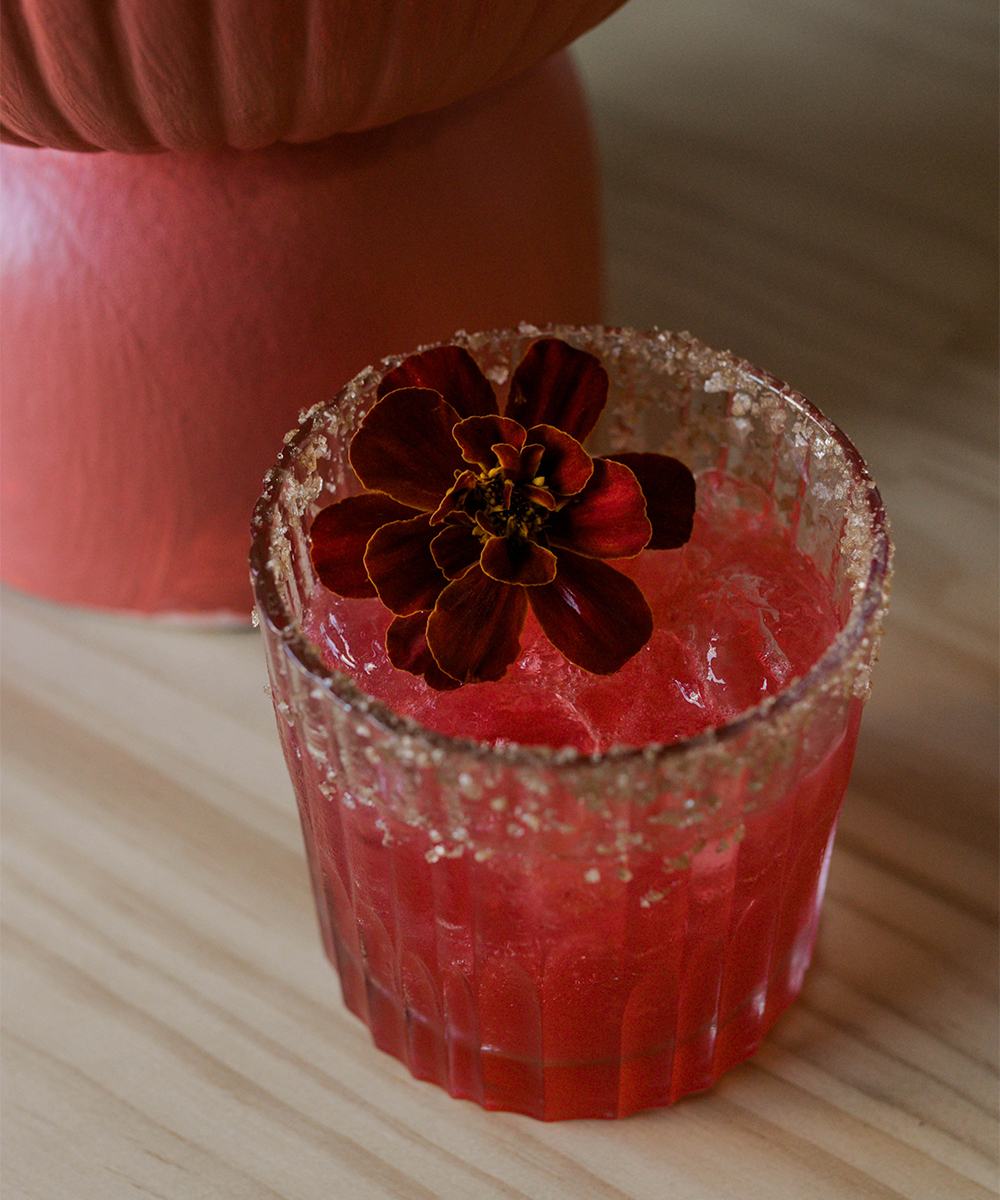 Of course, it's not a Mexican spot without margaritas, and El Planta delivers on the bar front as well. On the cocktail list, you'll find a classic, jalapeno, grilled pineapple and blood orange margarita, along with a tequila laced espresso martini, while a short list of Mexican beers and Australian wines round out the drinks menu.
So vegan, sustainably minded or even just on the hunt for a good fish taco (seriously, you won't be able to tell it's not fish), you'll find all the details on El Planta here, just make sure you book a table in advance.
Looking for more plant-based eateries? Check out our favourites here.
Image credit: Ranyhyn Laine