If we had to choose our absolute favourite weekend activity in Brisbane, it would have to be sitting on the grass at Felons Brewery at Howard Smith Wharves and enjoying one of their ice cold brews by the water. Evidently, we're not the only ones who think so, because it's usually near impossible to find a spot on a Saturday or Sunday afternoon—even before the pandemic brought on restrictions.
It's thanks to this ever-growing popularity that we've just scored a brand new venue to knock back a Felons beer, with the Felons Barrel Hall opening its doors today. Taking over the massive Howards Hall at HSW (the enormous functions venue that's been sitting pretty much empty since this pandemic started), the new beer hall will be a whole new experience for beer lovers, one completely different to the chilled atmosphere outside.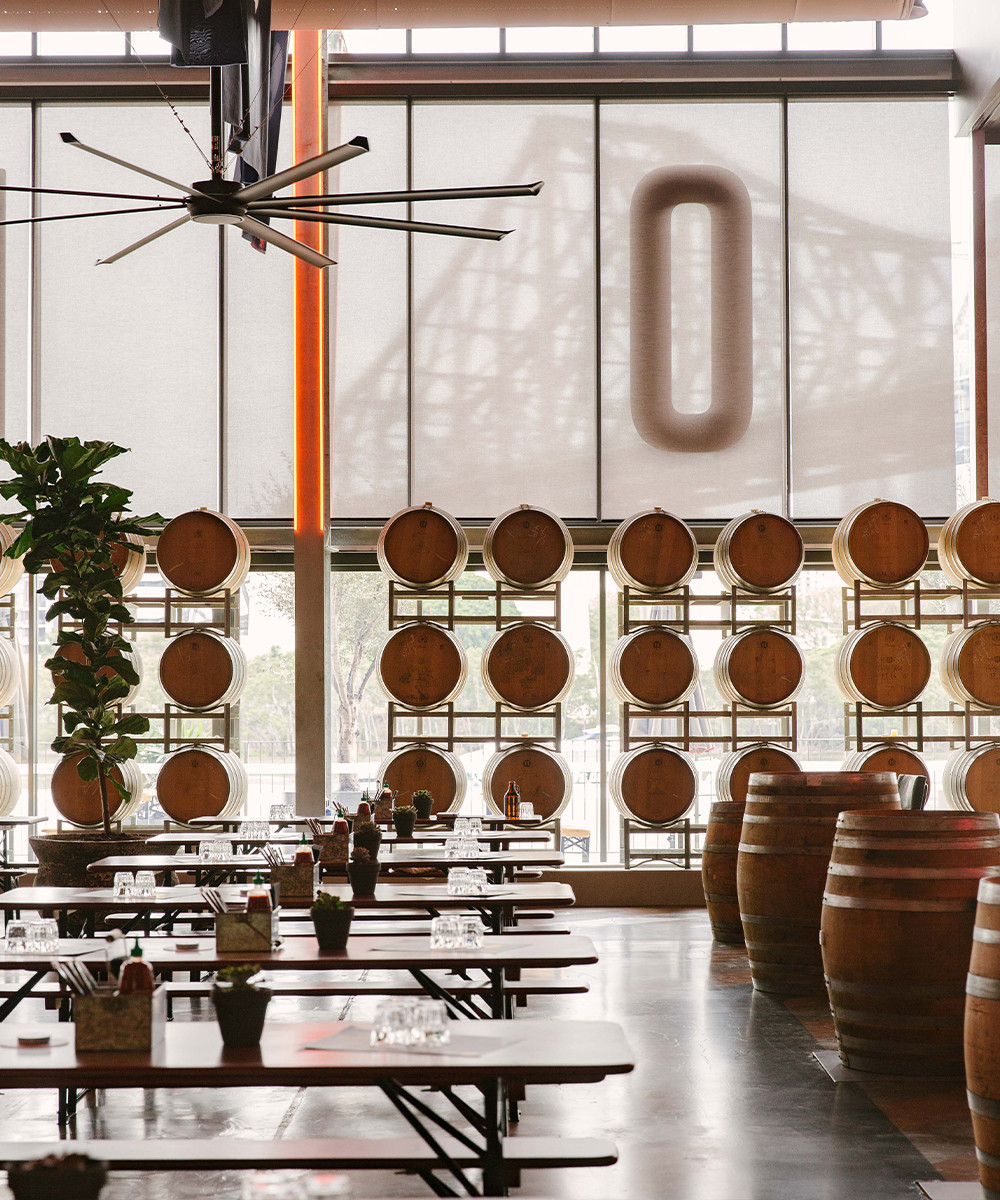 Inspired by the German beer halls you'll find across Europe, the spacious venue is lined with stacked oak ex-wine barrels, which will be used to age one-of-a-kind beers (more on that in a moment), while behind the bar you'll spot four 6,000 litre beer tanks brewing up different sips. And if you've ever been inside the hall for an event before you'll know there's plenty of space to sit and stand, so you're almost guaranteed a seat on any given weekend. Bonus, a stage at one end means live music on a regular basis, as well as cultural performances.
Now about those beers. Felongs Brewing Co.'s brewers are crafting some seriously adventurous beers in those ex-wine barrels, exploring all new flavours that celebrate local produce. You won't be able to taste any of them until 2021 (good things take time, after all), but for now you can sip your way through the core range of Felons beers, along with some seasonal and limited release brews, all of which will come served in half and one litre steins, in true German style.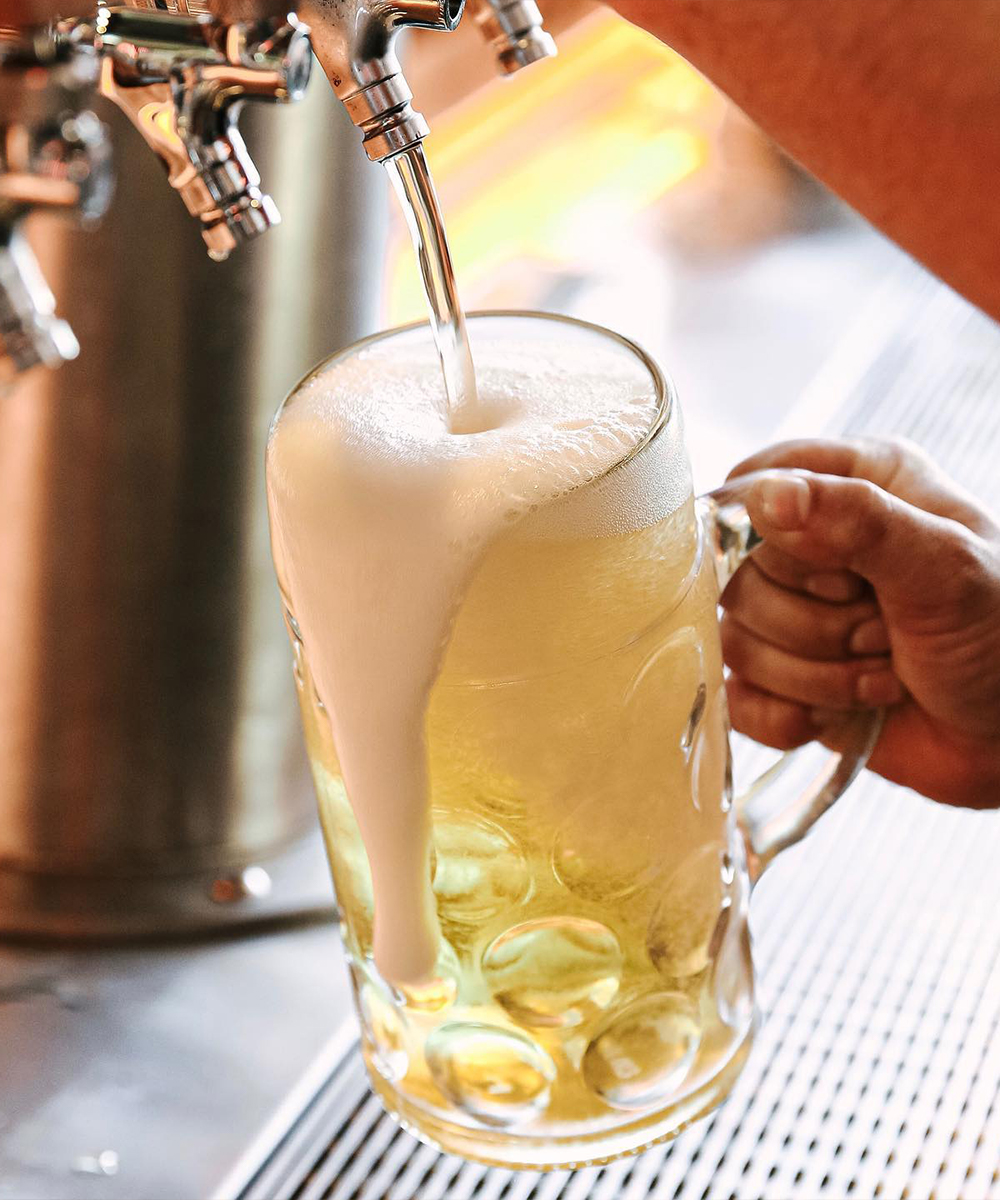 Now while the hall inspiration may be German, the food has a decidedly more South East Asian bent—though there's definitely still a crispy pork knuckle on the menu, and everything is designed to go down well with a beer. Start with snacks like Sydney rock oysters, pork crackling or sweetcorn and lime leaf fritters, then tuck into a dirty rice bowl with chilli chicken wings and a fried egg, Wagyu short ribs with fresh coconut or perhaps a red curry of lamb shoulder. If you're after a more traditional pub feed, don't worry, there's burgers, steaks and wings on the menu too, albeit with an international twist, but you'll find us digging into a pile of Moreton Bay bug or painted crayfish loaded fries slathered in seafood gravy.
Adam Flaskas, Howard Smith Wharves' Founder and Director, said "We're incredibly excited to continue the Felons journey for this great city, and we want Felons Barrel Hall to be a cultural experience for all to share and enjoy, from the beers to the menu to the live performances. We have worked day and night and put our heart and soul into this unique, new offering for Brisbane. We hope that you all love it and come to experience the magic of Felons Barrel Hall, on the mighty Brisbane river."
You don't even need to book to experience the magic—open Thursday to Sunday, Felons Barrel Hall is accepting walk-ins, though you can head to their website to book if you're bringing the whole crew. Get all the details on the new venue here.
Looking for somewhere to catch a game? Check out Brisbane's coolest sports bars here.
Image credit: Supplied