News of a new cafe hitting town is always a cause for celebration, but when it's a cafe from an iconic Melbourne coffee roastery and hospitality brand, well, Brisbane pretty much loses its collective mind.
Flinging open the doors on their airy, light-filled cafe-restaurant in Newstead this week, Industry Beans is already a staple of the southern states, having opened their first cafe in Melbourne in 2013. Now, they've brought the concept north, but while their house roasted brews and Instagrammable brunches are already worth frothing over, don't expect a cookie cutter copy of their other cafes—there's plenty of new additions to the venue that are just for Brisbane.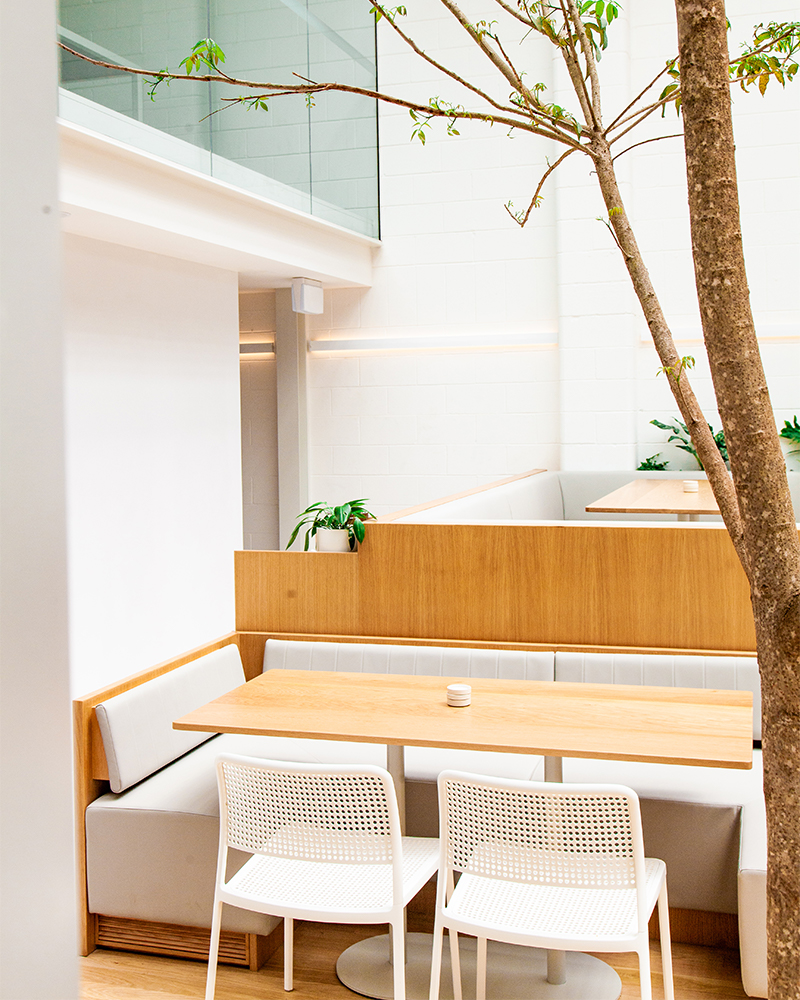 Firstly, brunch isn't all you'll find on the menu—the team here have added evening service on Thursday, Friday and Saturday nights, with a range of small bites and larger plates to tuck into with a wine or two. Which brings us to the other thrilling news—the Newstead cafe is the first to land a liquor license and with plenty of coffee on hand, you know what that means… Bulk espresso martinis. Oh yeah.
Bonus for Sunday brunch loving locals, the liquor license starts at 10am, so you can pair that espresso martini (or one of their other coffee-based cocktails) with a breakfast like the kohlrabi nest and poached egg topped artichoke hash with seared mushrooms and charcoal cauliflower puree. The Industry Beans signature dish is the stunning fruit sashimi with a wattleseed rice crisp, but if it's a more lunch-worthy feed you're after, the espresso glazed beef rib with potato foam and truffle sphere is worth a lengthy visit.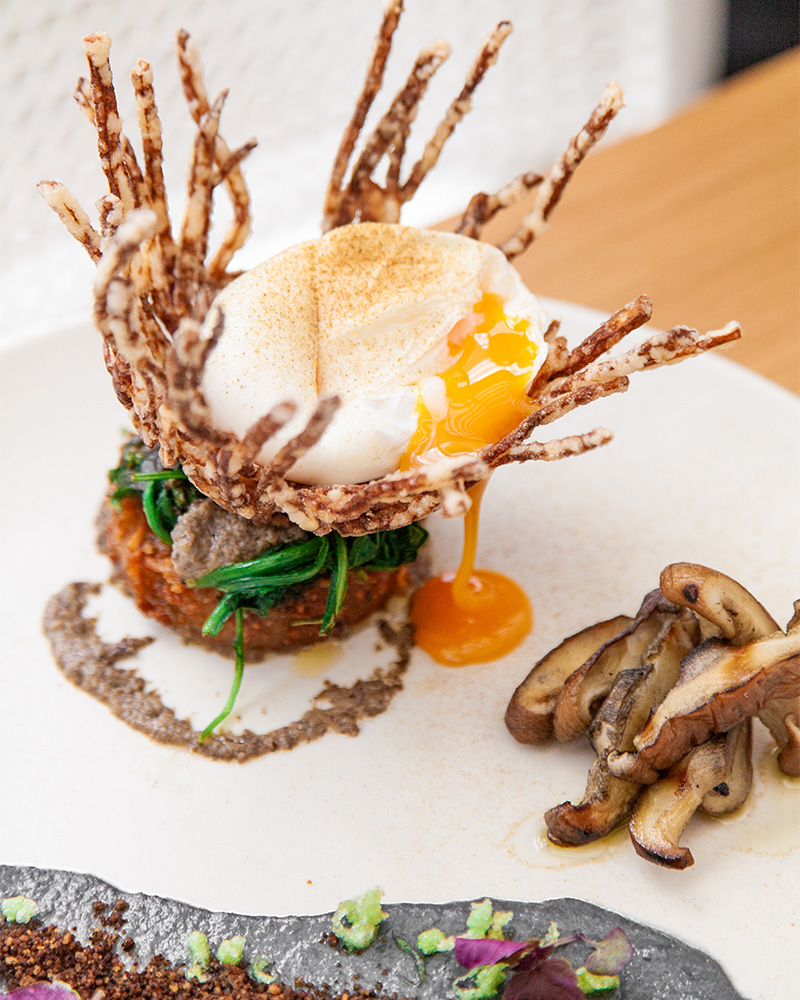 We haven't even mentioned the coffee yet. Industry Beans started out as solely a coffee roaster, and they've had nine years to perfect their skills. Here, you'll be given a menu for specialty coffee menu along with one for food, and it's just as hard to choose from—do you want your usual flat white with the Newstead blend, a cold brew, pour-over, drip or batch brew? Our pick is the bubble coffee complete with cold brew soaked pearls, but be warned: you'll be left buzzing for hours.
All this is dished up in a gorgeous, minimalist setting perfect for the Sunshine State. A slatted, covered rooftop ensures natural light fills every corner, with plenty of greenery to break up the white, Scandi-inspired space. At the cafe counter you won't see a normal coffee machine—thanks to a La Marzocco Modbar, all the major parts are hidden under a bench, allowing you to see the entire coffee making process above. And visible through a glass wall behind is the roastery, which will soon be churning out freshly roasted beans for brewing and purchase.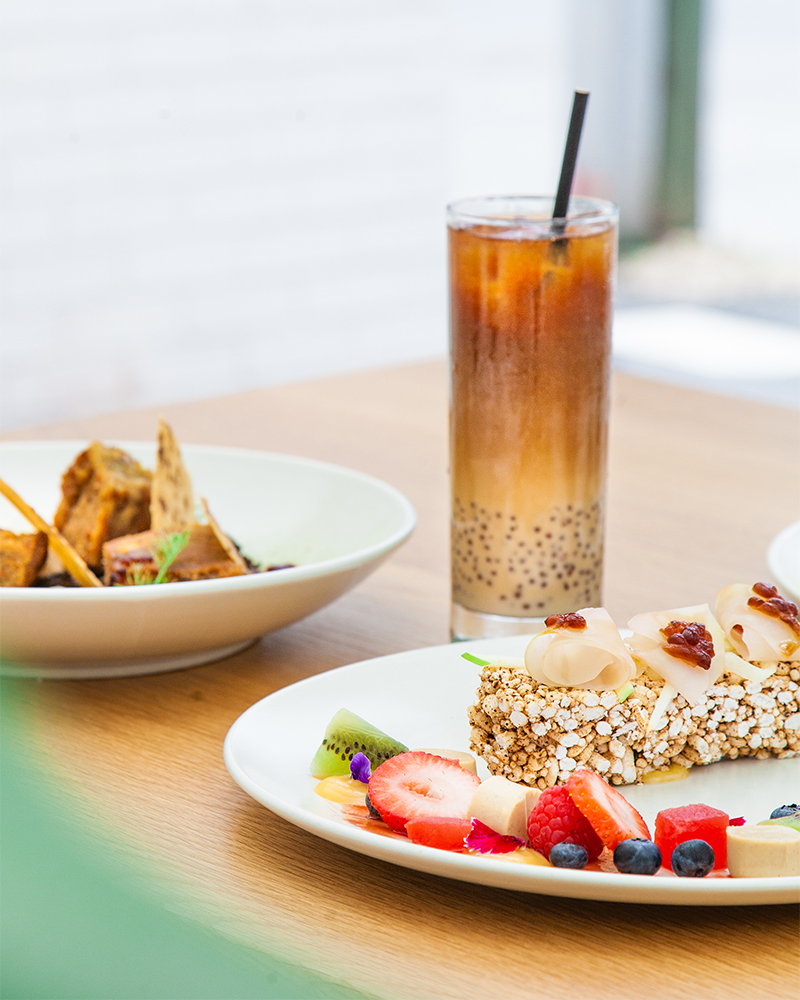 We could go on (and on and on and on), but we'll let you discover the rest—Industry Beans is now open in Newstead and you can find all the details here.
Newstead also just scored itself an epic new burger joint, check it out here.
Image credit: Sophie Spencer