When it comes to coffee in Brisbane, we're spoilt for choice. Every street corner seems to harbor a new espresso bar and coffee pop ups, erm, pop up at a moment's notice. Even boxing gyms and barber shops are getting their flat whites on. So when we got wind of a new coffee joint that required exploration into the depths of Elizabeth Street, before you even made it to the front door, we were intrigued. Maybe it was the treat-em-mean-keep-em-keen approach, but John Mills Himself feels like a refreshingly different kind of coffee run.
Hidden within the heritage-listed John Mills building on Charlotte Street, the CBD cafe takes its name from the printer who once occupied the space with his partner but turned the name into the disgruntled singular after the pair had a falling out. Luckily, owners (and Street Food Australia collaborators) Billerwell Daye and Helen Bird have a less tempestuous working relationship and John Mills Himself is a bastion of reclaimed beauty. An intricate mosaic, pieced together with tiny hexagonal tiles greets visitors at the door, while the exposed brick and warm wooden beams give the café a stylish, bolt hole feel. A piano hides among a row of pot plants in the corner, and if you turn up to tinkle the ivories during the café's weekly Piano Night, you'll be rewarded with a dollar off your coffee.
Speaking of coffee, John Mills Himself are all about keeping things close to home. Local roasters, Cup Coffee have been called in for their seasonal blends and the Ethiopian Yirgacheffe comes straight from Kenmore's Single Guys. The choice ranges from filter, espresso and aeropress to the trusty iced Latte, but if you're a real coffee nerd, ask a barista about the Filter Shot — a shot that involves running roast beans through an espresso machine, before filtering out into zingy caffeine hit.
In the coming months, the team hopes to open later for drinks — although not your average after work tipple. The beer and wine will all come within 250km of Brisbane and air miles will be tallied up for each drink. "Our ethos is to keep everything as local as we possibly can," explains Daye. "At the onset there will not be food, but not long after will be applying for a food license and will be serving charcuterie plates with local cheeses, local salami products and home sourced pickles and nuts." In the meantime, we're happy to make do with the handmade pastries from Crust & Co and even happier to have met John Mills Himself.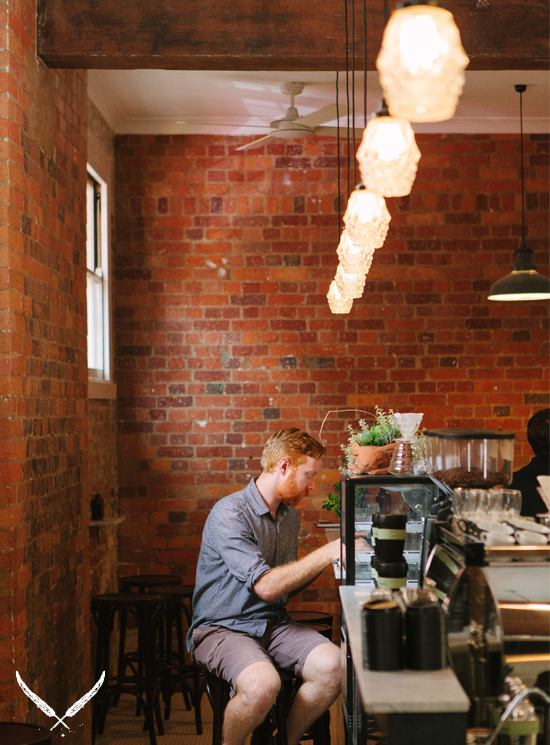 Image credits: Daniel Maddock