Pastel pink might seem like an odd choice for the interior of a suburban taphouse, but if you know Lost Palms from their Gold Coast brewery in Miami, then you'll understand the aesthetics. Housed in an old industrial building painted a vibrant shade of pink, the original venue is every inch the funky, coastal brewery and bar you'd expect to find on the southern end of the Gold Coast, and now, the team have brought some of those beachy vibes to Sherwood.
Though you won't find the Lost Palms beers being brewed in the new, smaller location, you will find them all on tap, meaning you won't have to travel anywhere near as far to get your fix of their creative sips—and when we say creative, we mean it.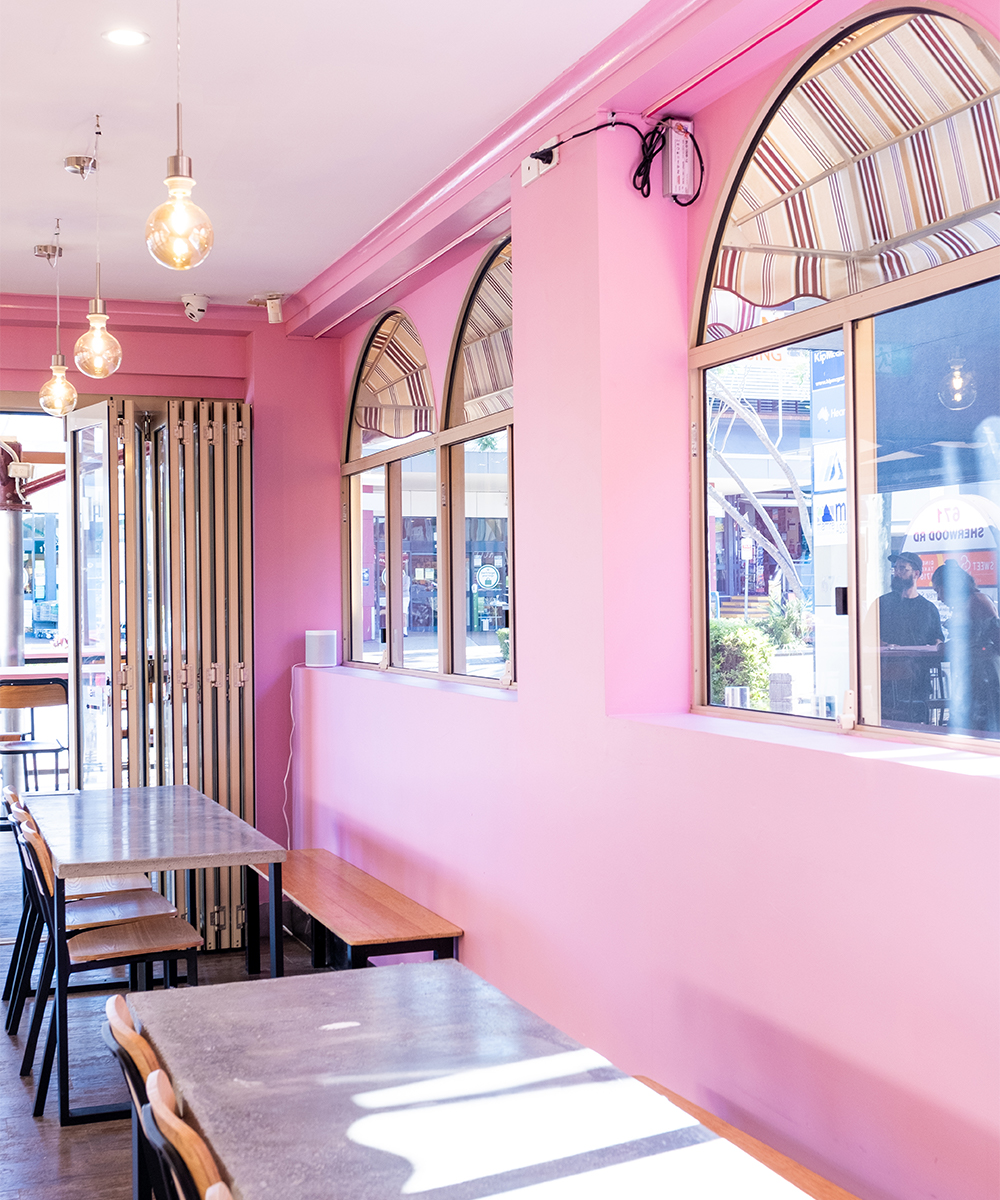 The trio behind Lost Palms Brewing Co. are uni friends Jarrod Blanning, John Walz and Joseph Ernest Lister, who met while studying engineering. What started as a homebrew project under a house in Brisbane, has now completely blown up to become a beer range that includes an XPA, a gluten-free (labelled 'low gluten' out of caution), low carb Gold Coast Bitter, their 300 Days of Sunshine session ale and even a low sugar seltzer, which they were doing before it got cool.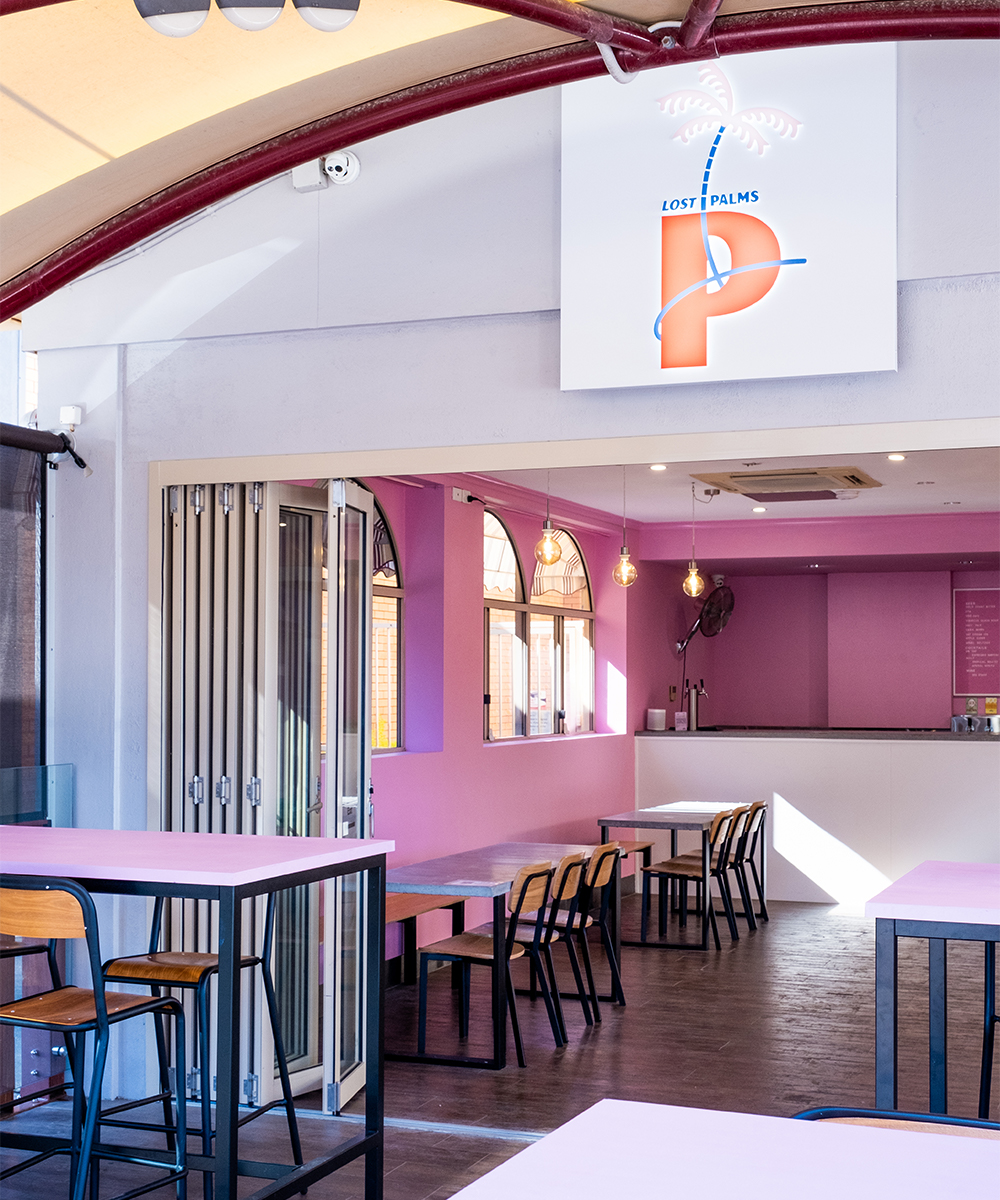 And that's just the core range—on any given week you'll also find a heap of rotating, limited edition and seasonal beers, which usually include at least one or two sours. If you're not a beer-drinker at heart, one of these interesting creations is bound to win you over with their tart and refreshing flavours. If beer really just isn't your thing though, the new taphouse also features an espresso martini on tap, plus a couple of built cocktails, and a short but sweet wine
While the venue might be small, there's no need to worry you'll go hungry while you sip here, with a menu of eats perfect for pairing with a pint. Wrap both your hands around a beef, buttermilk fried chicken or panko crumbed chicken burger, or leave one hand free to hold your glass with snacks like Nashville-style fried chicken tenders, mac 'n' cheese sticks and loaded fries to nibble on.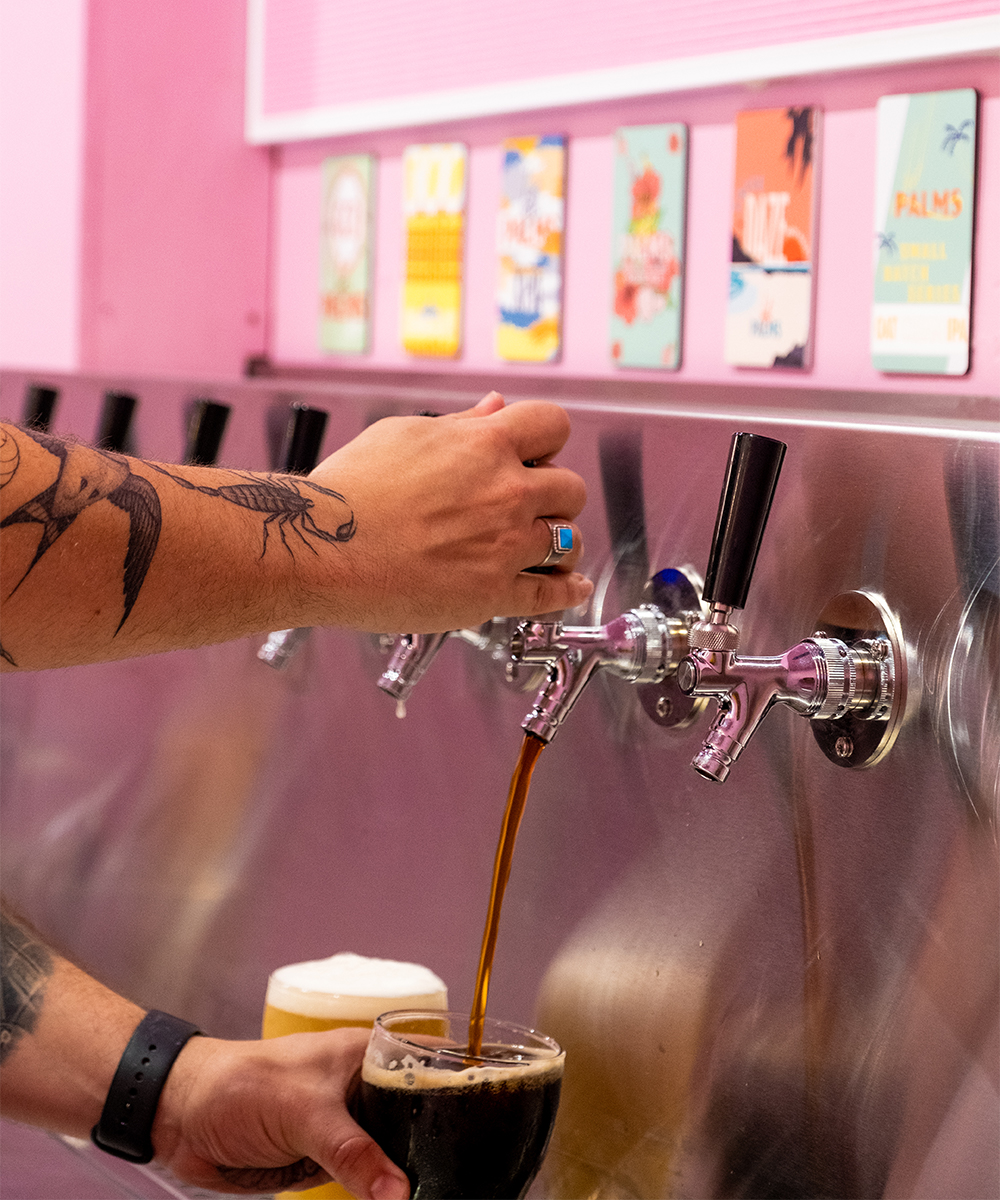 For now, the 100-square-foot space has limited capacity due to restrictions, but the crew hope to be able to welcome more to their street-side patio and indoor seating areas once those are eased. In the meantime, you'd best get in early. Find everything you need to know about Lost Palms Sherwood here.
Looking for places to grab a pint? Check out Brisbane's best breweries here.
Image credit: Sophie Spencer