You know what we all need? To appreciate what's right under our noses, that's what. A good urban vacay in sunny ol' Brisbane ought to do it, and that's where Resort 2017 comes in! Back for another year of fashion, art, design and bulk food and bevvies, this year's theme is Ancient Greece—so prepare for James Street to be transformed once again into a multi-day, multi-venue event worthy of even the Ancient Greeks.
Combining intellectual discussions, forums, presentations and plenty of chances for Brisbane's creative community to shine, Resort is set to be a real cracker of a weekend. In the words of the ancients: where the heck do we sign up!
Scroll down to find the 10 things you absolutely have to do at Resort 2017.
Friday 27 October
Art On James
Spanning the entire duration of the festival, Art on James will see a number of artistic expressions roll into James Street. Each day features a new collection of artists and some of the finest Fortitude Valley galleries will be opening their doors for you to have a look. The exhibitions opening on Friday include The Glass Eye Opens at Milani Gallery, a solo exhibition by John Waller at Redsea Gallery, and Language Game by Max Manning at TWFINEART. Just remember to check back on Saturday and Sunday for something new—you know, just in case all the wining and dining wasn't enough. You can find all the details here.
Project Tote
Project Tote is a collaboration between a chosen collection of James Street retailers and the crème de la crème of QUT's fashion students—one where you get all the rewards. The students have created a series of custom tote bags that you can only get your hands on throughout the course of the weekend. A few definitely worth keeping an eye out for include the Natasha Schweitzer x Mackenzie Clark collaboration, the Optiko x Kate Cunningham collaboration and James Street's very own collaboration with Alex Parker-Wilkin. If you want to catch 'em all, be sure to check out the QUT Bubble Wrap Pop-Up Shop where the entire collection will be on sale. An exclusive tote for every day of the week? Don't mind if we do. For more information, click here.
Dinner With The King
New kid on the James Street scene, King Arthur Café, has been making waves since its opening. If you've always been curious but never had the opportunity to see it for yourself, Resort 2017 is the perfect time to tick it off the must-eat list. The café will be holding an event aptly-named Dinner With The King, where they will be unveiling their brand new spring menu. Think dishes like buttermilk chermoula spiced chicken ribs, grilled broccoli with miso custard and duck tataki with pickled horseradish and leek. Oh mama. Check out the full details here.
Saturday 28 October
French Riviera Lunch
Dying to indulge in some classic French dining but can't afford those exxy flight costs? Why not check out Harveys Bar + Bistro during Resort's Saturday Social Club for a lunch inspired by the French Riviera that ticks all the right boxes. Dubbed Prix Fixe, the lunch will see Harveys head chef and owner Chef Pj McMillan create a menu based on all your favourite French flavours. We're talking chicken terrine, tart au chocolat and amandes, and grilled snapper with tomato provencale, capers and olives. Plus, the whole shebang comes accompanied with a glass of bubbly from Pol Roger. Darling, only the finest will do for this boozy lunch to remember. Run, don't walk. For more information, and to get your tickets, click here.
Bucci Bar x Aperol Spritz Takeover
From France to Italy, Resort 2017 has got you covered with this killer collaboration between Bucci Restaurant and Aperol Spritz. First fill up on glorious Italian eats at Bucci Restaurant (carbs, come at us) and then hop on over next door to the pop-up Bucci Bar for all-you-can-drink Aperol Spritzes. Repeat process and enjoy. Don't worry, you can thank us later. For more information, click here.
Performance By Her Divine Holiness Pope Alice
Keep it on the down low but rumour has it that Her Divine Holiness Pope Alice, the alter ego of Brisbane-based performance artist Luke Roberts, will be making an appearance at Resort 2017. Pope Alice will be blessing Brisbane with her presence at a ceremony welcoming Ms Angeline Chan of Chan+Hori Contemporary and Mr Ruben Pang, famous Singaporean artist, at Milani Gallery on Saturday. The ceremony festivities are also set to include a procession of Saharan temple dancers performing an angelic veil dance. In other words, you won't want to miss it. For the full details of where Pope Alice might appear, click here.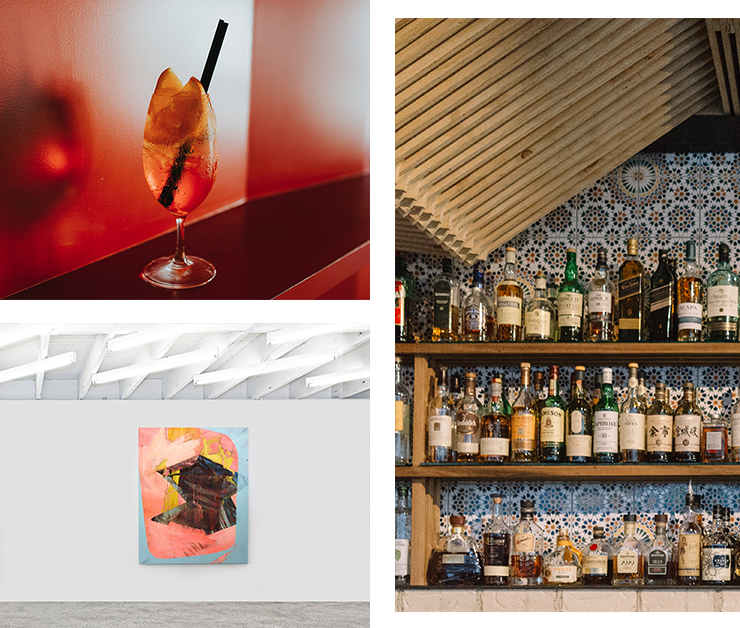 Food For Philosophy | An Ideas Lunch
If feasting while having your brain stimulated by talk from some of Brisbane's finest minds sounds like the perfect Saturday afternoon then Food For Philosophy was made for you. While a multi-course menu definitely earns a few points in our book, the real stars of Food For Philosophy have to be the stellar line-up of speakers. James Street Initiative Creative Director Marie-Louise Theile, Australian artist Sam Cranstoun, Resort's in-house philosopher and New York Times best-selling author Seth Stephens-Davidowitz, prime fashionista Lydia Pearson and food wizard Ben Williamson are all slated to make an appearance at this one day only event. Oh and did we mention it's all going to take place in the chic surrounds of Gerard's Bistro? We'll see you there, friends. For more information, and to buy tickets, click here.
Jake Reston x Calexico Man
We all know and love James Street staple Calexico, but did you know that they're launching a brand new designer menswear destination? The new store, called Calexico Man, is opening with a bang on Saturday the 28 October and to celebrate the walls of the store will be transformed into a live art installation from local legend Jake Reston. Basically what we're saying is that you could pick up a pair of sweet new kicks and get a free art show while you're at it. We don't know about you but if you throw in a cheese board that sounds just about like heaven. For a sneak preview of Jake's work for Calexico, and to get the full details, click here.
Sunday 29 October
IMA Shop In Shop At Scrumptious Reads
Resort 2017 is all about creative movers and shakers; the Institute of Modern Art Shop In pop-up shop at Scrumptious Reads means that you can take a little bit of this creativity home with you in book form. IMA will be setting up shop (see what we did there) in Scrumptious Reads for the duration of the festival with a select edit of their publications available for purchase. Don't miss out on picking up Ross Manning's—long-time friend of James Street—newest book, which showcases his latest exhibition Dissonant Rhythms, currently available for viewing at IMA. Or if you're really digging Manning's vibe, why not nab yourself a copy of his limited-edition record, Reflexes and Wave, while you're at it. For the full low-down, click here.
Bubble Wrap Pop-Up Shop by QUT
Just when you thought the students in QUT's Fashion Design Honours program couldn't get any more creative, they go and launch the Bubble Wrap Pop-Up Shop. The shop will feature a collection of one-off pieces designed by the students that will only be available for purchase over the Resort weekend. 18 emerging designers will be on display, with a Friday launch event open to anyone interested in seeing what the bright young things of Brisbane have to offer. So if you're looking for your next completely one-of-a-kind wardrobe gem or are just curious about Brisbane's fashion community, you won't want to miss this one. For the full rundown of details, click here.
Ready to feast on the next food trend to hit Brisbane? Head to Chouquette to try the best darn bostock in town.
Image credit: Hayley Williamson and Yaseera Moosa for The Urban List