The champagne has been flowing in sleepy Bris at the many openings of some great new cafes, restaurants and bars around town. Here's your cheat sheet for the new Brisbane spots you must try:
John Mills Himself Café Bar
We're long-time fans of coffee wizard Marcus Allison of Milton's Bunker, and, unsurprisingly, his new joint CBD café and bar, John Mills Himself is one to watch.
The John Mills crew take coffee seriously. Like, don't-even-think-about-asking-for-decaf seriously. With three grinders and alternating local bean suppliers (think The Single Guys and Cup blends), plus a myriad of extraction methods, this eclectic space is a rare oasis of cool in the underwhelming Brisbane CBD coffee scene, and with a liquor license in the works this café will soon be serving equally cool drinks of an evening. Watch this space.
George Bar & Bistro
New inner-city eatery, George Bar & Bistro has taken over the space formerly occupied by Philip Johnson's Bistro One One One, and punters can expect a similar, largely corporate crowd at the new bistro.
The first Brisbane foray for rugby union's George Gregan and wife Erica, George Bar & Bistro has a focus on the wine list (25 of their bottles are available by the glass—ideal for lunch meetings and post-work jollity) and plates that can be shared over a drink. Considering the real estate, there are big expectations for this venue, but the Gregan's track record is impressive and George has all the makings of a favourite.
Plenty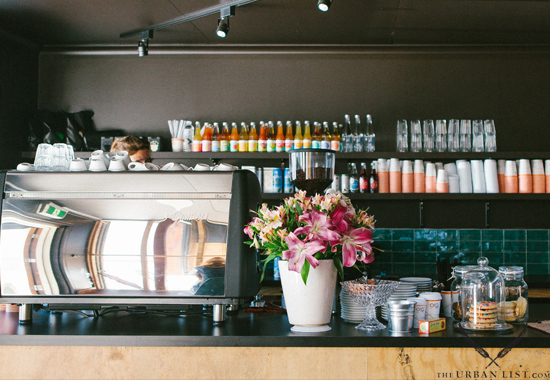 A focus on local produce and no fuss, big taste dishes seems to be a winning combination for West End's new sustainable grocer and café, Plenty. The rustic menu — which changes every Friday — artisan produce on offer, and a suspended coffee program combine to make a charming, slightly industrial space with loads of heart.
Grassroots is big right now, so Plenty will surely be a welcome addition to the West End neighbourhood.
Gordita
The crew behind the very impressive Peasant at The Barracks, and Caxton Street's much-loved Lefty's Old Time Music Hall have joined the likes of Mighty Mighty and Papa Jack's at the ever-expanding M&A Lane with their new bar and tapas-style eatery, Gordita.
The bar takes pride of place at Gordita, and it's clear they are keen to encourage the late-night, share-plate style nibbling that their Southern Spanish fare was made for. The competition in this area might be growing, but Gordita seems to have the chops to pull a crowd.
Image credits: Daniel Maddock, Chef's Feed