It's that time of year again, when everyone goes a little bit bonkers and your average Wednesday night is transformed into an occasion where it's perfectly acceptable to man-handle large vessels of beer and yell at your friends because they happen to have been born in NSW.
Because we understand that no two fans are the same, and one man's big screen is another man's iPhone, we've found Brisbane venues screening State of Origin to suit everyone's tastes.
We've even taken pity on those Brisbanites who aren't keen on watching the game (all 5 of you) but still want to hit the town on Wednesday night, and found our favourite venues that won't be screening State of Origin.
Here are our picks of where to watch the State of Origin in Brisbane.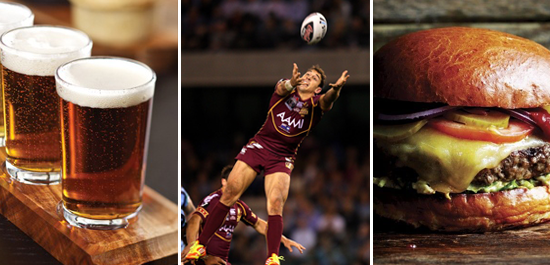 The Classics
If you want the full-on Origin experience, there are a handful of Brisbane venues that truly bring the atmosphere of the game: the sweat, the beer sloshing, the man tears. You'll find them here:
State of Origin die-hards, look no further. The Caxton is your quintessential SOO viewing location. You'll be knee deep in team spirit and up your eyeballs in XXXX.
Because if you can't take the day off on for State of Origin, honestly, when can you, Deery's Restaurant & Smokehouse are putting on a cracking pre-game long lunch, then offering diners either are a shuttle bus to Suncorp Stadium, or an invitation to kick back and watch the game on their own big screens. And Deery's menu is just the kind of food you need before a few hours of cheerleading: really, really great steak. Bookings are essential to secure a spot.
The Alliance is a sure-bet for a great time on Origin night. You'll have a great view of the game, courtesy of the big screen sitting pride of place in their Spring Hill bistro, and great food to eat while you're watching, courtesy of their killer gastro pub menu (go the wagyu beef burger — you won't regret it!).
Sure to be an absolute doozy, Riverbar & Kitchen is screening the game live from 7pm. If the hard-to-beat views of the Brisbane River aren't enough to make you feel patriotic, their jugs of 'lager-ita' sure will.
If you can't get into the stadium itself, the next best thing is the State of Origin event at The Normanby. There will be a 400-inch big screen screening the game live in The Normanby car park, as well as an outdoor bar and Kick for Cash comp'. Head to their website to book a table.
Try Something New
If you're looking for somewhere different to watch the State of Origin this year, we've found some unexpected establishments for you to enjoy the game at. Gourmet meat pie, anyone?
Try something different this State of Origin and watch the game from the comfort of Moda's Wine Room. This cocktail party style screening includes tapas and homemade pies (in manly flavours like guinea fowl, wild hare, and partridge). Plus, Every time Queensland scores a try a lucky door prize is drawn. Tickets are $77pp and bookings are essential.
New Indooroopilly dining destination, Nantucket Kitchen & Bar are hosting a State of Origin viewing sesh', so you can enjoy the game while chowing down on American classics, like onion rings, pork sliders with blue cheese, and mac'n'cheese.
Where To Not Watch The Game
Want to head out this Wednesday night, but prefer to avoid all the State of Origin hoopla? We've got you sorted too.
The Scratch is your best bet if you want to feel part of the action, but don't actually give two hoots about the score. A temple to beer, you can tell your mates at the game to drop by for a schooner when the action's over.
James Street's newest drinking destination, Gerard's Bar, is about as far as you can get from a sports bar, and the perfect reprieve from Oro' madness. And, they have cheeseburgers and charcuterie. What more do you need to know?
If your house has been overrun by sports-mad hooligans, Burnett Lane's Brew is one relaxing rabbit warren that you won't find a blue or maroon jersey down. Just cosy couches, good drinks, and chilled vibes.
Click here for more great Brisbane venues to go before and after the State of Origin!
Image credits: Scott Barbour for Getty Images, via Zimbio, Pinterest, Drink Stuff