With the Jacarandas blooming, temperatures rising and thongs becoming acceptable footwear once more, it can only mean one thing; summer is on its way.
There's no better way to escape the summer heat than sipping on a cider or cocktail at one of Brisbane's best rooftop bars and beer gardens. Here are our top picks for where you'll be chilling out with a drink in hand this summer.
Rooftop Bars
The Fox Hotel | South Brisbane
Popular for it's Sunday afternoon sessions, we recommend checking out The Fox Hotel any day of the week. Dandy's Rooftop Bar is a buzz of colour, perfect for after work drinks on a Friday or a casual Saturday afternoon catch up with friends. With cocktail jugs and fresh pizzas to boot, The Fox has you sorted this summer!
Eleven Rooftop Bar | Fortitude Valley
Perched eleven stories above the hustle and bustle of Fortitude Valley at 757 Ann St., Eleven is the perfect summer escape haven. With 270-degree views of the Valley, CBD and surrounds, we challenge you to find a better location to enjoy a beverage and watch the world go by. With a relaxed and laid back atmosphere by day, once the sun goes down and the city lights are shining, Eleven transitions into a sophisticated party venue that wouldn't be out of place in NYC.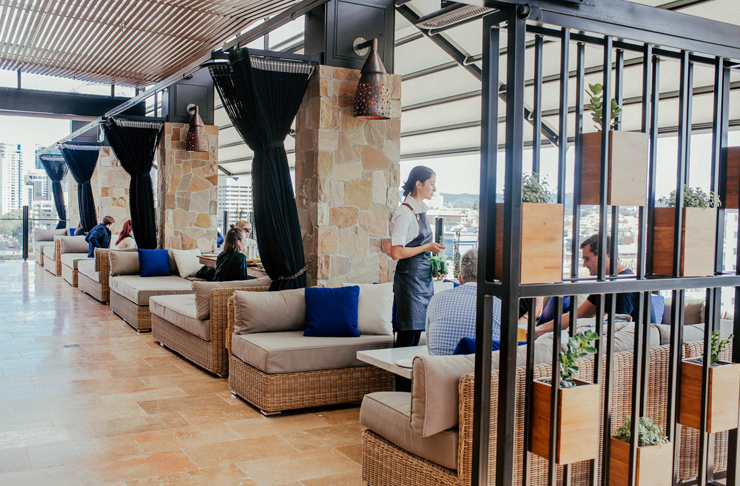 Soleil Pool Bar | Southbank
Taking its name from the sun, Soleil Pool Bar was a must on our list of places to drink this summer. In this sprawling venue, you can find a cosy hideaway or soak up the sun on the deck whilst enjoying one of their killer cocktails. On Sunday's Soleil turns into something out of the Hamptons for their popular Capri Sunday sessions, the place to be seen this summer.
UP On Constance | Fortitude Valley
As you can tell from our list, we find it hard to resist an amazing rooftop bar and with summer upon us, who can blame us? Situated atop the quirky boutique Tryp hotel, UP on Constance is no exception. Sipping beverages overlooking breathtaking views on a balmy Brisbane night, what more could we ask for? With a relaxed atmosphere and tantalizing share plates, UP on Constance is ideal for a chilled weekend drink or to start your night out.
Eagle's Nest | Kangaroo Point
Kangaroo Point's Eagle's Nest rooftop bar offers sweeping views across the Brisbane River, city skyline and the Story Bridge. Why not enjoy the view with Moët Ice Imperial, the first champagne to be served on ice? Time your drinking right though, as they're only available for Sunday sessions.
Beer Gardens And Outdoor Bars
Regatta Hotel | Toowong
The Regatta Hotel, perched on the banks of the Brisbane River, is the ideal destination to sample fine wine and watch the city cats go by. A Brisbane icon steeped in history, The Regatta, has five bars including a cocktail bar and whisky bar, catering for every occasion. Whether it's for after work drinks or to quench an insatiable summer thirst, the Regatta will become one of your regulars in no time!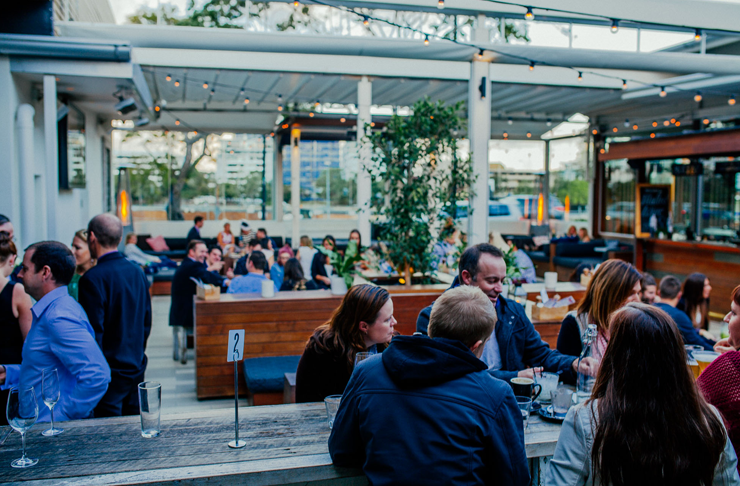 Paw Paw Café | Woolloongabba
A firm Brisbane favourite for breakfast, brunch and lunch, Paw Paw Café now brings you 'Sunday Sunset Drinks.' Cold beer, cocktails, coco whip and live music; there's no better place for a chilled Sunday afternoon beverage this summer.
The Burrow | West End
The Burrow is one of those places that unless you know about, you would never find. With a laid back vibe, this rustic, den-like haunt is a place where you can drop in alone or bring a bunch of boisterous friends. Popular for their vast array of craft beer and scrumptious pizza, The Burrow is the perfect venue to head to for after work drinks or on those nights you don't feel like cooking!
The Charming Squire | Southbank
Situated in the thriving cultural precinct that is Southbank, The Charming Squire, should be on your list of venues to visit this summer. With a steady stream of live music acts, ample craft beer and cider on tap and opening 10am to late, 7 nights of the week, you've got no excuse not to visit The Charming Squire!
Chester Street Bakery and Bar | Newstead
Whoever came up with the idea of combining two of our great loves, cake and cocktails, is a genius. Chester Street Bakery and Bar, famous for its incredible array of desserts, is one of our favourite outdoor places to hang. With 'Summertime Sangria' cocktail jugs on the menu, don't blame us when you want to treat yourself every night of the week!
kiosk | Fortitude Valley
Open for breakfast and lunch 6 days a week, kiosk in Bakery Lane doubles as a late-night outdoor bar for Laruche come Friday nights and throughout the weekend. Which means good food and chilled cocktails on the down low.
Image credits: Ariana Gillrie