Spring is, er, springing everyone—which means three things: an abundance of reasons to flounce about like a newborn lamb, buy a heck-load of flowers for the extended family and try ALL the new spring menus in Brisbane.
In the truest sense, if there was any better reason than to go all 'fit fam', Spring will be the time to do so. Fresh produce, the best strawberries Australia did see—you name it, we'll be eating it.
And what's more is that our favourite Brisbane restaurants have answered our seasonal prayers. Put those chicken waffles and truffled cheeseburgers on hold and say a big hello to the greenest of greens to grace our eyes.
Behold the 20 best Brisbane dishes of this spring:
1. Botanica's Beetroot, Orange and Feta Salad doused in citrus oil.
2. Granola w/ fresh seasonal fruit and greek yogurt from Frankie & George's.
3. Miss Jones' Roast Pumpkin & Beetroot Salad.
4. The poached chicken, lyonaise, kaiser lardons cherry tomatos, frisse, shaved onions and cornichons salad topped with a boiled egg from Scout Cafe.
5. Warm Green Breakfast bowl from Spring Hill Deli.
6. Middle eastern fruit loaf with ricotta and housemade compote from My Mistress (housemade = swoon).
7. Pearl Cafe's Tartine, Rye, Baked Fig, Ricotta and Thyme Sandwich.
8. Let Minnow's Farmer's Plate, with roasted eggplant with chimi-shrooms, roast sweet potato, toasted almonds, grilled asparagus, chimichurri and fresh herbs.
9. The Vegetarian Quinoa Bowl from Atticus Finch.
10. The Green Quinoa Bowl from Elixir Coffee—add salmon for a SERIOUS flavour hit alongside their world-class coffee, of course.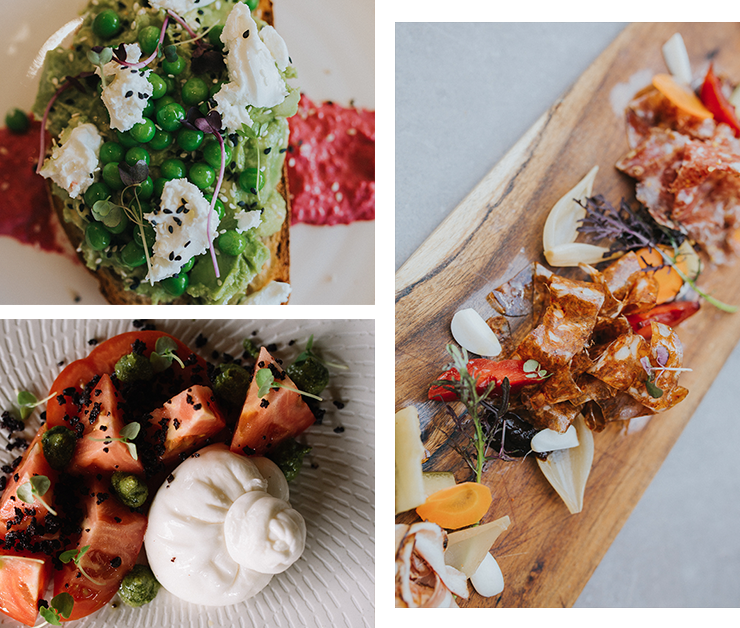 11. Zucchini Noodle Salad with roasted fennel, chickpea, sugar snap peas, roasted cherry toms, poached egg and parmesan from Jam Pantry.
12. Nutrient Bowl with sweet potato, cauliflower, edamame, pickled ginger, avocado, kale, poached egg and creamy sesame dressing from Paw Paw Cafe.
13. Poached pear and porridge with almond milk, goji berries, chia and maple granola, mulled wine syrup from Kettle & Tin.
14. Japanese Breakfast Bowl with sweet potato, mushrooms, quinoa and poaches from Plenty Cafe.
15. Evolve Cafe's Salted Caramel Acai Bowl.
16. e'cco Bistro's venison, cauliflower, pomegranate and herb salad.
17. The Brunswick Project's Brekky Bowl with kale, zucchini, pomegranate, spinach, a poached egg and mustard dressing.
18. Market fish with lemon, soft herbs, crispy kale and chestnut from Darling & Co.
19. Copado's signature board loaded with prosciutto, blue, cheddar and brie, pate, quince, local honeycomb and ALL the toppings!
20. Vaquero's leek and ricotta-filled pasta, with Noosa mushrooms, porcini and cavolo nero.
Hit up our picks of the best cafes and restaurants in Brisbane if you're feeling peckish?
Image credit: Hayley Williamson