Redlands locals, listen up! A brand-spankin' new food and entertainment mecca is here and it absolutely, 100%, needs to be on your radar. Set to open this Friday in the (often overlooked) bayside suburb of Cleveland, we strongly suggest you cancel all plans and seat yourself at Chef's Inc.—AKA your new go-to for innovative but casual eats like you've never seen before. If you don't believe us, here are 6 reasons you need to round up the squad and check it out, ASAP.
#1 It's Not Your Average Suburban Setting
Chef's Inc doesn't look any like your regular ol' foodie precinct. Think a super-cool open-air space with shipping containers surrounding a communal outdoor area full to the brim with eager punters. Add pop-up stalls, a marquee section and rotating food trucks, and Cleveland won't know what hit it.
#2 You're Spoiled For Choice
LBH, deciding what to have for dinner can be more of a chore than anything else, especially on the weekend. Chef's Inc resembles a smaller, boutique version of our beloved Eat Street Northshore, with the 12 containers offering ever-changing eats from almost every corner of the globe. The best part? It's all in the one place, so you'll never be bored (or hungry) again.
#3 The Food Is M-I-N-D-B-L-O-W-I-N-G
We're talking drool-worthy. This isn't fast food vendors banging out dish after generic dish. Oh, no. Chef's Inc's is on a completely different level, working with chefs who are keen to experiment and put innovative spins on your everyday classics. We're already counting down the days until we can sink our teeth into the likes of pizzas and deep fried calzones from Salt Meats Cheese; tapas boards and paellas at Don Quijote; Middle Eastern eats at Levant; loaded fries from Twelve Boar Jr; smoked brisket by Graewood's BBQ; luscious Pad Thai from Tuk Tuk Thai; burgers from Uncle Archies; and Wurstmeister's famous German sausage, just to name a few. Note to self: bring your stretchiest stretchy pants.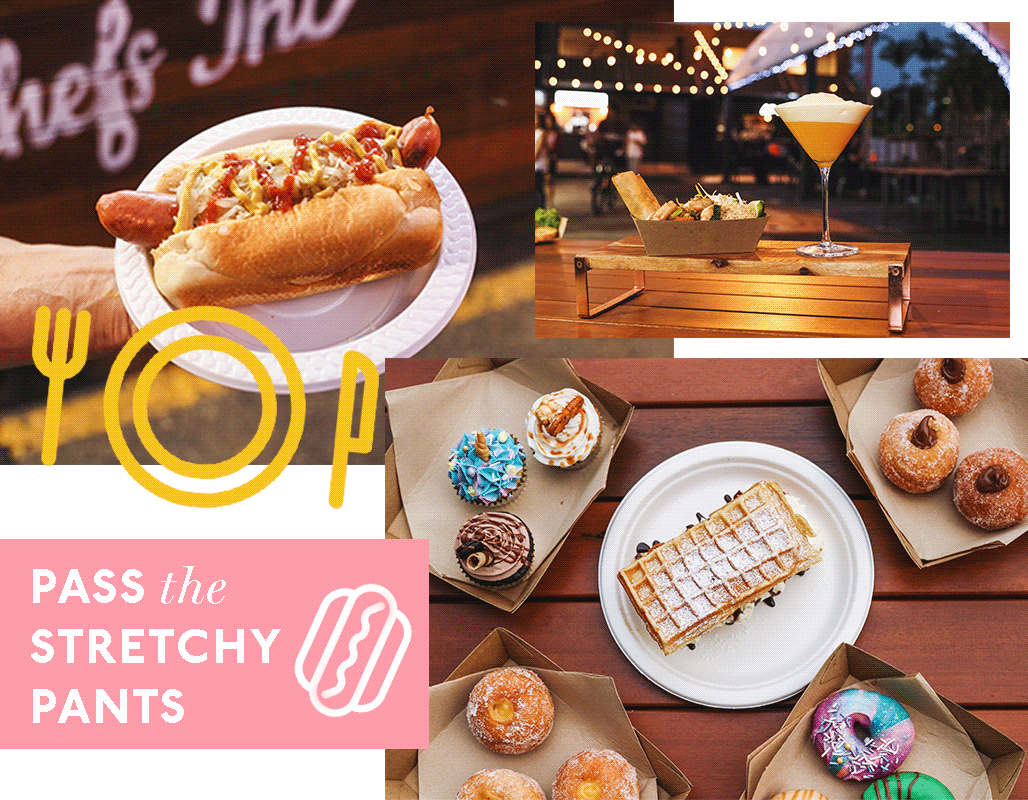 #4 It's A Dessert-Lover's Paradise
Fret not, sweet tooths–you definitely haven't been left out. Think pillowy sourdough doughnuts from Overload'd, cute-as cupcakes from Latte Dah (we'll take the one with the unicorn horn), and insane-looking waffles from Waffle Empire. We predict a sugar coma (FYI they're totally a thing).
#5 The Dranks Are ON
As if all the edible goodness wasn't exciting enough, Chef's Inc is also the perfect place for a vino (or five), with Zozo Bar providing allll of the refreshments. And guess what? Chef's Inc is opposite Cleveland train station, so you don't even have to worry about who will be the designated driver. We told you this place was pretty bloody amazing.
#6 Let Them Entertain You
We'll admit it: we're a sucker for fairy lights, and the space at Chef's Inc is drenched in them so they had us from the get-go. But add some live tunes from local acts, and it's the perfect backdrop for a balmy Brissie evening (and all of your Instagrams).
Text your foodie friends, drag your S/O along or make it a family affair–this gorgeous precinct is open from Friday to Sunday and is the breath of fresh air the 'burbs have been waiting for.
Image credit: Grace Elizabeth Images
Editor's note: This article is proudly sponsored by Chef's Inc. and endorsed by The Urban List. Thank you for supporting the sponsors who make The Urban List possible. Click here for more information on our editorial policy.
Sounds good, right? Well even better–we're giving away a $200 Chef's Inc voucher for you and the gang to spend at any of the Chef's Inc vendors, just like the VIPs you are. How's that for the ultimate Sunday session? Just drop your deets below–it's that easy. Check out Ts+Cs here.