It's every beauty lovers favourite time of year—the highly anticipated MECCA holiday collection has dropped, and it's bound to take over your Christmas wish-list this year.
From seriously beautiful palettes, dreamy skincare and delicious fragrances, there's something for everyone. Naturally there's a cheeky gift for yourself, too.
We checked out this year's MECCA Holiday Collection and here is everything to put on your Christmas wish list this year.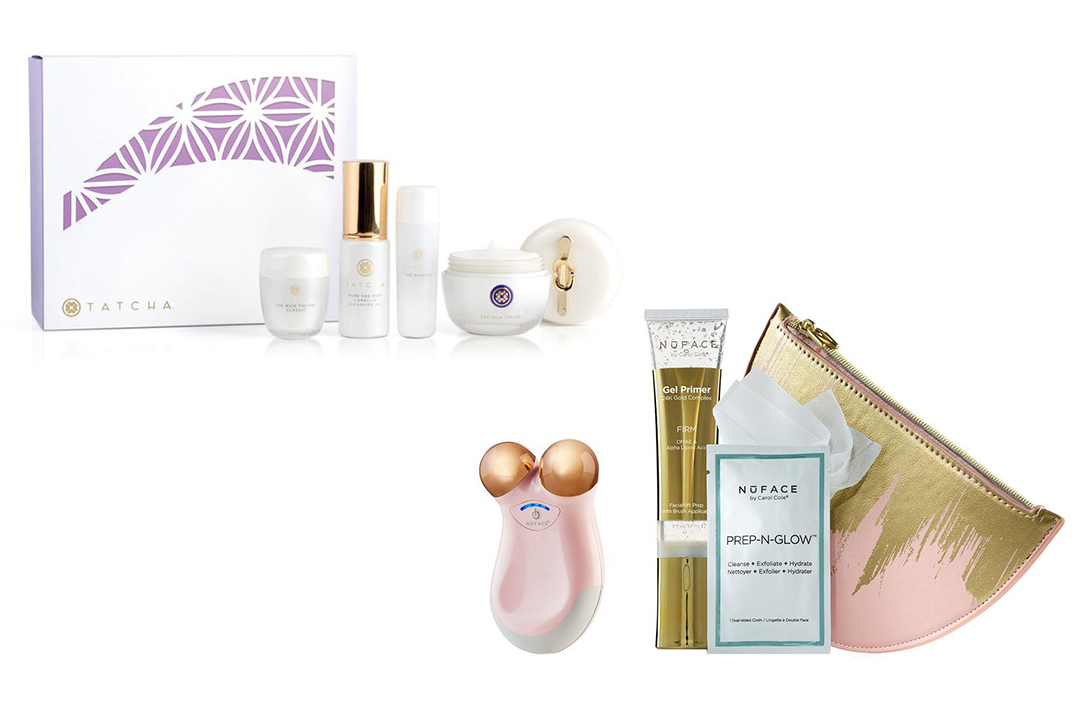 #1 Tatcha Pure Skincare Delights
Here's your chance to try some dreamy products from Tatcha this holiday season. Delight in this four-step skincare routine for normal-to-dry skin that works to nourish and hydrate the skin, leaving it looking and feeling more youthful and radiant. The set includes the Pure One Step Camellia Cleansing Oil, which melts away even waterproof makeup while cleansing the skin. The Rice Polish: Classicworks to give skin a new lease of life with this creamy water-activated exfoliant. The Essence, a fluid of 98.7% pure anti-aging superfoods works to ensure your skincare is more effective. Lastly, The Silk Cream is a weightless gel cream that gives the look and feel of silky skin—perfect.
#2 NuFACE Complete Skin Toning Kit
The NuFACE Complete Skin Toning Kit is a dream come true for your skin. It is a complete firming, toning, contouring and brightening microcurrent facial regimen for skin that's truly worth celebrating. Inside, you'll find the Prep-N-Glow Cloths which cleanse, exfoliate and hydrate the skin, while the 24K Gold Gel Primer is vital for optimal microcurrent device results. The set also includes the iconic limited edition rose gold NuFACE Trinity, which provides an at-home premium microcurrent treatment. Delivered to you in a custom gold painted clutch, what more could you want this holiday season?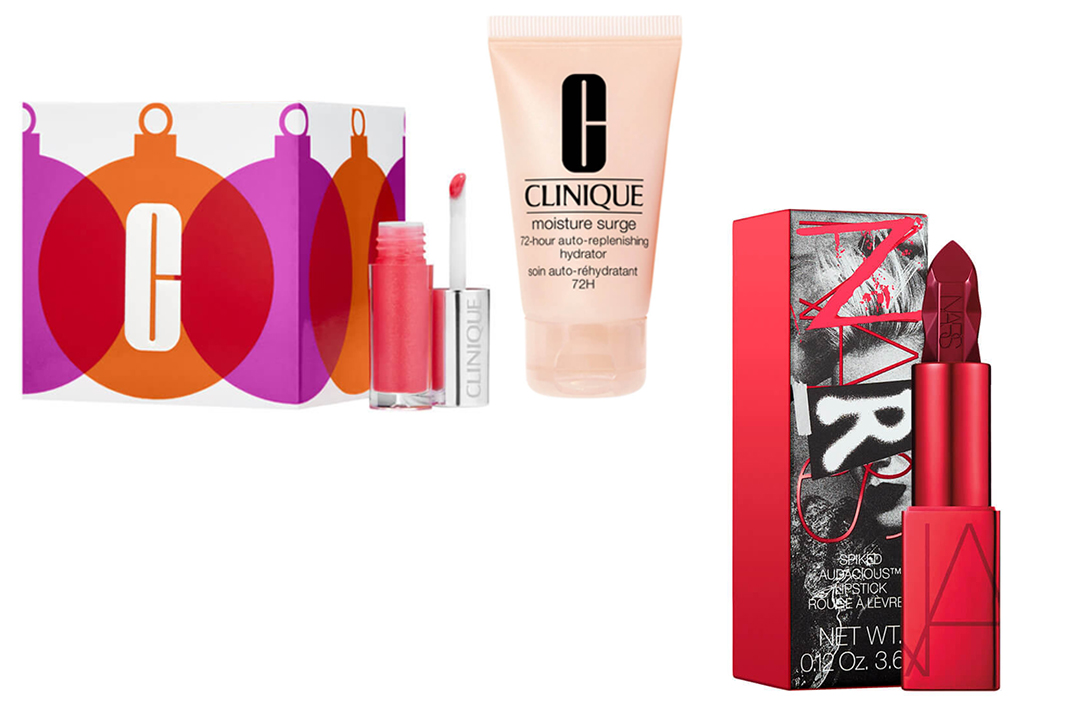 #3 Clinique Merry Moisture Set
Inside this limited-edition duo for skin and lips you'll find the Moisture Surge 72-Hour Auto-Replenishing Hydrator, providing non-stop hydration and delivering an instant moisture boost. As well as the Pop Smash Lip Gloss in Rosewater, it combines a splash of colour with serious hydration. Hanging in a holiday-themed ornament gift box, it can't get more festive than this.
#4 Nars Spiked Audacious Lipstick
Now that your skin wish list is full, it's time get your pout ready for the silly season and, what better way to do this than with Nars? Designed with a studded silhouette, inspired by the rebellious fashion of the 70s, these limited edition Audacious lipsticks will treat you to the Nar's signature luxurious satin texture. Available in three bold shades, you'll be sure to have heads turning.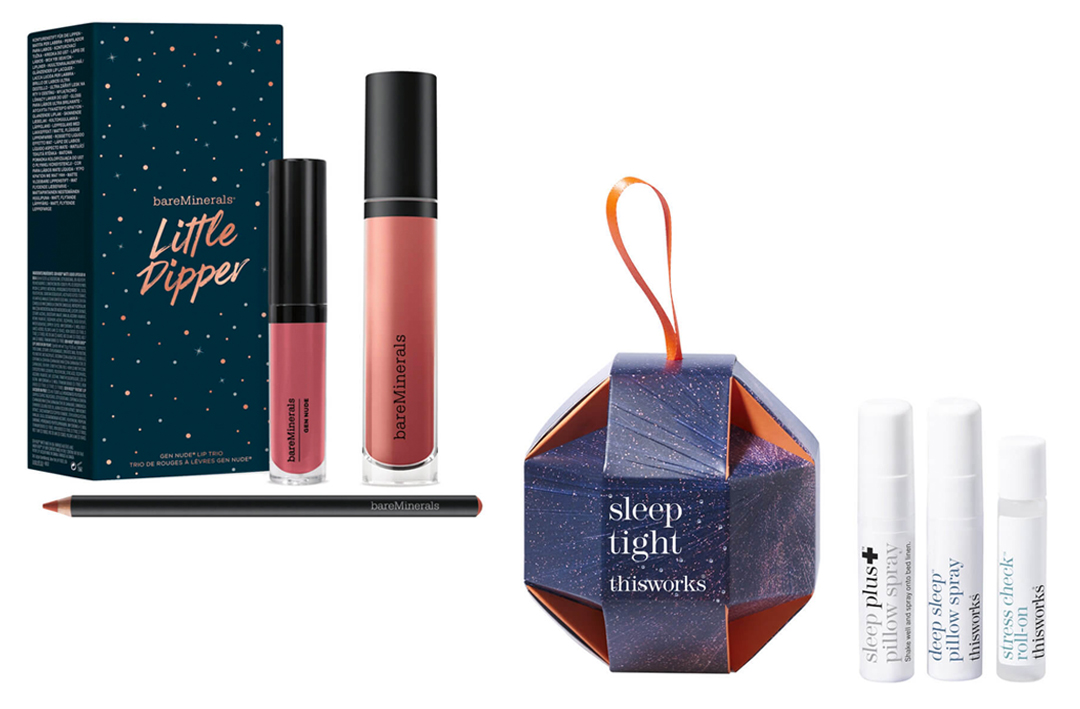 #5 Bare Mineral Little Dipper Trio
The three-piece Gen Nude Collection packs the serious essentials for a long-lasting nude lip. This set primes with the Gen Nude Under Over Lip Liner, a classic wood lip pencil formulated with priming ingredients which works to help extend wear. You'll then have the option of two full coverage finishes, a high shine liquid lipstick or a moisturising cream-to-matte liquid lip colour—a holiday season must have.
#6 This Works, Sleep Tight
Need help catching up on those precious zzz's this festive season? This Works has a three-piece mini sleep-inducing set, that includes the bestselling Deep Sleep Pillow Spray which contains a calming blend of lavender and chamomile essential oils to aid in relaxation. To help you stay asleep, the Sleep Plus Pillow Spray contains a slow release scent so you can wake up feeling refreshed. The Stress Check Breathe In roller-ball helps to keep you calm and fight stress throughout the day.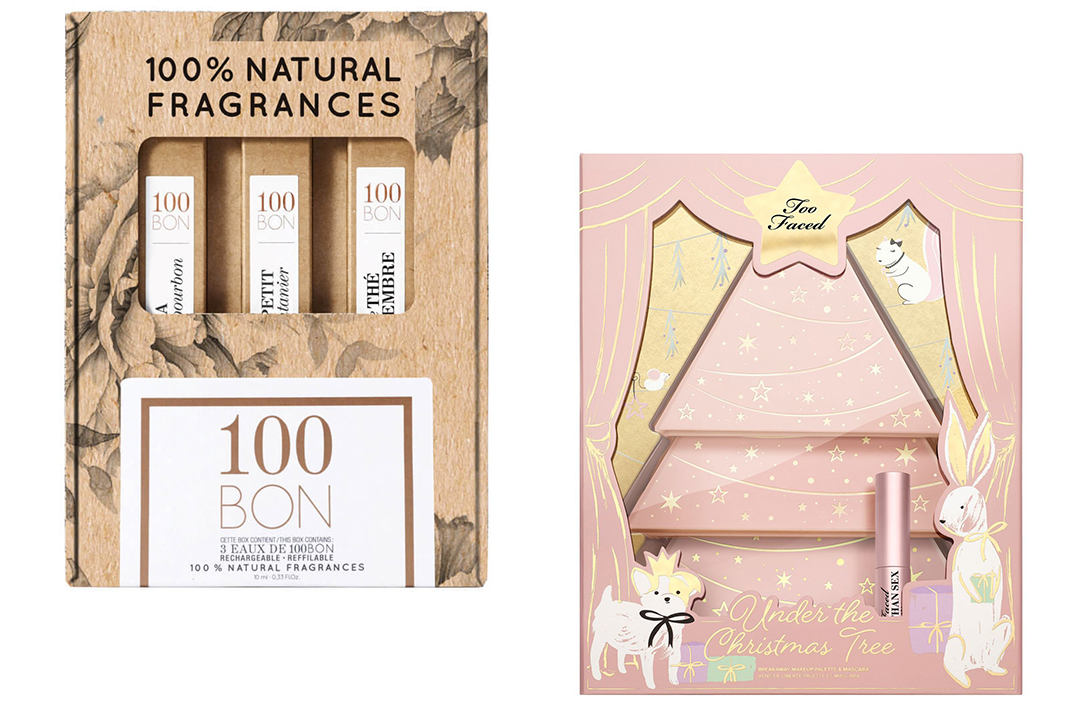 #7 Eau De 100BON Set
Can't decide what French fragrance is perfect for you? This holiday season at MECCA, you don't have to. This fresh and vibrant all-natural fragrance set includes Davana & Vanille Bourbon, with notes of spiced bourbon, vanilla, rose and patchouli. Neroli & Petit Grain Printanier, with notes of blood orange, yellow mandarin and lemon and Eau De Thé & Gingembrel, with hints of ginger, grapefruit and vanilla. As if this set couldn't get any better, it's travel friendly and perfect for those summer holidays you have planned this festive season.
#8 Too Faced Under the Christmas Tree
Make all your makeup dreams come true with this festive set that will help you achieve a flawless look this season. Inside this limited-edition collection, you'll find three breakaway palettes with a total of 18 eyeshadows, three warm-toned face products, including bronzer, blush and highlighter and a deluxe size Better Than Sex Mascara. Delivered to you in the shape of a Christmas tree, it is definitely on our wish-list!
Design credit: Sarah Law