Brisbane is home to some very special dishes we're all missing right now. Fortunately, members of our diverse hospo scene are doing their best to bring the city those cult menu items you can't find anywhere else. So if you thought you had to stop ticking off your foodie to-eat list, think again.
Go on, bring some joy to your life for at least 15 minutes and order one of the following.
Black Garlic Bread | Gauge
South Brisbane
Whether you're ordering breakfast, lunch or dinner, you can't put through your takeaway request without chucking in Gauge's signature garlic bread plate. Haven't had the pleasure of sampling it yet? Well this isn't your everyday garlic bread—it's a rich black garlic bread smothered in brown butter and burnt vanilla, hitting you with sweet and savoury flavours all at once.
Crab Soufflé | Montrachet
Bowen Hills
If you really can't wait to get your hands on another crab soufflé from Montrachet, you'll be pleased to know they're offering semi-prepared options for you to easily complete at home. With step-by-step videos to watch as you cook, you'll be salivating from the delicious smells before you even finish making this double baked soufflé with crab meat and gruyère cheese finished with a light cream bisque.
Red Curry Beef Cheek | Same Same
Fortitude Valley
There's never a bad time for Thai, and with Same Same's new contact-free takeaway experience you can now get your hands on the red curry beef cheek without having to book a table weeks in advance. Enjoy the melt-in-your-mouth beef within the refines of your own home, without people judging you when you drop some on your shirt.
Pork And Fennel Gnocchi | 1889 Enoteca
Woolloongabba
All hail gnocchi—1889 Enoteca are dishing up their most popular meal, pork and fennel gnocchi, as a takeaway option for you. Safely stuff your face with pork and fennel sausage, parmesan cream and black truffle tapenade on pillowy gnocchi while lounging on the couch watching your fave Netflix series. Sounds like a perfect night in.
Duck Ragu | Beccofino
Teneriffe
The perfect pairing—your favourite wine and Beccofino's takeaway duck ragu pappardelle. Week. Made. What's more, they'll top (should you wish) it with one hell of a pile of the sharp cheese.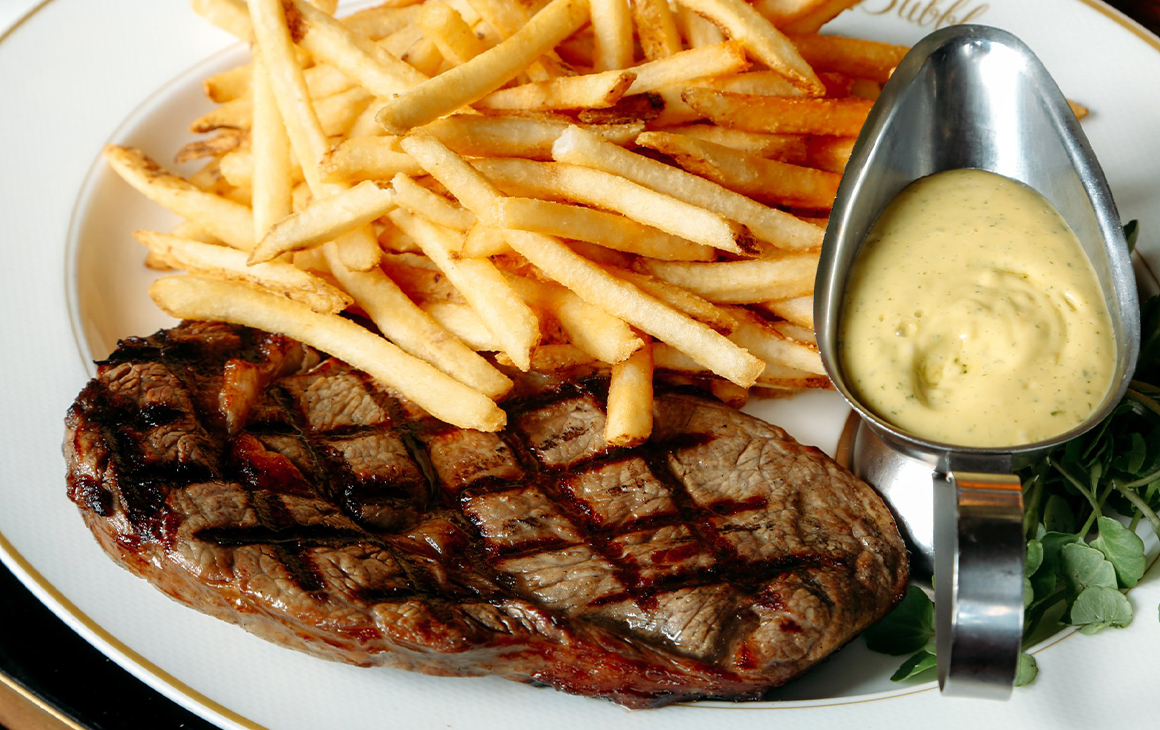 Steak And Frites | Les Bubbles
Fortitude Valley
At Les Bubbles, the menu is centred around one signature meal, traditional steak frites, so you know it's going to be damn good. Cooked to medium rare perfection and accompanied by golden fries, all you have to do when you order takeaway here is choose the steak sauce you want (we're partial to green peppercorn and cognac ourselves) and away you go.
Charcuterie | Vaquero
Albion
Vaquero is bringing the spanish dining experience straight to your living room with their new takeaway options—because what's a Saturday afternoon without a good cured meat board? Either order one of their prepared platters or drop by the deli to choose your own selection.
Lobster Katsu Sando | Hôntô
Fortitude Valley
Before you had to make sure you were first to put your name on their waiting list for a table as soon as the doors opened—now you just have to pick up the phone and order in. Best of all, Hôntô is serving their must eat dish, the lobster katsu sando, at your beck and call. Wrap your hands around soft white bread filled with crunchy deep fried lobster meat, with dill slaw and salted cabbage.
Yakitori | Bird's Nest
South Brisbane
Paying homage to traditional and authentic Japanese cuisine, Bird's Nest has all your yakitori cravings sorted. Bird's Nest are highly regarded for their infamous 'grilled meat sticks,' so there's never been a better time to get on the yakitori train. Be sure to order more than one type of yakitori for the best experience.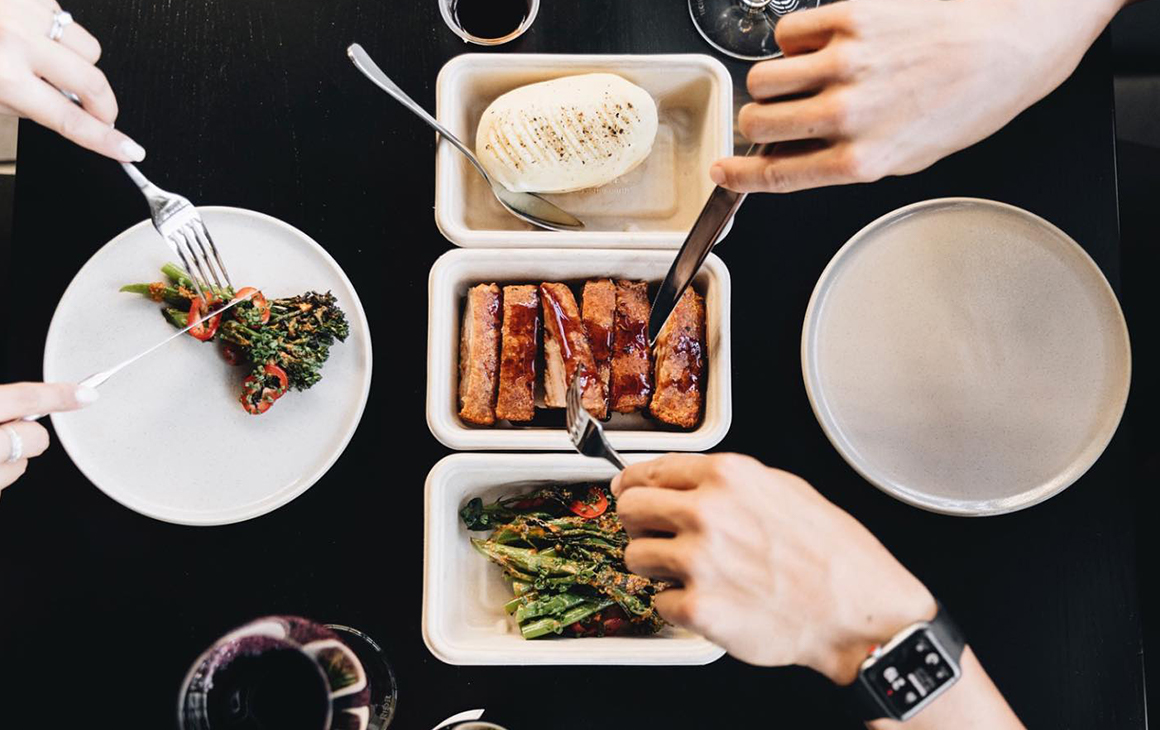 Crispy Pork Belly | Rogue Bistro
Newstead
Go rogue on the pork belly roast dinner in your comfiest and stretchiest pants for full effect. The roast dinner from Rogue Bistro includes crispy pork belly, duck fat mash, harissa broccolini and truffle gravy. This ain't no ordinary roast dinner and we're totally here for it.
Pizza | Julius Pizzeria
South Brisbane
Home to Brisbane's favourite pizzas, Julius Pizzeria has gone takeaway. They've got 15 different pizza options (yes we counted them) for you to binge over the next couple of weeks, or months, while you're at home. Go for the classic Margherita, or spice it up with the Tartufo, which comes with mozzarella, smoked bacon, portobello mushrooms, stracchino and truffle paste.
Dumplings | Happy Boy
Fortitude Valley
You're going to be a happy, happy person after hearing Happy Boy is making their whole menu available for takeaway. Their prawn and pork wontons with chilli oil are the ideal way to start your meal, and then go ham on the rest of their menu items for a main.
Tonkotsu Ramen | Taro's Ramen
Various
Slurp your way through the infamous tonkotsu ramen from Taro's Ramen. If you're yet to try the ramen here, you haven't lived. They use only the finest locally sourced produce (such as Bangalow sweet pork and Wagyu beef from their local butcher) to bring to you a bowl of ramen that tastes like a cosy, warm hug.
Slow Cooked Lamb Shoulder | e'cco bistro
Newstead
Slow cooked meals are good for the heart and soul. Grab yourself the family slow cooked lamb shoulder meal from e'cco bistro to go that extra mile for the next isolated family dinner. The fall-apart-in-your-mouth slow cooked lamb shoulder comes with mint, crushed peas, broccolini and salsa verde.
Want a cheese platter or a box of brownies delivered? Find out how here.
Image credit: Hayley Williamson, Les Bubbles, Grace Elizabeth Smith