Given that we hold some (very) highly esteemed cafes right here in Brisbane, it only makes sense that many of our favourite Brisbane cafes also happen to be some of the most beautiful.
Our weeks revolve around our ritual weekday coffee end weekend brunches, so naturally we want to do just that in the most atmospheric of surrounds. If you like your coffee with a side of charm, read on for the 16 most beautiful cafes in Brisbane
Vvaldameer
Highgate Hill
Looking for a fresh alpine escape in the middle of Brisbane? Vvaldameer has got you covered, opening their beautiful minimalist doors in Highgate Hill which we're beyond keen for.
John Mills Himself
Brisbane CBD
As a heritage listed building it shouldn't be surprising that John Mills Himself makes the list. The walls of this subterranean hide-away are exposed brick and the highset windows filter down just the right amount of sunlight, making for a very soothing and cathartic spot to enjoy your long black.
Pablo & Rusty's
Brisbane CBD
Crisp, clean lines at CBD coffee haunt Pablo & Rusty's make it a front runner in style stakes, and if you're into that whole 'natural light' and airy space vibe, this is the obvious spot for you. Serving up their famous roasts, Pablo & Rusty's is a perfect spot if you want great coffee and you want luxe vibes from your local.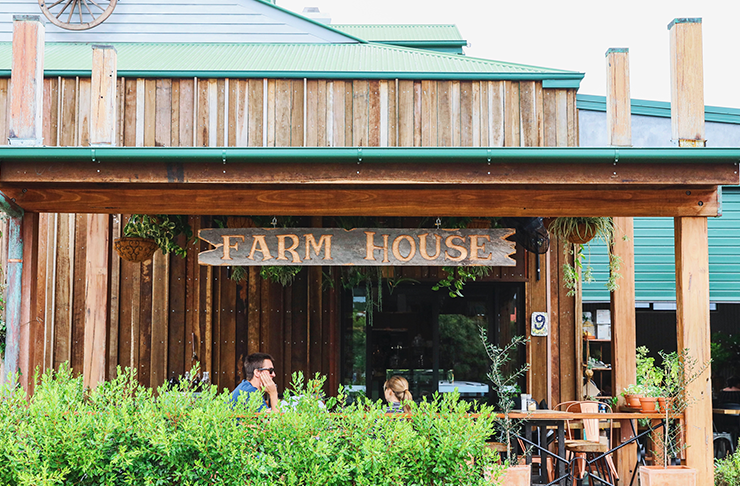 Sourced Grocer
Newstead
The frontage of Sourced Grocer is completely open, meaning as you walk up the street you get the perfect view of the grocer, the cafe and the fresh greenery adorning the walls. Sunday was made for wholesome breakfasts enjoyed in the sunshine, and Sourced Grocer does it best.
Coffee Supreme
Woolloongabba
Day Made Supreme is a pristine little café tucked into Woolloongabba, easily serving some of Brisbane's best coffee. The beautiful white interiors with dark timber feels very chic and comforting, whether you're just popping in for a java fix, enjoying some breakfast, or sticking around for the long haul.
Morning After
West End
Fresh, locally sourced eats, refreshing fruit elixirs and coffee from Morning After will quickly put any hangover toxins at bay. Combine that with stunning morning light, greenery and fresh white brickwork, and you're quickly distracted from any morning headaches you might be nursing...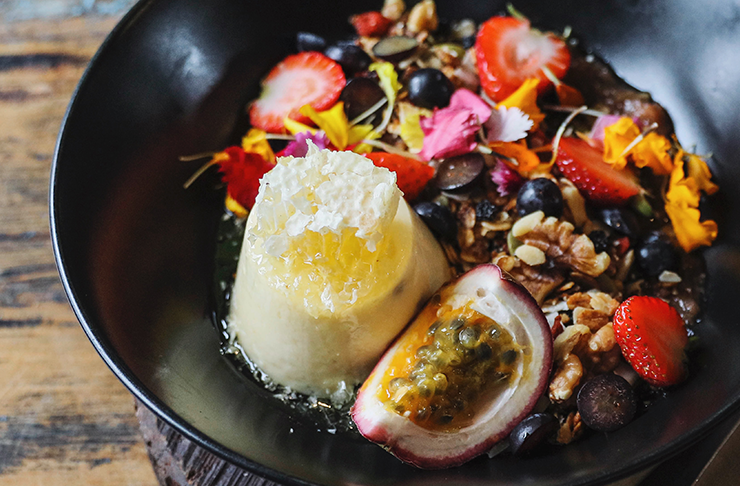 Frankie & George
CBD
With a rustic red brickwork courtyard and just a touch of lush greenery, Frankie & George is the perfect dreamy inner city escape. An espresso and croissant for just $8 is a tempting peak hour treat any day of the week!
Lola Coffee
Woolloongabba
Lola Coffee is your one stop shop for house made pickles and sweets! Even their affogato is served with ice-cream made from their very own cold brew! Stunning grey-scale artworks accented with bright red décor are also sure to get you inspired for the day ahead.
Allpress
East Brisbane
Allpress Esspresso will lower the blood pressure of the most devout minimalists. This spacious café with open beam ceilings lays out your breakfast spread just so. It's the perfect, expansive break out location for work from home freelances to get inspired and put their thinking hats on!
Smoked Garage
Fortitude Valley
Smoked Garage is the head turning motorbike design space and coffee shop. Sipping on espressos with the motorbikes is a tad sexier than being spotted in one of those tight bicycle suit hang outs. Picture a revived ex-warehouse with exposed brick walls, well-worn leather armchairs, custom Racers, Harleys and Commazukis. Two wheel lovers we can already hear you frothing.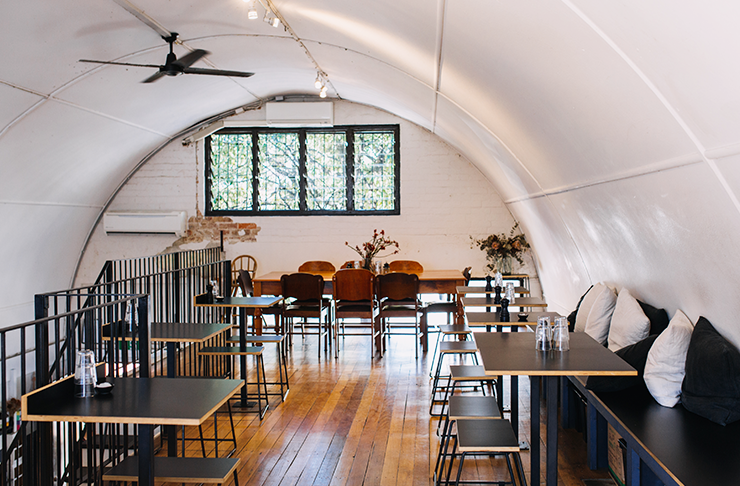 Farm House
Kedron
The Farm House is easily one of the prettiest cafes in Brisbane. As well as embodying all the charm of a countryside farm, Farm House buys from many local and regional producers to support dairy farmers and fresh food producers in their area—their aim is to take food from the farm straight to your plate, so everything they serve is both economical and delicious.
King Arthur
New Farm
With its high curved ceiling, white brick walls, and wooden fit-out, King Arthur excels in providing the kind of atmosphere that has you fighting (or yielding to) the urge to Instagram everthing. When you dream of quitting your job to spend your days writing melancholy poetry in a cafe, King Arthur is the café you are picturing. The only thing more beautiful than the atmosphere is the food.
Gauge
South Brisbane
The interior of Gauge is similar to its neighbouring art gallery; light and airy with clean, modern lines and a faint industrial vibe. And like an art gallery, it is constructed to showcase the art, everything about Gauge showcases the gorgeous food that comes out of the open kitchen. Using metal, wood, and blue tones, Gauge throws away the Brisbane standard of kitsch and quirk and instead brings a sleek sophistication to the café scene.
Wild Canary
Brookfield
In lieu of trekking your quinoa porridge breakfast into the bush of the Sunshine Coast hinterlands, you wont find a more natural and beautiful setting than Wild Canary to eat your breakfast. Set in the Brookfield Garden Centre, Wild Canary is open to its leafy green surroundings and uses fresh produce from its kitchen garden. Yes, it is a little bit of a slog out to Brookfield but when the food on your plate was grown within arms reach, it's worth it.
The Single Guys
South Brisbane
With a name that probably refers to the single-origin coffee, and not to the marital status of its owners or patrons (disappointing), The Single Guys is a Kenmore local favourite. The Single Guys ethos reads like a love letter to the customer; values such as traceability, integrity, and sophistication are at the core of this coffee operation. Together with a gorgeous fit out, it seems like The Single Guys has it all.
Image credit: Grace Elizabeth Images; Yaseera Moosa for Urban List