Three weeks ago we kicked off our inaugural Great Urban List Off, where we matched up 32 of our favourite things about Brisbane, and handed it over to you, our loyal readers, to vote and help us crown the most amazing things about our beautiful city.
The response has been phenomenal, with close to 1500 votes recorded in the first three weeks!
The winners of Round 2 have been tallied, and now it's time to kick off Round 3.
What started as the top 32 is now the top 8, and you must keep your votes coming if you want your favourites to win!
So, without further ado, may we present, The Urban List-Off—Round 3.
Click on the image below to view the entire draw.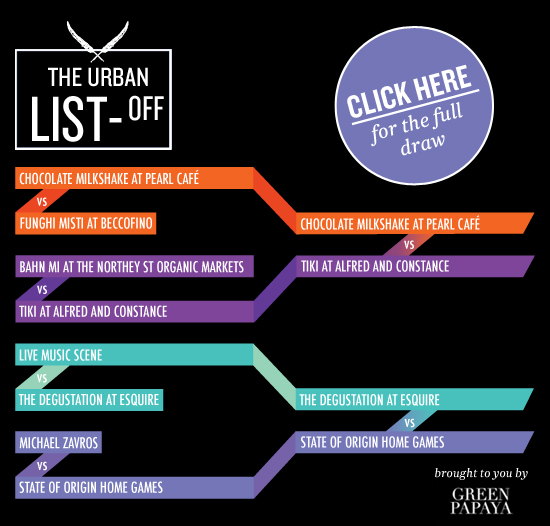 Not only do you get the satisfaction of plugging your favourite thing in Brisbane by casting your vote, but you also have the chance to win some amazing prizes!
By simply voting you will automatically go into the draw to win two cooking classes at

Green Papaya

. We will be giving away two classes each week for seven weeks, so make sure your vote is counted!