Ah, Australian Fashion Week. That annual event which brings together the country's most fashionable—where the heels (and anxiety) are high and attention-seekers pose and play before a slew of street-style photographers. But this year was notably different from previous, a shift noticeable before the week even began with the absence of many high profile Australian designers from the schedule. This list included Camilla and Marc, Manning Cartell, Lisa Ho, Easton Pearson, Gary Bigeni and Josh Goot, but what it meant was that the event was more accessible to younger, emerging names, and thus presented a mixed bag of shows—from the spectacular to the so-so. Leading fashion journalist and author Mitchell Oakley Smith puts together his highlights from the week that was.

Despite the gaps left in the schedule via the high-profile designers who opted not to show, this was, overall, a solid season. On the eve of the official event, Mercedes-Benz, the event's naming sponsor, presented a show by the doyenne of Australian fashion, Carla Zampatti, which showcased the designer's unique blend of classic and cool. With creative director Michelle Jank, Zampatti's label successfully caters to longstanding audience as well as a new, younger customer, with this collection harking back to a 70s-era disco with slim-cut jumpsuits, oversized, loose blouses and Le Smoking-style tuxedo jackets.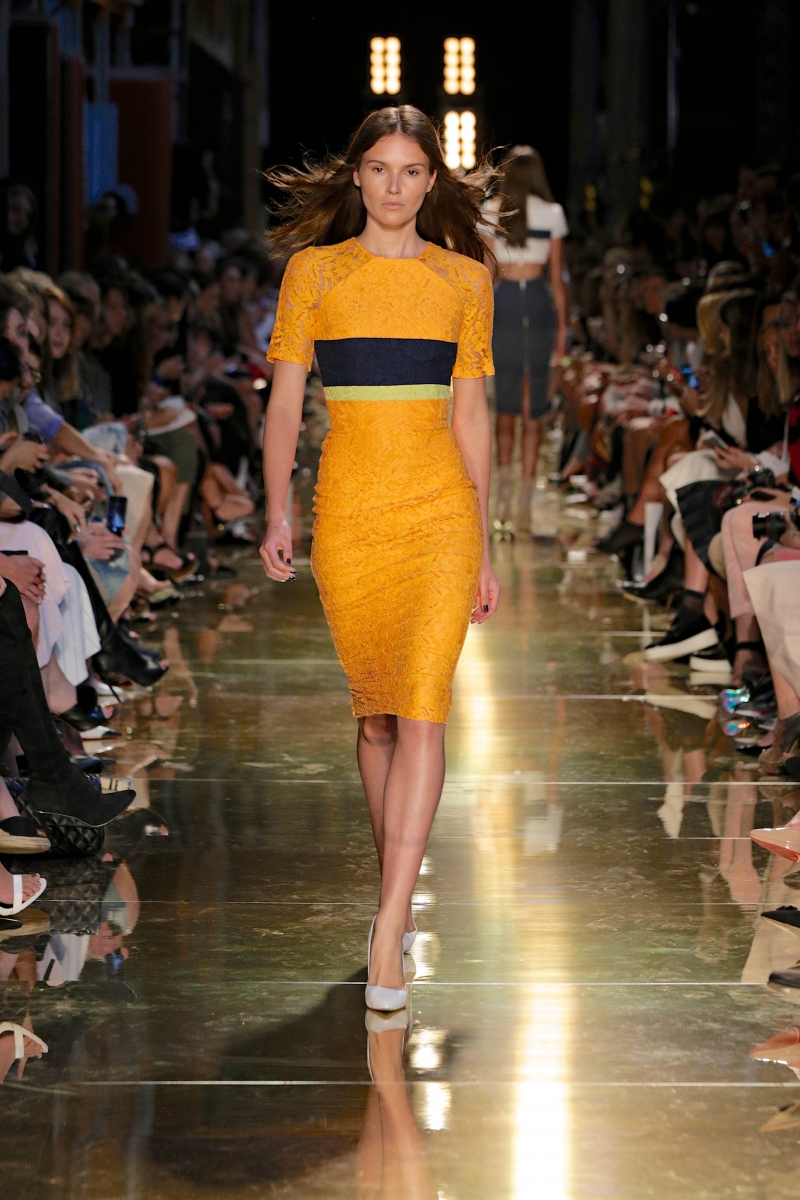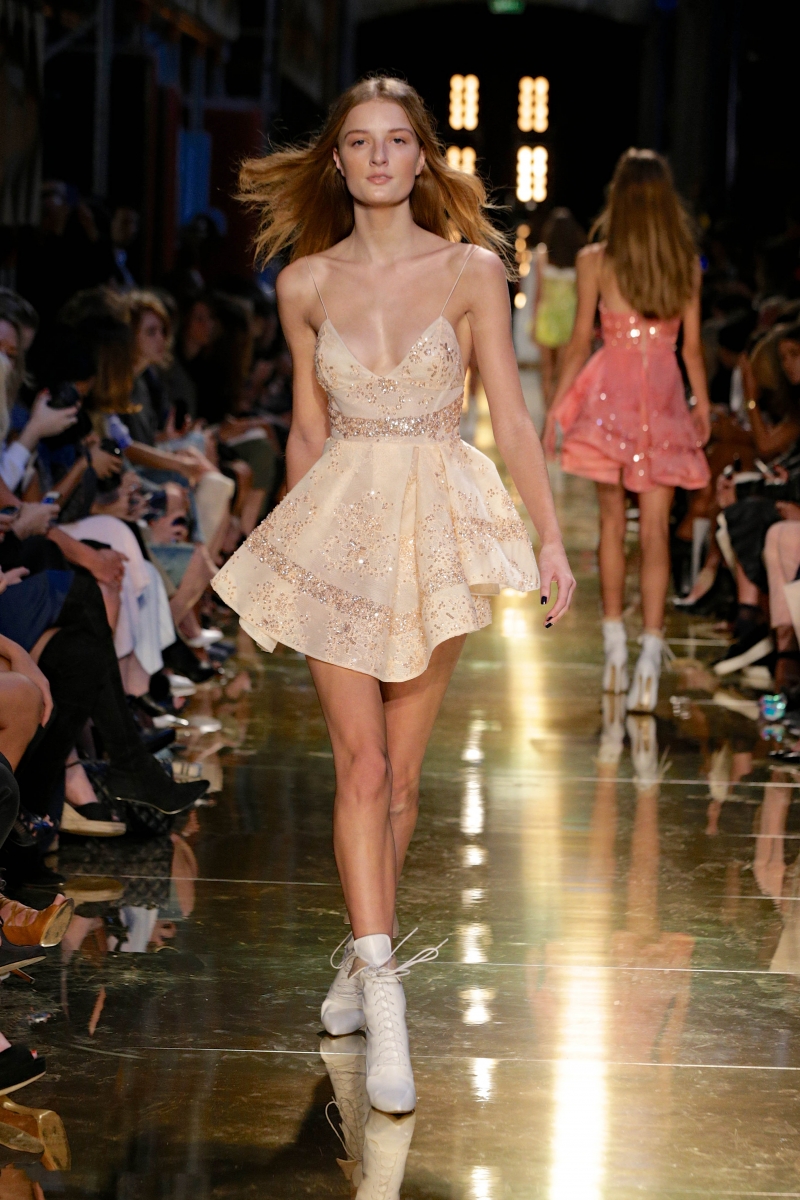 Alex Perry runway
Alex Perry, too, is a well-known name on the annual fashion schedule, and his spring/summer 2014/2015 collection was one of his finest to date. Like Zampatti, Perry has found middle ground between high fashion and accessible ready-to-wear, making his wares suitable for every occasion, day and night. Perry found inspiration in cheerleader uniforms but there was more to this collection than pom poms; thigh-high splits, exposed midriffs, flared skirts and a very clever denim applique made for a modern presentation that nodded to his reputation as a red carpet outfitter.

Shown at Bondi Icebergs rather than the official Carriageworks venue, Kym Ellery displayed her unique blend of 'It-girl' cool and upmarket elegance in a capsule collection for eveningwear. Ellery has in recent seasons shifted her main presentations to Paris, thus using Australian Fashion Week as a platform to showcase something different, having screened a documentary of her design process a few days before fashion week. Despite this being a step up from ready-to-wear in terms of the clothes' wearability, fans of the label will still find the hallmarks they've come to love from Ellery, like bell sleeves, transparent fabrics and a defiant, punk edge.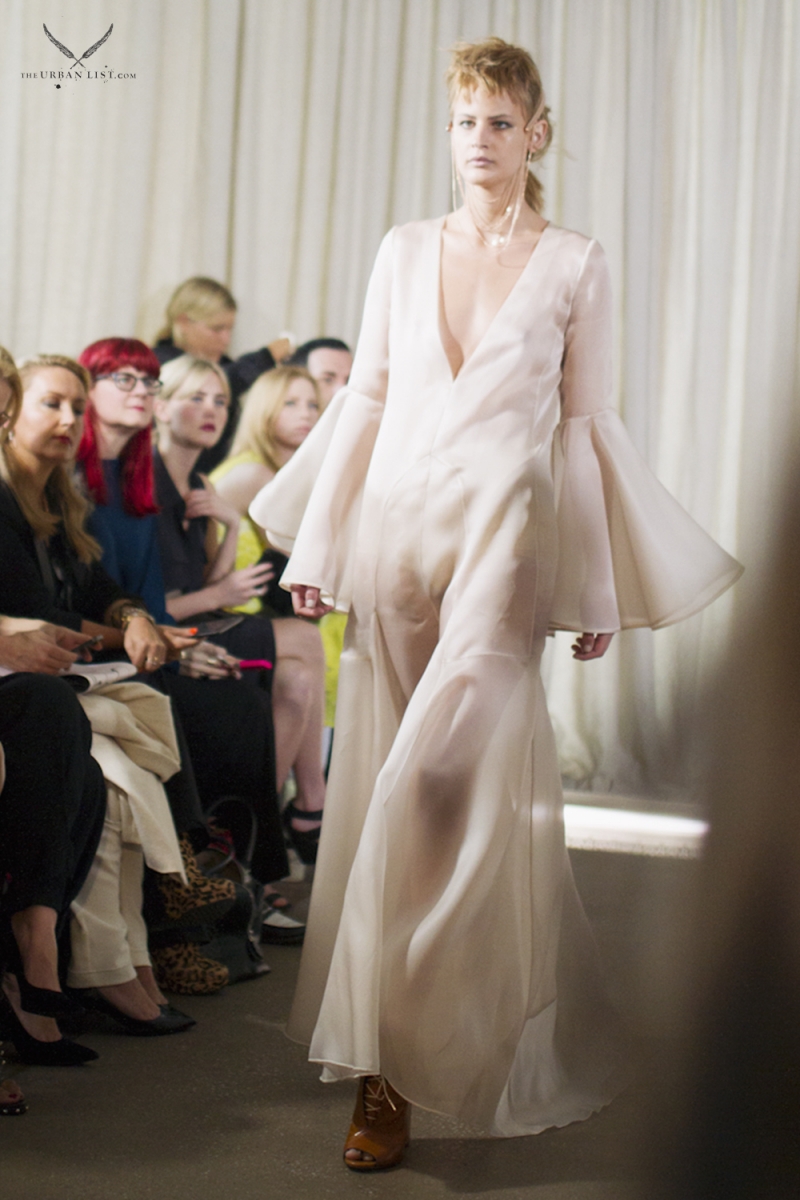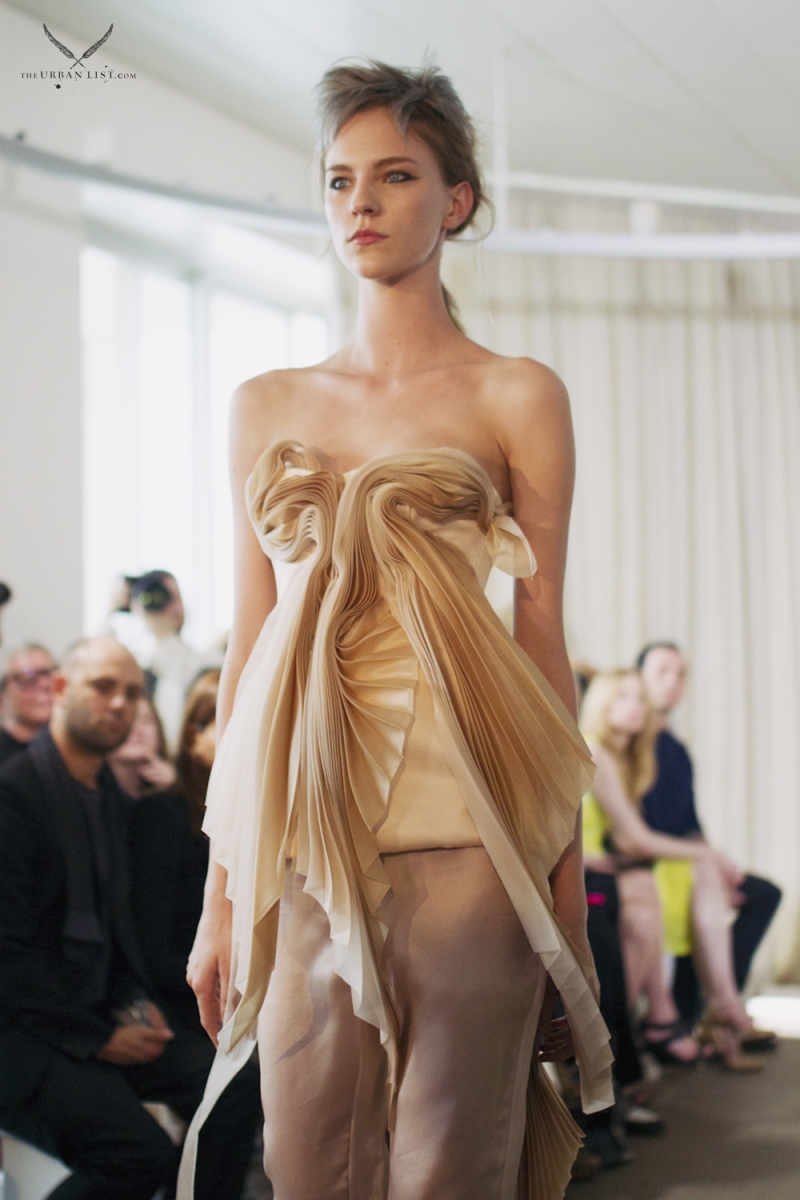 Ellery runway
Melbourne label Strateas.Carlucci recently picked up the Tiffany & Co. National Designer Award at the Melbourne Fashion Festival, its debut show at Australian Fashion Week was very important in that all eyes were on it. The designer duo proved their fashion chops with a collection that was quite obviously identifiable as Strateas.Carluccia—largely black and white palette and unusual, progressive silhouettes—but felt more developed in its construction, with a greater focus on tailoring.

Ginger & Smart knows the Australian fashion industry better than most. For the best part of a decade, Alexander and Genevieve Smart have focused specifically on the local market and developed and refined their product offering to perfectly suit the Australian woman, and this collection was no exception. The standout of this collection was its quality, with pieces that looked expertly finished, like bold red lace dresses and loose, oversized tailored pieces.

Just nominated as a finalist in the Australian round of the International Woolmark Prize, and having recently picked up the BT Emerging Fashion Designer Award, Michael Lo Sordo is on something of a roll at the moment. This collection offered an informal take on tailoring, with multilayered looks of lightweight trench coats, breezy, loosely-cut suiting and easy-to-wear slips. Its pastel colour palette of blue, pink and white had his front row guests swooning for summer.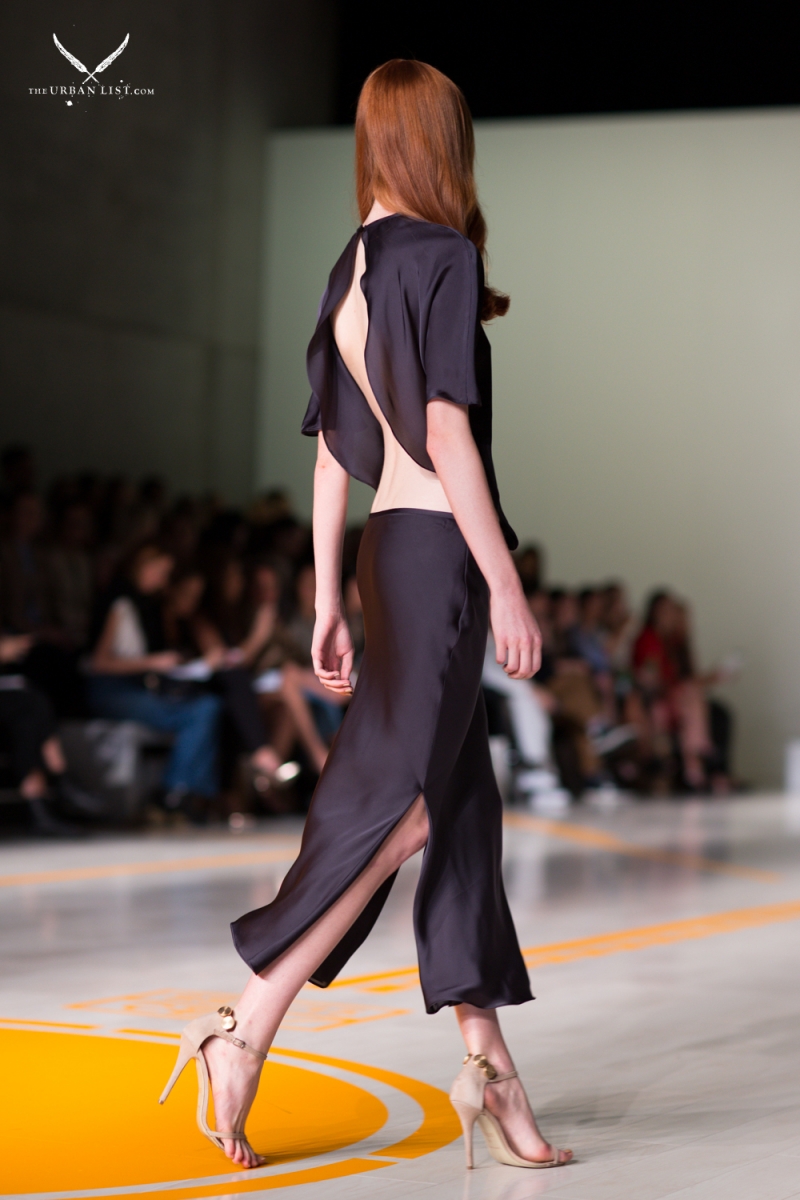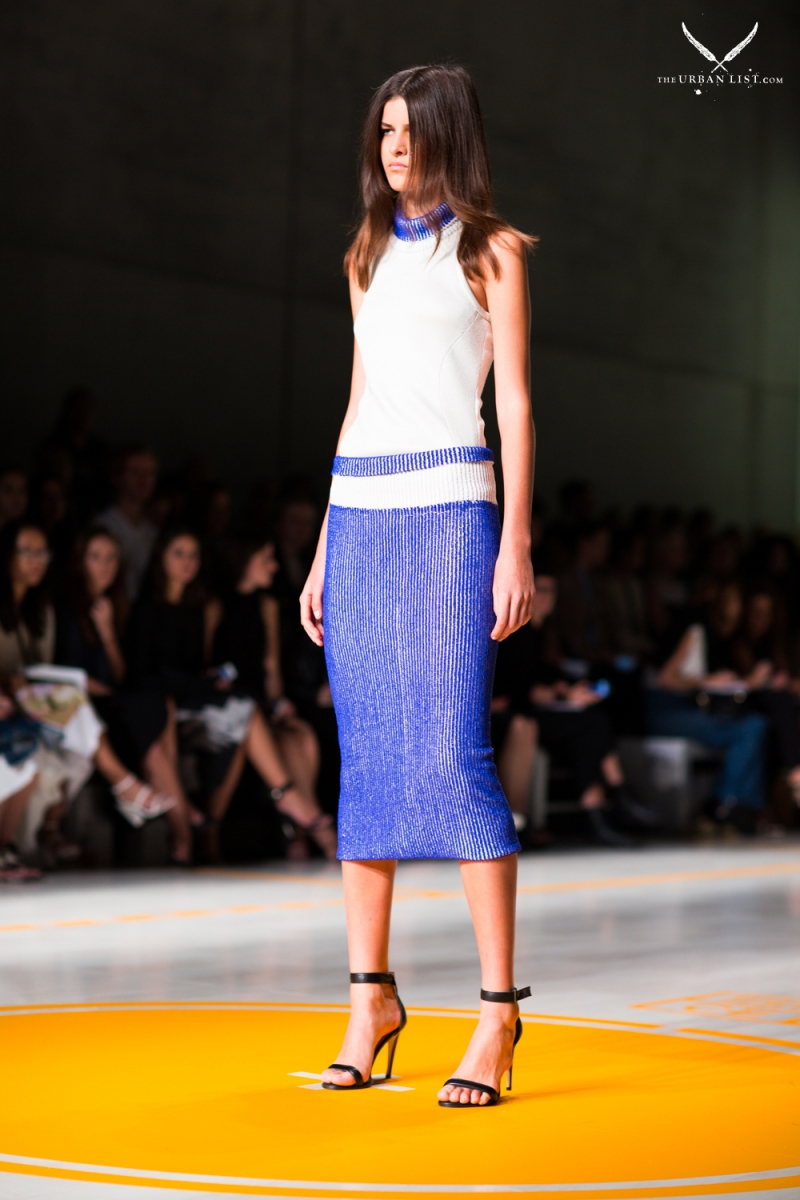 Christopher Esber runway
Christopher Esber, too, is on a winning streak, having recently represented Australia at the International Woolmark Prize in Milan. For his spring/summer 2014/2015 presentation, Esber did what he is best known for: structured minimalism. But there was a naval twist here, with the designer said to be inspired by women on the water, and so double-breasted jackets were adorned with gold buttons, and dresses were crafted from a unique beaded, ribbed fabric in blue and white.
It's an injustice to call Toni Maticevski a designer, for his skill is that of a traditional couturier. But unlike those stuffy Parisian couture salons, Melbourne-based Maticevski offers a unique, sportswear take on classic, feminine shapes. For spring/summer, that translated as voluminous ball skirts worn with embroidered sweatshirts, opera coats in neon orange net fabric, and exposed midriffs in one of the standout shows of the week. The designer's star continues to rise with a forthcoming solo exhibition at Bendigo Art Gallery next year.

I thoroughly enjoyed Haryono Setiadi's presentation, the designer proving he truly is one to watch in the local industry with a collection of summer dresses crafted from layers and layers of organza in a golden ombre colourway that gave the effect of tropical fish. Unlike the form-fitting, strictly-cut pieces he has previously shown, Setiadi's new vision was more refined and more wearable.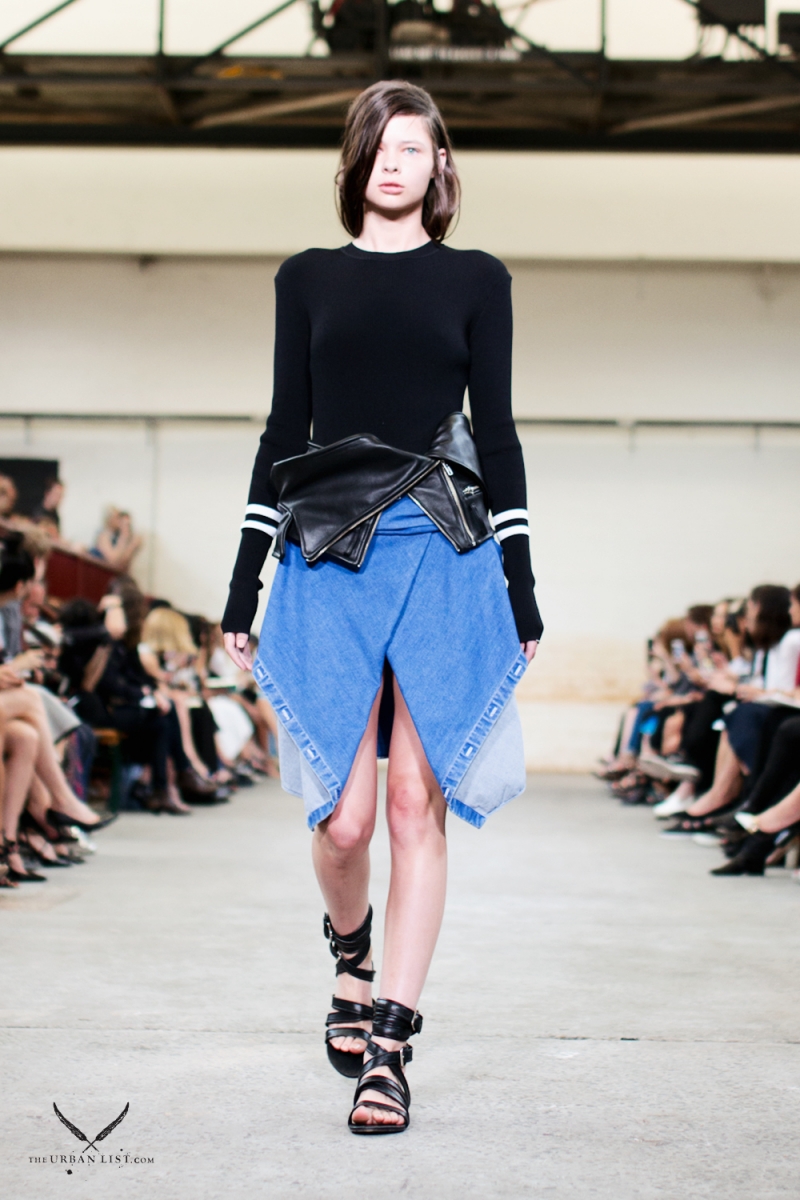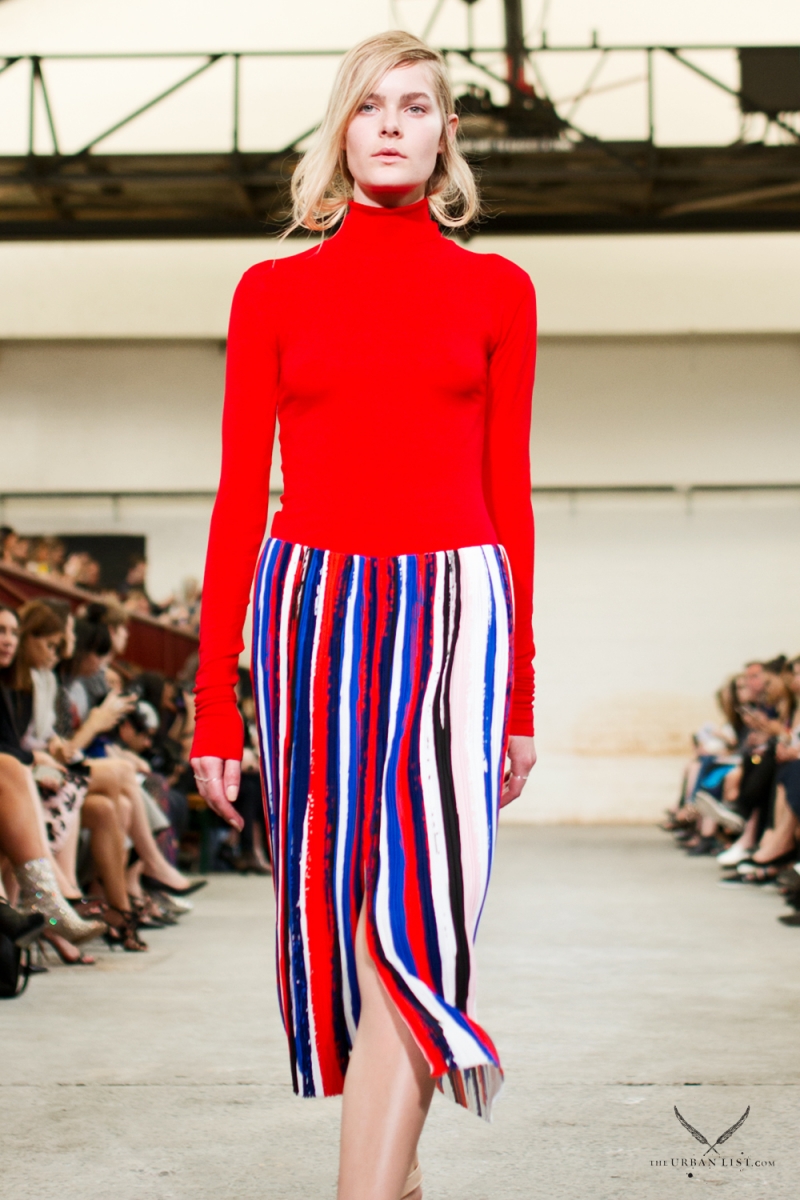 Dion Lee runway
In showing his mainline at New York Fashion Week, Dion Lee, the star of Australian fashion, took the opportunity to showcase his more affordable, accessible second line, Dion Lee II, but progressed it far beyond simple workwear shirting. Taking the iconic cornerstones of an American wardrobe, like denim and leather jackets, Lee showcased a collection that was as simple in its presentation as it will be to wear: cotton shirting with cutaway sleeves and spliced-open backs; denim skirts folded and twisted around the body like a jacket tied around the waist; and athletic-cut dresses that traced, rather than hugged, the body.

It was fitting that Emma Mulholland's show was one of the last of the week given that it was the most fun, too. In keeping with her aesthetic of eighties-inspired garments in bright, print-heavy fabrics, Mulholland took inspiration from Melanie Griffiths in the seminal film Working Girl with a collection that drew on office motifs like paper clips and post-it notes, with prints created by Sarah Webb, Brendon Ginnane and Luka du Chateau.

And one of my favourite presentations of the week? Well, it wasn't a fashion show at all, but rather a site-specific installation by fashion mavericks Anna Plunkett and Luke Sales of Romance Was Born and respected contemporary artist Rebecca Baumann. Commissioned by Carriageworks, the exhibition, which runs for a month and is open free to the public, is a true showcase of Romance Was Born's unrivalled and unlimited creativity, with ten one-off pieces inspired by significant moments in life (a sweet sixteenth birthday, Mardi Gras, a funeral), cleverly hung from the ceiling on rotating mannequins alongside a work by Baumann, creating a dialogue between the two that ultimately celebrates the fun of fashion and art.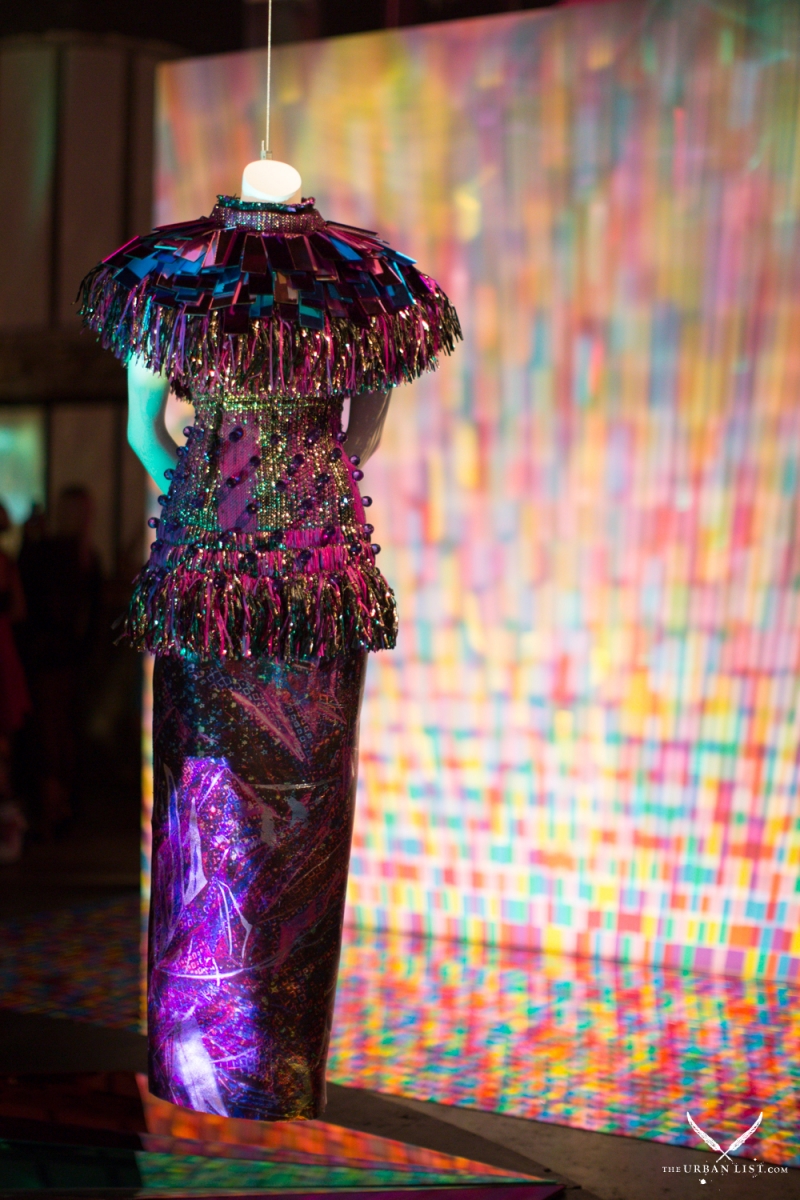 Romance Was Born x Rebecca Baumann