If you haven't already seen Wardrobe.NYC plastered all over your Insta-feed, let me catch you up to speed. Power couple Christine Centenera and Josh Goot launched the label in December 2017, and it's become a cult smash with LA celebs like Kim K.
The label calls itself 'anti-fast fashion' and aims to minimise the nonstop consumption cycle. How? By cutting the crap and streamlining your wardrobe with refined staple pieces. The concept is simple—you can purchase 5-piece or 10-piece wardrobes, and these can be worn as an entire outfit (or separately). Kind of like Kellogs cereal variety packs, but for clothes.
So how does it work? Pick your wardrobe, select the size of each item, and wait for the mailman. Their first collection was all about basic staples (a t-shirt, coat, knit etc). This one's different.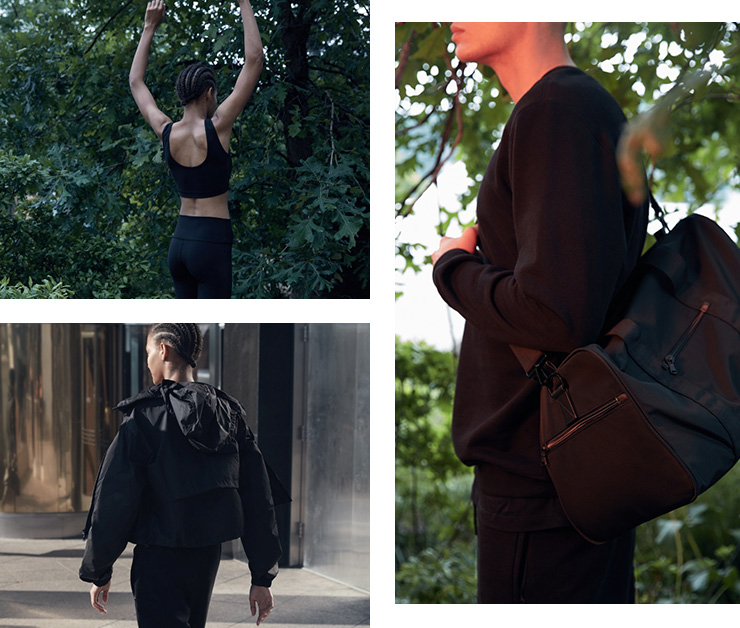 The focus of Release 02, their new collection which dropped in July, is luxury sport essentials. You've no doubt seen Kim Kardashian-West sporting many of the pieces. And the drop also debuted a cheeky shoe collab with Adidas. Pretty impressive.
Centenera and Goot wanted to elevate the everyday 'uniform', giving people practical essentials, which are also on-trend. Designed in NYC and made in Italy, the pieces are timeless and the quality is ace, with the couple putting high priority on using the best materials and manufacturing practises.
Bit more background info: Goot is a well-respected Aussie Fashion designer, and launched his eponymous label in 2005. He's known for his minimalist aesthetic, which you can totally vibe in Wardrobe.NYC.
Centenera has a seriously impressive fashion career and is currently fashion director of Vogue Australia. She recently styled the Louis Vuitton men's show with Virgil Abloh. Her and Abloh have a history of collab'ing, on both Off-White and other projects. My fingers are crossed for a collab on Wardrobe.NYC's next collection...
You can shop the second Wardrobe.NYC drop here.
Travelling to NYC? Check out The Best Spots For Free Wifi In NYC.
Image credit: Wardrobe.NYC