There's one sure sign that a Brisbane cafe is a local fave, and that's a line of people patiently lined up at the door on a Sunday morning. Unlike our southern cousins in Sydney and Melbourne, us Brisbanites are usually pretty unwilling to wait for our weekend breakfasts, so if you see a queue, it's gotta be somewhere worth waiting for—which Woolloongabba's Pawpaw definitely is.
Cafe by day, Thai restaurant by night, this longtime favourite has been around for so long you'd think the shine would have worn off by now—but it's only gotten more popular, for both brunching and Thai feasting. And with the epic vegan dessert created with the help of Connoisseur that just hit their menu, it's more enticing than ever—so if you've never visited, now is absolutely the time.
The venue has had a few makeovers since it's opening in 2012 (and Green Papaya before that). These days you'll find it with a boho Bali vibe, with vibrant, jungle-like murals on the walls and wicker lanterns hanging overhead. Multiple hidden spaces mean it never feels crowded no matter how busy and that you'll never have to wait too long for a table—which is ideal because you'll be drooling in anticipation when you hear about that Connoisseur dessert we mentioned.
Whether you hit the venue up for breakfast, lunch or dinner, make sure you save a little room for a sweet finish, because this vegan treat is all time. Pawpaw has teamed up with Connoisseur, to create a deconstructed Connoisseur Plant Based Vanilla Brownie stick topped with Earl Grey foam, tangy calamansi curd, creamy elderflower custard and sprinkles of matcha soil.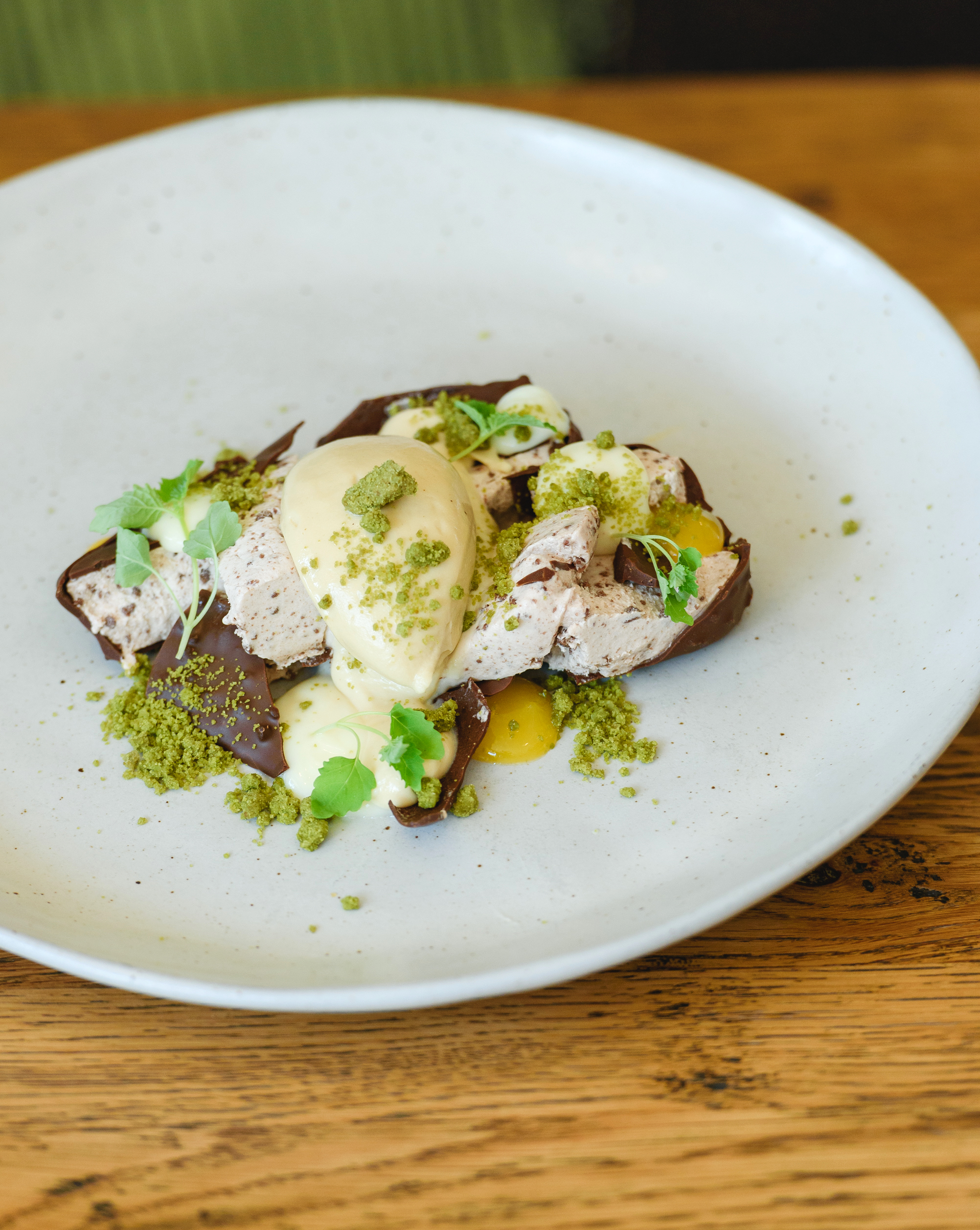 As much as we love a vegan dessert for its ability to leave our sweet tooth satisfied without causing our dairy sensitive digestive system grief, they're somehow never quite the same as a real ice cream-laden, cream-covered treat. Not so with this limited edition dessert—it's so creamy and delicious you won't even know that it's completely plant based, just like all of Connoisseur's delicious plant-based ice creams. It might even win over the non-vegans…
It's only around to the end of December, so you better hop to it—but if you need another excuse to acquaint—or reacquaint—yourself with Pawpaw, well let us tell you about their brunch and dinner menus, both of which are equally drool-worthy. The uber creative breakfasts here look as good as they taste, and a scroll through their Instagram will have you lusting after croissant eggs benedict, Biscoff custard topped French toast and they're signature potato hash with haloumi and poached eggs.
As for dinner, well—Pawpaw's beef cheek massaman curry is on our list of Brisbane's 50 best meals for good reason, but if you want to branch out, we're also fans of their crispy pork bao, pork belly in garlic and balsamic sauce, cashew nut stir-fry and Malaysian yellow curry with eggplant, potato and pumpkin.
Honestly, we've been known to hit them up twice in one day—and we're not even ashamed to admit it. Make tracks to Pawpaw and find everything you need to know here.
Image credit: Pawpaw Cafe Instagram
Editor's note: This article is proudly sponsored by Connoisseur and endorsed by Urban List. Thank you for supporting the sponsors who make Urban List possible. Click here for more information on our editorial policy.