We all have a little Phat Boy in inside of us. At least, that's the philosophy behind the hip new Thai joint inside the city's sleek Brisbane Quarter. After drooling over their menu of inspired feeds ahead of official opening day on Monday 15 July, we're pretty inclined to agree.
If you've ever salivated over the epic eats on offer just down the road at Phat Elephant, you'll want to check out the new venue from owner Alyssa Phadungkiat, whose quirky style and impressive attention-to-detail is also behind Brisbane favourites like Chai Thai in New Farm and Chapter IV in Paddington. Though Alyssa says she never meant to start a hospitality empire, she's well on her way, and Phat Boy is shaping up to be the hottest venue of the lot.
Giving authentic Thai food a Brisbane twist, the new restaurant is dishing up all the snacks, curries and wok-tossed eats you know and love, but not like you've ever seen them. The mixed entree comes high tea style on bamboo tea towers, while a papaya salad will have you grinding your own spice mix right at the table, DIY style. Though you can ask the kitchen to do it for you, we're loving the idea of getting hands on. We would definitely recommend following it up with the DIY san choi bow, making a glorious mess while you roll up your tasty fillings in crisp lettuce leaves. Oh, and you'll want to leave room for dessert, trust us.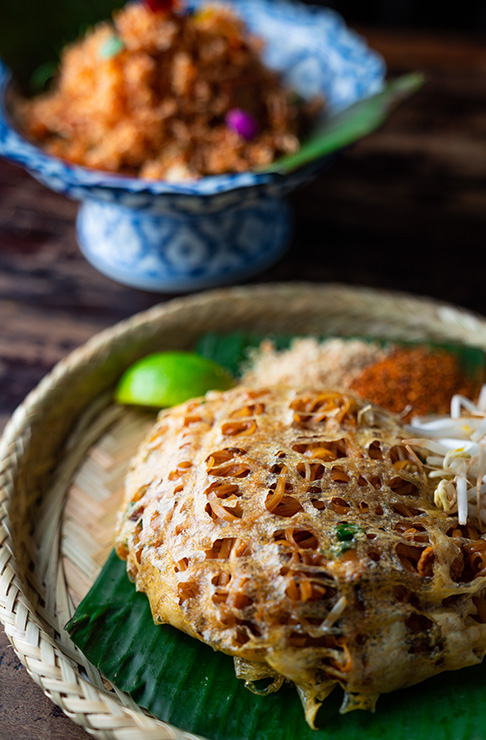 But the dish to get most excited about? Definitely the eatery's signature Kung Tung seafood spread—the ultimate food bucket list number if we ever saw one. A spicy chilli seafood feast is poured straight onto the table in front of you (don't worry, paper tablecloths, bibs and aprons are provided) just like on the streets of Thailand, ready for you to dive in and get your hands dirty. Best to share this one with the whole crew, and probably don't wear white.
We could go on and on about the menu (slow cooked beef rib and sweet potato massaman curry might just be our new winter comfort food staple), but we'd be remiss if we didn't mention the cocktail list. While you dine, sip on the likes of the Say One "Mo", with spiced rum, ginger syrup, lime, mint and ginger ale, or get adventurous (and possibly dancing on tables) with a Tuk Tuk, with gin, chilli infused vodka, tequila, Blue Curacao, lychee, pineapple and orange juice.
All this is served up in one seriously slick looking venue, with street posters lining the walls and custom-made bamboo light shades casting trippy shadows on the ceiling. Plus, we have it on good authority from the team that two equally as thrilling venues are on their way, one on either side of Phat Boy, though you'll have to wait to find out just what they'll be slinging—stay tuned.
Not prepared to wait another second to get a bowl of roast duck laksa noodle soup in your belly? Find Phat Boy in the Brisbane Quarter at 300 George Street, open seven days for lunch and dinner.
Can't get enough of pan-Asian feeds? Find out everything you need to eat at this year's Night Noodle Markets here.
Image credits: Larissa Drazic, Supplied