As if you haven't figured it out already, James Street is truly one of our favourite places in Brisbane. We're pretty sure you're sick to death about us banging on about 'James Street Restaurants', 'James Street Bars, 'James Street Shopping, but, honestly, we just can't get enough of this little street! If you're after things to do in Brisbane, this is ground zero!
And with news that the annual James Street Food and Wine Trail 2014 is a mere two weeks away — cue shrieks of childish excitement— we owe it to you, Brisbane, to give you our definitive round up of all that is good and pure in this mirco-world!
So settle in and take notes friends; here's our guide to the best of James Street.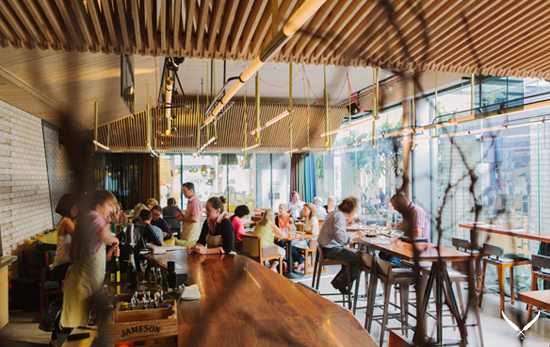 Eat
Gerard's Bistro
Seriously eclectic but seriously good, don't be fooled by the quirky décor at infamous James Street restaurant Gerard's Bistro— this menu is throwing some serious 'shade' at its competitors. Acclaimed head chef Ben Williamson brings his years of experience and travel stints to your humble dinner plate, using flavours from the Middle East, North Africa and Europe to give the ol' razzle dazzle to your tastebuds.
Keep your eye out for Gerard's Bistro in our picks of this year's James Street Food & Wine Trail. Details coming soon!
At Sixes and Sevens
THE place to see and be seen, At Sixes and Sevens really do know how to bring the atmos by the bucket load. Housed in an old Queenslander and rocking a kitch but classy '20's plantation vibe, this little gem does insanely good bar food and cocktails to boot. Anywhere that serves wine by the carafe is our kinda venue!
You won't want to miss At Sixes and Sevens Negroni bar at this year's Food & Wine Trail — we're just saying! Full details coming soon!
Jamie's Espresso Bar
One of the longest standing James Street cafes, Jamie's Espresso Bar is a lesson in how to get it oh so right. Cool, but not pretentious, simple but never boring, Jamie's pretty much dominate their little pocket of James Street! For the early birds, they make a bloody good coffee, and for the late to bed they do a mean cocktail! Long story short — everyone's a winner!
Bucci Restaurant
TUL fave Bucci is the king of Italian on James Street and we, frankly, couldn't be any more enamoured with everything they do if we tried. (Okay, if they gave us free arancini for the rest of our days, we'd come close.) Bucci has been pumping out the carb-y wonders to the adoring fans for more than two years now, but lately we've been sampling the delights of the Bucci Bar to great results.
Ready to Aperol? Bucci will be front and centre as part of the Food & Wine Trail this year so drop by the Bucci Aperol Spritz Lounge to get your mitts on one (or three) of these delicious cocktails.
Harveys
A long time love of James St regs, Harveys may have been around a while, but for good reason. This is modern Australian cuisine at it's best; Harveys is synonymous with the sort of high end casual dining that us Aussies can't get enough of. Nestled in the 'green' end of James Street, it's also impossibly picturesque and one of the best spots to watch the world go by.
Harveys will be a big player in this year's James Street Food & Wine Trail, so keep your eye out for them. Details coming soon!
Bitter Suite
Ok, so not technically on James Street, but we love it anyway. It may be up the quieter end of James Street, but let us tell you, Bitter Suite is well worth the — actually very short — walk! Giving off distinctly New York 'meatpacking district' mixed with English pub vibes, Bittersuite have a cracker menu that focuses on everything — right down to their sauce! — being made in-house! If that's not enough, they have a sensational wine and beer selection, and seasonal inspired fare. What more could you possibly want?
Chow House
Not only located in arguably in the most sought-after spot on all of James Street, Chow House's food is so good it borders on criminal! Asian-inspired, with a focus on fresh, simple share-style cuisine, Chow House sums up the way us Brisbanites like to dine; with good company, in a great location, eating delicious but unfussy food. You won't find airs and graces here, but you will find a killer atmos' and some damn fine Asian inspired cuisine!
Catch Chow Houses' Head Chef Timmy Kemp at the upcoming Food & Wine Trail- event details coming soon!
Sugar Jar
The cutest little café going, relative newcomer to James Street's café scene, Sugar Jar is the perfect post-credit card workout spot to rest those weary bones and sip on some jump juice to refuel. Just off the hustle and bustle of the James Street strip, Sugar Jar is our new favourite hang out (this has nothing to do with their sinfully good selection of pastries) — paper in hand, pastry in the other!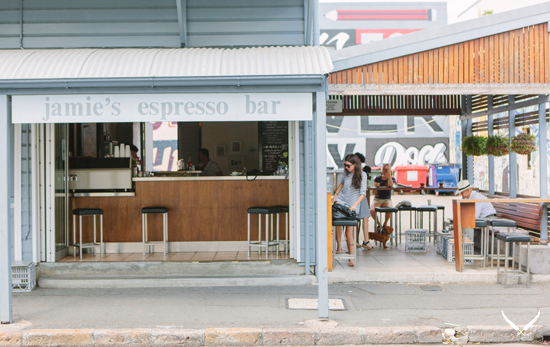 Shop
camargue
All you fashionistas with your finger firmly on the sartorial pulse, you'll be very familiar with camargue. One of the chicest fashion stores along James St, here you'll find wardrobes staples you'd hand over your first born for; Dries Van Noten, Haider Ackermann, Carven, plus chic basics from the likes of Bassike and Current/Elliott. Crack open your wallets and make it rain!
lululemon athletica
From the super fit, to us regular Joes that require a little extra perseverance in the fitness department, lululemon athletica is a #fitspo mecca. Enter a world of impossibly beautiful workout gear that is so flattering, you'll wish you could wear it at your desk 'sports-luxe' style! Add to that their regular in-store yoga classes, and you'll be coming up with all sorts of excuses to keep going back. Because let's be honest ladies, one pair of lululemon leggings is never enough — amiright?!
Jocelyn's Provisions
A favourite, frankly, among close to every person who has or ever will live in Brisbane, it's not hard to see why Jocelyn's Provisions has a dedicated and addicted following. Step into a world of perfectly iced cakes, indulgent baked goods, and shelves of gorgeous pantry provisions that will awaken your inner Martha. Be still our gluttonous beating hearts!
Mac Pro Store
Like a kid in a candy shop, you'll find it difficult to leave the new Mac Pro Store on James Street without buying one of everything. In every colour! Wall upon wall of your favourite products and bestsellers, limited edition colours and collections dropping like hot cakes, all housed in a pretty kick-arse boutique.
Play
Palace Centro Cinema
A place for lovers of the silver screen, Palace Centro has been at the heart of James Street for many years. Be you a blockbuster movie buff, or you just prefer something a little more on the cultural side, grab yourself a glass of wine, an antipasti platter, and a hand-made choc top , and settle in for some movie magic.
Standard Market Co
A food hall to 'boss' all other food halls, Standard Market Co makes shopping for your weekly groceries a little bit glam! Peruse the isles of perfectly packaged sauces and condiments, dips and posh cheeses, or pick up a perfect arrangement of scrummy fruit. We may joke, but pantry envy is now an actual thing, you know!
Health Place
When life gives you lemons… go get a massage! A cross between a health clinic and a day spa, Health Place on James Street exists to improve our very wellbeing — isn't that nice! Get expert advice on heath issues, acupuncture, dietary questions, or simply rid yourself of the aches and pains caused by too much James Street shopping with a back massage.
Brooklyn Beauty Bar
Are your brows looking a little unruly? Perhaps your partner requires a touch of 'manscaping'…? Fear not, for the team at Brooklyn Beauty Bar have seen it all before, and gee whizzacles do they have a list of brilliant treatments for us mere mortals to primp and preen ourselves with! You can even grab your pals for a 'Nail Party' pamper sesh — with a glass of champers! Fancy!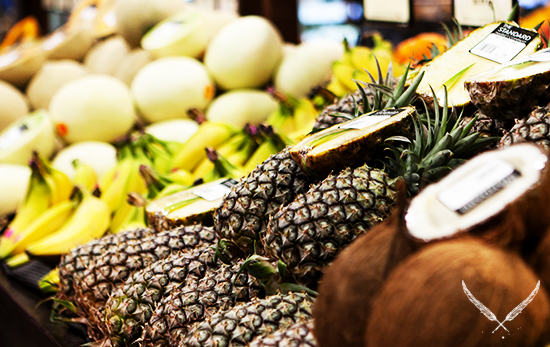 Have we missed your favourite thing to do on James Street? Let us know in the comments below!
TUL Note: Today's List Love post is proudly sponsored by James Street Initiative and endorsed by The Urban List. Our sponsored posts will never be a secret — the List Love seal will be stamped on any sponsored material you see on the site. Thank you for supporting the sponsors who make The Urban List possible.
Image Credits: Daniel Maddock, Standard Market Co.