Somewhere in the world a big bearded man who loves dressing up in red is getting his act together. And that can mean only one thing – Christmas is around the corner!
The James Street crew must know exactly how much shopping we've done (ie. none!) because this Thursday they're staying up late so we busy bees can tick the boxes on our Christmas shopping list.
As always, there's a ton of fun stuff going on (plus some pretty sweet deals) and with so much action, one can only get by with the ultimate insider's itinerary…
Here's the scoop.


In our opinion, they have Brisbane's best range of sunglasses and for one night only, Onepointsevenfour is offering 20% off and champagne – not to mention their expert opinion on the perfect frame for your face!
They'll also monogram any frames you purchase. Seriously great gift idea for boyfriends and dads. (You can read more about this here…)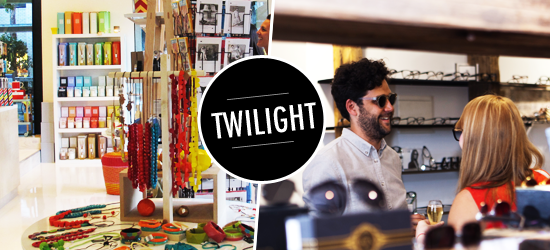 Greenhouse has recently joined the James Street precinct – the solution for those on your list who have everything. Stop in here early to nab the top picks.
We've also heard rumours that Zimmermann, Camilla and ZOMP will be offering up to 20% off their enviable new season collections… Yup – you're in luck!
Making a show stopping entrance at your Christmas party is all about killer shoes. Nat-Sui knows a thing or two about making an entrance. Stop in and walk away with a bundle of pink shoe boxes at 20% off!

For a touch of Europe on James, duck in to Sans Peur Workshop. Again, 20% off all shoes, handbags and accessories. Did someone say Rick Owens?
Fancy winning a $500 voucher to shop at Urban List fave, Lee Mathews? Open from 5pm till late, any purchase at Lee Mathews on the night will have you in the draw to win this fab prize (and, bonus, they have 10% off everything in store for this one night!).
After working with the likes of Louis Vuitton and Christian Louboutin, local artist, Kerrie Hess will be taking her beautiful fashion illustrations to the streets. Visit camargue, French Rendezvous or Optiko to see her in action – lord I wish I could draw!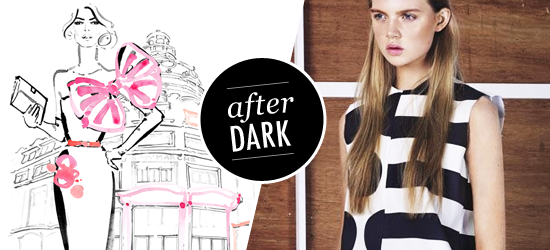 camargue will also be pouring drinks for their nearest and dearest (eg. you and me!), while offering 10% off all purchases on the night. Discounts on bassike & Current/Elliott? Tick.
And if one drink isn't enough and you're on the hunt for more gorgeous designer threads, pop across the street to Samantha Ogilvie. 10% off all purchases, including the latest resort collections from Megan Park, MSGM and Matthew Williamson.
Christmas is a time for giving, and this year the style mavens at Calexico will be giving a little back to the AEIOU Foundation. All you need to do is head in with your Christmas gifts and they'll wrap them for a gold coin donation.

So you've picked out a couple of party frocks and are in need of a half-time food stop. Newcomer, Tinderbox will have the wood oven fired up and ready for you to devour their mouthwatering pizzas. We can recommend the kale and potato pizza – oozing cheesy goodness!
Keep your eyes peeled for the Champagne acapella group who will be roaming the precinct, serenading us all with Christmas carols. Scrooges beware.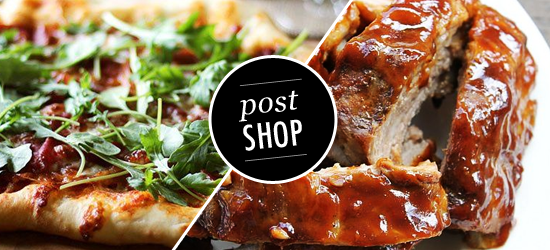 And because it's officially December, you're absolutely allowed to stay out on a school night! You'll find us perched on the astroturf at Sixes and Sevens. We may or may not be the ones with a mountain of sticky ribs…
Looking forward to seeing you on James Street on Thursday! Head to the James Street's site or Facebook page for even more goings on…
Christmas on James
Thursday, December 5
4PM – 8PM