It goes without saying that, for us at The Urban List, we're partial to a long weekend escape or two. Whether it's a boozy beach house getaway, a solo road trip home to the 'rents, or cruising down the coast for a Negroni-fuelled vacay, long weekends are a time to take things up a notch.
Enter: Canberra. Not only is it our country's lil ol' capital, but it's also home to some of the coolest new boutique hotels, hole-in-the-wall wine bars and natural wonders (of the vineyard variety) that Australia's seen in a loooong while. Yep, we're dubbing it the be-all and end-all of long weekend breaks—you heard it here first.
So, we teamed up with our mates at Tigerair to celebrate their new direct route from Brisbane to Canberra (FYI, it takes less than 2 hours – win!) to put together the perfect long weekend escape itinerary. 72 hours of uninterrupted wine-drinking-art-seeing-hotel-livin' bliss? You're welcome.

---



If you're anything like us, you know that school taught you one thing: food is both a noun and a way of life. Not only do we pride ourselves on being an office full of brunch experts (Kettle & Tin bloody marys, we're looking at you), but we've also tucked into the Bekaa wings at Gerard's Bistro and lined up for the life-changing gyoza at Motto Motto. So, we know our sh*t. Listen up…

Elk & Pea
From the famous hash fritters made with a secret in-house recipe, to the huevos rancheros dripping in beans, chorizo, avocado and herb crema (drooooool), Braddon's South American eatery Elk & Pea is a must-visit on Canberra's breakfast scene. Find it at 21 Lonsdale St.
Monster
Perfect for late-night eats with the goods on offer 'til 1am, Sean McConnell's latest project Monster is a firm favourite on the Canberra foodie scene.
Famous for its local and seasonal produce designed for sharing, favourites include the pulled lamb shoulder, slow cooked pork neck and Goolwa pippies dressed with chorizo and cider.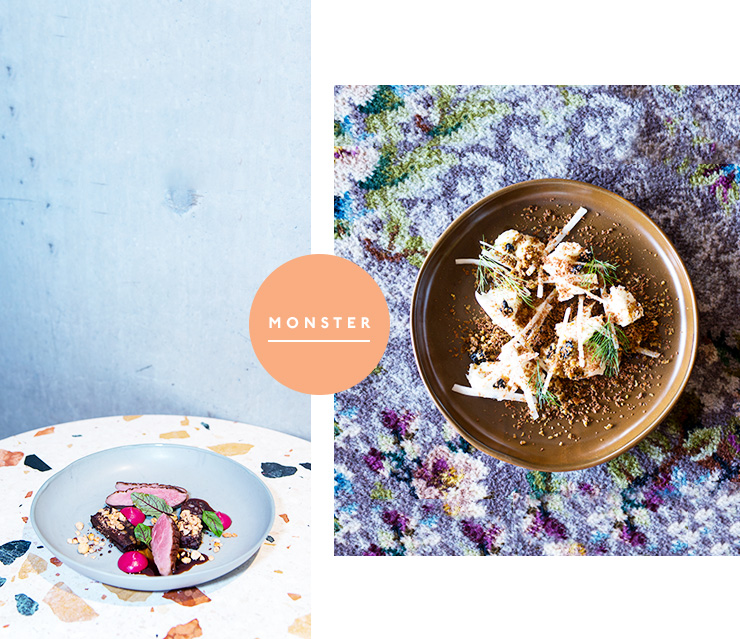 Temporada
When owners Ben Willis (of the hatted Aubergine fame) and Chris Darragh first opened Temporada, they opted for a location on a hidden, back street on the skirts of the city (known as Civic to the locals) to keep things low-key. Two years on, it is everything but.
The wine list is huge, and the menu is seriously tempting. Starters are a highlight with woodgrilled oysters, duck liver parfait and grilled lamb tongue with honey and rosemary glaze, but it's the share plates that Temporada are truly famous for. Think: Whole roasted lamb shoulder, wood fired tomahawk with béarnaise (1.2kg of it, no less) and blood orange duck breast dripping in kimchi butter.
AKIBA
Voted Australia's best restaurant in 2016, AKIBA is where the flavours of East Asia's food halls meet the coolness and energy of west-coast America on Bunda Street.
Cooked over live fuel of wood and charcoal, the menu features a healthy mix of all our favourites – prawn & chicken dumplings, miso dengaku eggplant, Japanese fried chicken, beef short rib (bathed in tamarind caramel) and kobe skirt, with teriyaki and black sesame. 'Nuff said?

---



From hole-in-the-wall dives and craft-brew havens to top-notch cocktail joints and somm-approved wine bars, a night out in our capital is not complete without a visit to these favourites on the Canberra drinking scene.
Lucky's Speakeasy
Hidden inside the QT Hotel, Lucky's Speakeasy is an intimate hideaway bar with a real prohibition feel. The cocktail list is a sophisticated mix of seasonal signatures and forgotten classics, with favourites including the Banana Rum Old Fashioned, Negroni Reale and New York Sour. Perfect for a pre-dinner drink or cosy night cap.
Bar Rochford
Hidden in the historic Melbourne Building, Bar Rochford is a must-visit for all wine & cocktail lovers. The perfect spot for a pre-or-post dinner drink, chef Louis Couttopes also serves up some next level bar food, don't miss the grilled bok choi, with buttermilk and furikake, and the soy cured king oyster mushrooms and chilli.
Highball Express
This place is bringing Cuba to Canberra, and they're doin' it well. With high ceilings, white walls and balcony breezes, Highball Express is the perfect stop on a boozy afternoon. If you make it into town for Thursday's Havana Nights, these guys serve up $10 mojitos all night.
---

Whether you're just visiting for a weekend or committing to a solid week or two (we knew we liked you), the hotel scene here is well worth a sus.
From boutique apartments to hotels with a touch of OTT luxury, you're never far from a great room in Canberra.

Hotel Hotel
Nestled in the Japanese-inspired Nishi Building, Hotel Hotel has a museum-worthy interior, 68 rooms and boasts Australia's highest six-star rating (we told you this city doesn't do things in halves).
Dreamed up by two brothers, Jonathan and Nectar Efkarpidis, who set out to create the most radically sustainable hotel in Australia, the hotel is a collaboration of over fifty designers, architects and artists.
FYI, it's a little out of the centre of the CBD, but there's a whole host of eats and drinks in and around the property (including Monster, which lives on the hotel's ground floor).

QT Canberra
A hotel favourite popping up all over the east coast, QT Canberra is a retro-luxe establishment in London Circuit.
Kitted out with a playful '70s vibe, each room is all about the good times, and features a fully-stocked mini bar and quirky late-night 'treats'.

---



Getting cultured in Canberra is easy. And it's even easier to get overwhelmed. So, here are our picks for making the most out of everything this city has to offer.

Art Galleries
Without a doubt, the Canberra art scene is a right of passage. At The National Gallery of Australia, you'll find almost every big name from the world of art, with famous works including Monet's Waterlilies, Sidney Nolan's Ned Kelly paintings, Salvador Dali's Lobster Telephone and an Andy Warhol Elvis print.
But it's the web of lesser-known, hole-in-the-wall galleries that will be the real highlight of your trip to our capital, with Drill Hall and M16 Artspace noted as top picks.
Don't miss the National Portrait Gallery or National Film and Sound Archive while you're there.

New Acton
One of Canberra's coolest new additions, New Acton is a culture hub just a few minutes from the CBD.
A mix of architecturally impressive apartments, cafes, restaurants, shops and galleries, the area spans a number of blocks centred around the Nishi building (home of Hotel Hotel).
Whether you're after the eco friendly breakfast at Mocan and Green Grout (they even grow their produce on site), handcrafted burrata at Bicicletta or rustic cocktails at A.Baker, New Acton is definitely worth reserving an afternoon for. Feeling thirsty after all that exploring? Hit up the Parlour Wine Room for a taste of the best local wines.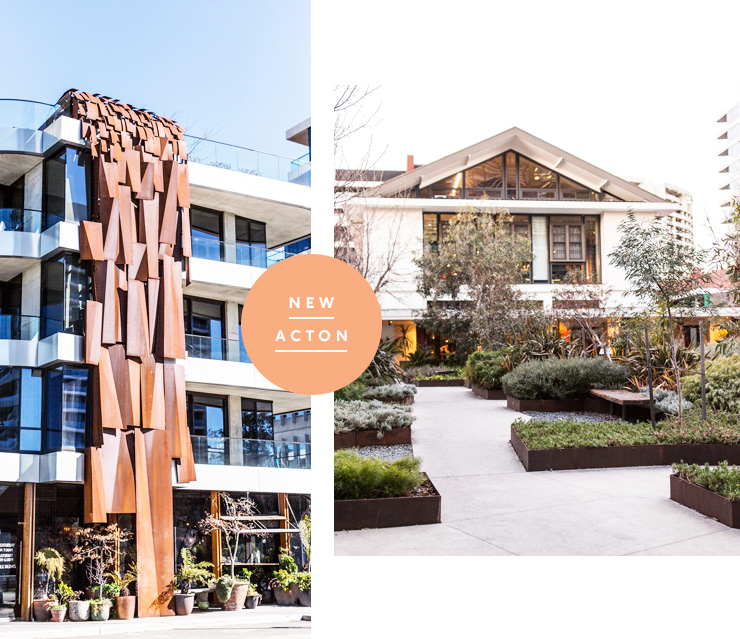 Fyshwick Fresh Food Markets
Three words: award winning macaroons. A one-stop shop for all visiting foodies, the Fyshwick Fresh Food Markets are the city's longest standing markets and a local institution. Here you'll find family-owned wine stores selling the best drops of the region, local butchers, pasta makers and the largest selection of cheeses in Canberra.
Cellar Doors
A trip to Canberra isn't complete until you sample some of the region's best local wines. Home to 140 vineyards and more than 30 cellar doors, Canberra District is just a 35 minute drive from the CBD, with the largest collection of wineries found in the Murrumbateman region.
Clonakilla's cellar door line-up is a top pick for this area, with a Reisling, straight viognier and a Hilltops Shiraz among those for tasting.
Those who fancy a cheeky tempranillo should head straight for Mount Majura Vineyard (and make a lunch reservation at the hatted Pialligo Estate), while Riesling fans should opt for a visit to the guys at Helm Wines. If no one's willing to play deso driver, book yourself a wine tour and thank us later.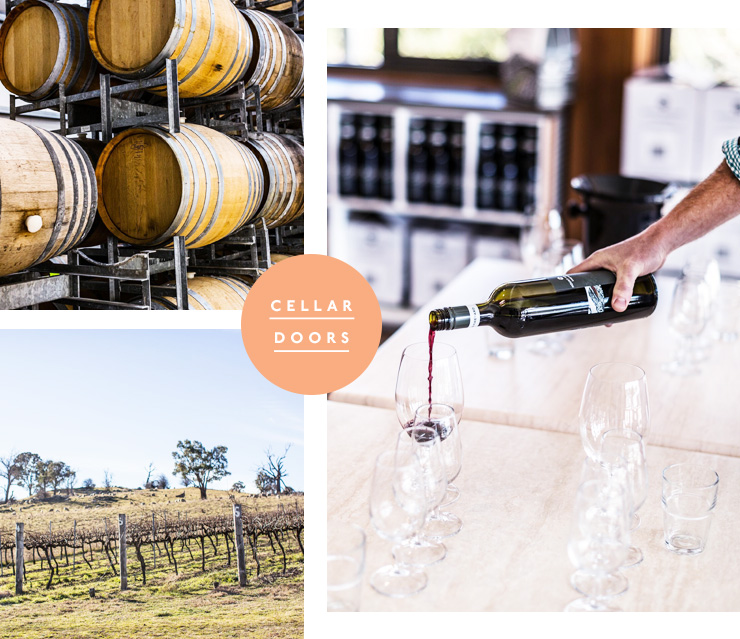 ---

Tigerair flies direct from Brisbane to Canberra, check out tigerair.com.au for the latest deals.
Editor's note: This article is proudly sponsored by Tigerair and endorsed by The Urban List. Thank you for supporting the sponsors who make The Urban List possible. Click here for more information on our editorial policy.
Photography credit: Tess Godkin + Supplied. Design credit: Gabrielle Stjernqvist