This'll be as close as we get to owning a real Van Gogh.
Skate brand Vans have partnered with The Van Gogh Museum in Amsterdam to bring some of the artists classic pieces to life...in fashion form.
Managing Director of the Van Gogh Museum, Adriaan Dönszelmann, says "by uniting Van Gogh's iconic artworks with Vans styles, our partnership brings Vincent's art "Off The Wall" and into the world. To a new audience outside the museum."
They actually look pretty cool too, right? Each piece has been artfully mashed-up, focusing on Van Gogh works which highlight personal moments in the artist's life, and also ones that connect with Vans' creative ethos.
So what should we get hyped for? Short answer, legit everything.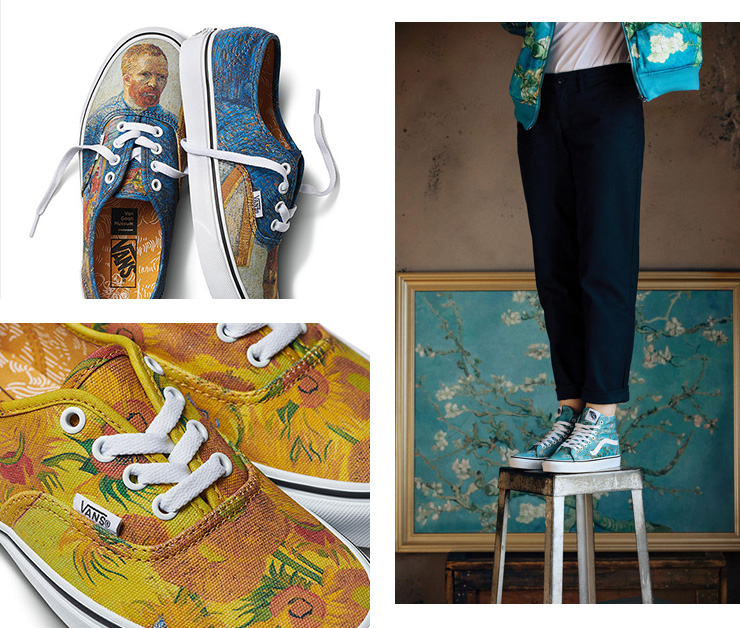 Long answer, four of the post-impressionists pieces have been chosen. Skull will be on a long-sleeve T-shirt, hoodie and the Classic Slip-On; Almond Blossom digitally printed on a hat, backpack and satin-like bomber jacket; and Sunflowers on the lace-up Authentic style as well as hoodies and T-shirts.
Van Gogh's self-portrait, the Old Vineyard with Peasant Woman, plus excerpts from handwritten letters to his brother (Theo) will also be in the collection.
If you're lucky enough to score one of these, you'll notice that each piece includes a hangtag that highlights historical facts about the particular artwork. And a portion of profits from sales will go towards the preservation of the artist's collection.
Each pair of sneakers will also feature a custom sole, which mimics Van Gogh's brush strokes. Nice touch.
Now to the important deets: how do you get your hands on these?, The collection will be available worldwide online on August 3. Or if you happen to be in Amsterdam, you can drop into the museum and pick up the goods. It'll also be stocked at select Incu stores around Australia, so you can always try your luck there.
If you're looking for artwork for your walls (not your feet), check out our guide to Art For Every Budget.
Image credit: Vans