A big night out and a kebab is all well and good, but sometimes what you want from a watering hole is place convenience, relaxation and dare we say it, friendship? Just like Cheers, it is an added bonus if everybody knows your name.

Ergo, what you're after is 'the local'. And it doesn't matter if you're a bar fly, pub fan, or club rat, everyone can appreciate the appeal of a bar that's a short stroll from your house, where the dress code's relaxed and you can have some casual fun.
The Lark
Paddington's hills are not ideal for climbing, but, hey, we'd do pretty much anything in the name of a drink. And climb we do, onwards and upwards to the lovely Lark, on Given Terrace. They have a cracking bar menu (e.g. the chips come with either chipotle mayo or gorgonzola sauce) as well as pizzas, sliders, and desserts.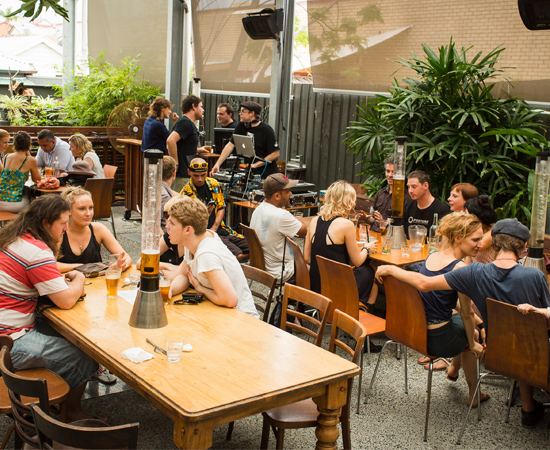 Lock'n'load
It's true West End has no shortage of bars, but bona-fide locals are not to be swayed by the newest venues, preferring to stick to spots they know serve great food, have a dependable and delish' cocktail list, as well as a chilled ambience (preferably with live music, and a great tropical courtyard out the back). Lock'n'load ticks all these boxes. We highly recommend the Bloody Marys.

Newmarket Hotel
The NMH perched on a busy intersection in down town Newmarket, makes for a great venue when searching for a steak and 'frothy' on a Friday night (seriously, trust us, it goes off like a prawn in the sun).

Green Beacon
Newstead kids and Teneriffe tipple appreciators know that beers houses don't come more relaxed than Green Beacon. Brewed in house, their beers are available in handy take-home 'growlers', and are well worth the trek, even if you don't live just down the road.
Canvas
The cocktail menu is amazing; it's nestled in the Wooloongabba precinct, and the food is top notch (think rustic, warming tapas plates) PLUS they have a courtyard, ideal for a spot of Sunday relaxin'.

Junk Bar
Home to live music, killer cocktails (hello, chilli chocolate martini!), and a cosy, comfy interior, it's little surprise Ashgrove's Junk Bar, is a firm favourite with the locals. (We like this spot so much we even had them curate us a little mix tape!)

Kettle and Tin
Another Paddington one worth the hilly ascent for and the Tuesday night trivia is a triumph. Sure, it's competitive, and gets a little heated, but you can't fault this gem. Or the duck nachos. Or a bottle of their Chianti with some Duck Nachos.

Iceworks
It's got that little patio-esque spot out the front, that's just ideal for an afternoon delight and some morsels from their tapas menu. Now, who's in for a plate of Patas Bravas?
Where's your favourite local? Let us know in the comments below!
Image Credit: Daniel Maddock, Geoffrey Zabell