So, you're a cool bride. Congrats! This is going to be fun.
Cool brides are all about keeping things modern and not getting too hung up on the type of bride they 'should' be, preferring to focus on the type they want to be (how novel!).
Cool brides are not hung up on tradition, preferring to focus instead on enhancing their personal style and creating a wedding day that is a reflection of their lifestyle. They want their big day to be fun, unique, and authentic and, most of all, they want everyone to have a good time!
Yeah, cool brides rule.
Here are our picks for the cool bride: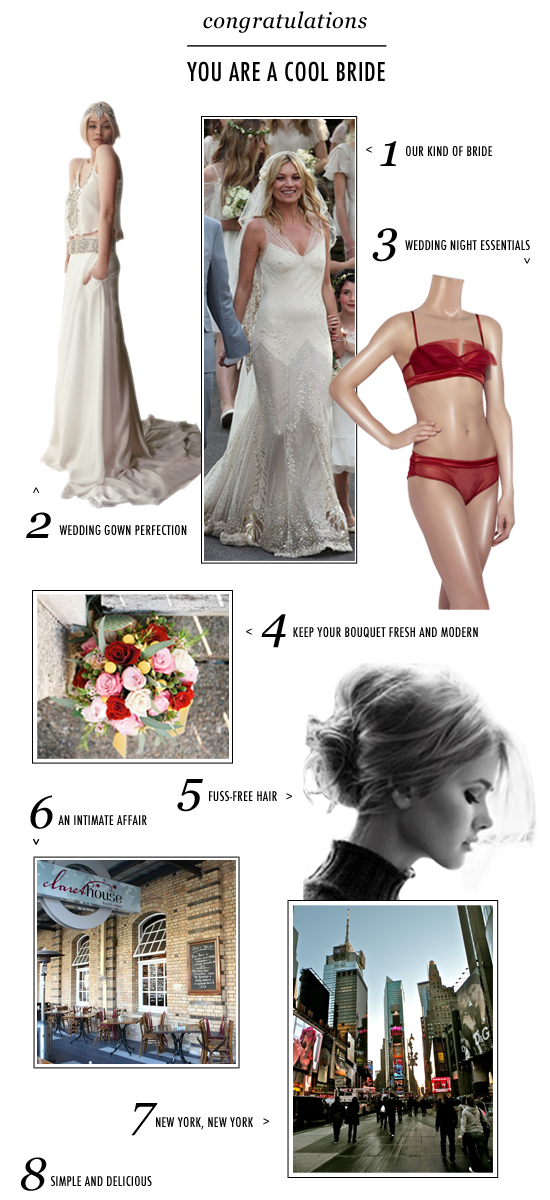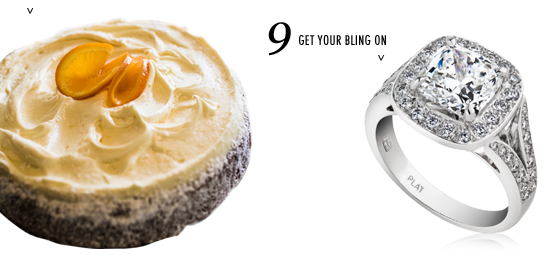 1. The Inspiration
Is there a cooler bride than Kate? We think not. Whether Mossy's retro-glam/boho/vintage look is up your alley or not, there is no one who owns their look more than Kate, and no better inspo' for cool brides, in our opinion.
2. The Fashion
As a cool bride, you are likely looking for a dress that's unique, and not too 'bridey'. You want something that reflects who you are, is beautiful, and a bit of fun. No frou-frou Princess Di frocks here.
Where to go | Bo & Luca
3. Lingerie
Lingerie is an important part of a bride's arsenal and the cool bride is one to flout tradition and experiment with modern designs and colours. Boudoir Chic, the perfect place to stock up on wedding night (and honeymoon!) necessities, have a range of options perfect for the bride looking for something a bit left of centre. After all, who says a bride can't wear crimson lingerie? Not us!
Where to go | Boudoir Chic
4. The Flowers
Your blooms will lean toward the quirky, and traditional pastels will be off limits. Our friends at Alba Roses suggest cool brides be on the look out for floral alternatives, like seeds and leaves, and bold, contrasting colours to give your bouquet a fresh, modern look. Bigger bouquets are back in a modern take on the traditional bouquet arrangement, and are being filled with a variety of textures and colours to keep it interesting and, most of all, fun.
Where to go | Alba Roses
5. The Hair
It pretty much goes without saying that the cool bride wants to keep their wedding hair modern and unfussy, and we have just the place for you to go to get the look. York Hair Artistry in Fortitude Valley is the perfect place to get your styling done (without being forced to succumb to a barrage of barrel curls). York specialises in giving all customers a natural, beautiful hairstyle, that makes you look like a better version of yourself—perfect for brides that don't want to scare their grooms come aisle time.
Where to go | York Hair Artistry
6. The Venue
There's a big trend toward moving away from the big-bash wedding, with lots of couples choosing to embrace smaller, more intimate wedding functions. For the cool bride keen to follow suit, we suggest a relaxed cocktail function in a central location where guests can enjoy excellent food and wine. One of our top picks for intimate wedding venues in Brisbane is Claret House in Teneriffe. Catering for up to 100 guests, Claret House is the perfect setting for a just-right-sized wedding, in a central location. Cool brides will also love that Claret House is a blank canvas—perfect for the bride who doesn't want to be tied down by traditional wedding décor and styling.
Where to go | Claret House
7. The Honeymoon
There's only one destination cool enough for the cool bride, and that's the Big Apple. Immersing yourself in New York for a few weeks—eating the food, shopping, catching some shows, eating the food . . . it's just what you two cool cats need after your big day has wound up.
Where to go | The Standard Hotel, New York
8. The Cake
Ah, the wedding cake. A crucial part of the day, for sure, but one that can so often fall into the 'daggy' category when left in the wrong hands. Not for you, cool bride. We know you're on the lookout for something modern and simple—no marzipan for you!
We think we've found the perfect pairing for the cool bride in Cake Kiosk, the delicious little Brisbane cake business that we just can't get enough of! Run by owner and chef, Jade, Cake Kiosk is perfect for the bride who wants a delicious cake that doesn't look like a traditional wedding cake. Jade can consult with you on what you're after but no matter what you choose, the end result is sure to be a refined, tasteful concoction that will wow your cake-loving guests.
Where to go | Cake Kiosk
9. The Rings
There are no rules when it comes to your rock, but we think a cool bride is best suited to something with clean lines and a fresh shape. Perhaps a cushion-cut diamond surrounded by lots of claw-set diamonds? Uh, yes please!