The new hub for great cafes and coffee, Marrickville offers some of the best breakfasts in town. We think it's about time you took a trip to the vibrant Inner West and test it out for yourself. From vegetarian bubble and squeak to lamb and pork rolls, and poached eggs with dukkah—these are some of the best breakfasts in Sydney.

Cornersmith
A go-to amongst breakfast loving Sydney folk, Cornersmith serves up the highest-quality seasonal produce with homemade chutneys, pickles and relishes, as well as excellent Mecca coffee. Very high on our best breakfast hit list in Sydney—particularly when it comes to eggs, ricotta and tomatoes, this is wholesome eating.

Marrickville Organic Food Market
Offering the best of organic produce, at this local market you'll find a plethora of tasty breakfast offerings, including corn fritters, lamb rolls, superfood salads and an unbeatable selection of vegan cakes. Held every Sunday from 8:30am till 3pm.
Address: 142 Addison Road, Marrickville NSW 2204

Bourke Street Bakery
At the Marrickville outpost of Bourke Street Bakery, you'll find its full range of delicious, freshly baked goods, including pork and fennel sausage rolls, tarts and sweet treats. Get here for your Saturday breakfast fix and then head on to explore the Inner West.

Double Roasters
Roasting its beans onsite within a converted warehouse, locals flock here for the coffee, but stay for the food—the vegetarian breakfast, potato and ocean trout cakes and croquet-monsieur are all standouts!


Beejay's
This café-cum-wine bar is a favourite amongst Marrickville locals. Its ethos of 'quirky meets quality' permeates the menu with creative offerings such as cured zucchini salad, vegetarian bubble and squeak, and a delicious selection of housemade cakes and jams.

Coffee Alchemy
A long-standing institution on Sydney's coffee landscape, start your Marrickville breakfast crawl with a good dose of caffeine! There's a tiny shopfront with a few seats, so you best get your coffee to go.

Marrickville Pork Roll
Don't be deterred by the queue down the street, Marrickville Pork Roll is worth the wait. Offering take-out only, order the one 'with the lot'—shredded pork, chilli, coriander, carrot and cold cuts. A hearty and delicious breakfast option, particularly when nursing an indulged hangover.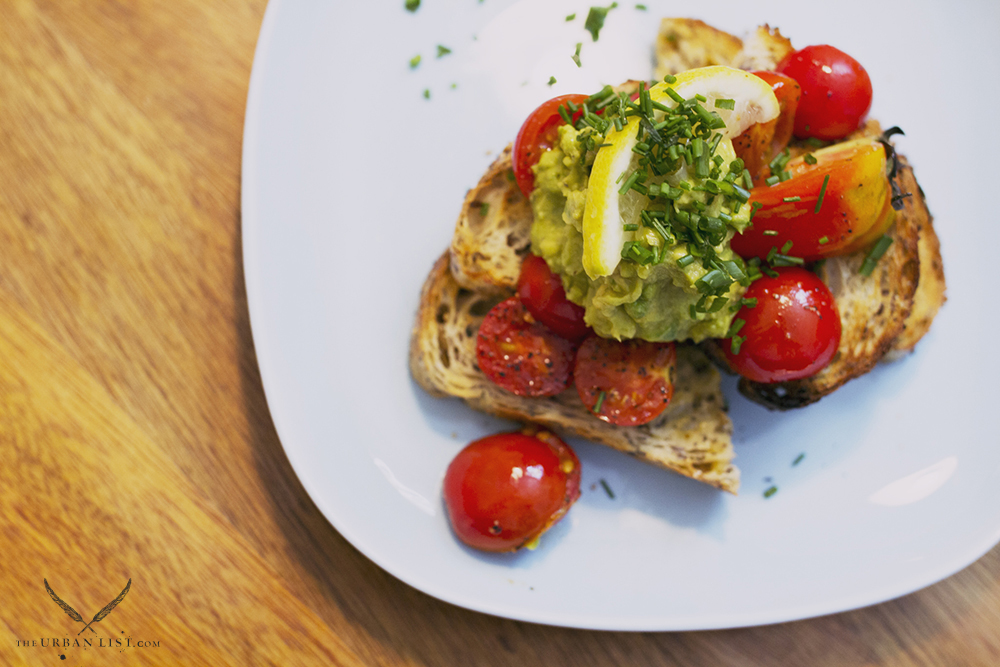 Daisy's Milkbar
For those of you who like their breakfast served with a side of nostalgia, Daisy's Milkbar in neighbouring Petersham is a must while in the suburbs. You'll find 50s-style booth seating, walls lined with mixed lollies (Redskins, raspberries, red and green frogs and Push Pops) and a bunch of old-school milkshakes. A great new Sydney breakfast spot.
Address: 340 Stanmore Road, Petersham 2049
Phone: 02 8065 3466

West Juliett
A favourite on Sydney's breakfast scene, West Juliett serves up flavoursome rustic fare, which constantly draws the crowds. For those who manage to secure a seat, order the poached eggs with dukkah, the grass fed burger, or the 12-hour roasted pork salad. Don't leave without sampling the pink salt choc chip cookie—amazing!

Petty Cash Café
Priding itself on an entirely homemade menu (including jams, relishes, dressings, mustard, hollandaise, tarts, sausage rolls, lemonade, banana breads and cakes) this Marrickville café serves up great coffee and plenty of choices for vegetarians. Delicious menu highlights include the gluten-free quinoa fritter stack and its famous golden falafels. This wholesome Sydney cafe is a must-try destination on Marrickville's best breakfast itinerary.
Address: 68 Victoria Road, Marrickville NSW 2204
Phone: 02 9557 2377