The boys at Beer Days really like craft beer and they're on a mission to convert Sydney beer-drinkers over to the crafty side.
Starting back in 2011, when founders Cameron Elliot and Andrew Leppinus would host beer events at some of Sydney's best restaurants, their pilgrimage has led them to create Beer Days, a subscription craft beer service that we can't get enough of. Yes, in the race for craft beer domination, these guys are certainly winning.
So how does it work, you ask? Well, beer-lovers, each month they select four different craft beers, filling a Beer Box and delivering it straight to your door. You'll never go thirsty again! There are three different options with your choice of 8, 12 or 16 specialty beers. The boxes can be sent Australia-wide and you can end at any time. So if you're looking for the perfect Valentine's Day or birthday gift, it resides in this glorious four-letter word: beer.
Whether you're a craft beer novice or connoisseur, Beer Days is a great way to sample a range of craft beers, and includes rare and limited edition beers you may otherwise not be able to get your hands on. You can expect local brewers like 4 Pines, Red Hill, Feral Brewing and Rocks Brewing Co. as well as boutique hard-to-find brewers from around the globe. Beers that have made an appearance include: Hop Juice (USA) which is a full-bodied cloudy orange loaded with malt flavours and hints of burnt toast; Pils (USA) that's sweet with a dry, crisp, bitter finish; Rising Sun (Japan) an amber ale with a fruity sweetness and Dugges 1/2 Idjit (Sweden) that's clean, sharp with hints of toffee.
Imagine, ice cold beer at the click of a button. We'll cheers to that!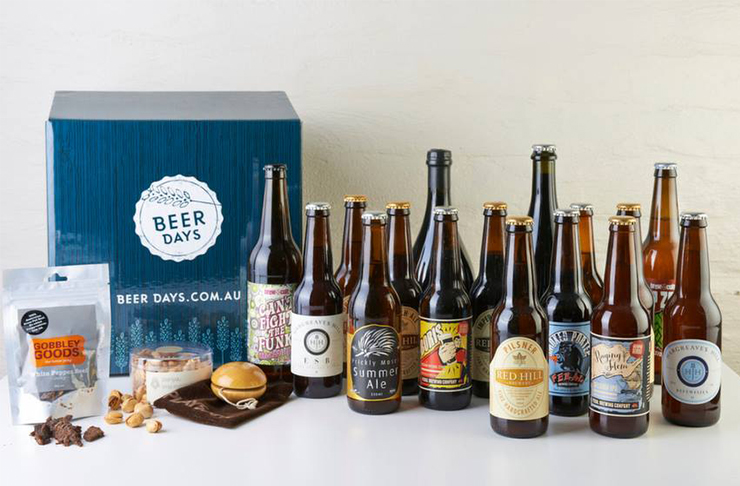 TUL Note: This article is proudly sponsored by Beer Days and endorsed by The Urban List. Thank you for supporting the sponsors who make The Urban List possible. Click here for more information on our editorial policy.