A spectacular festival of kaleidoscopic lights, inspiring music and thought-provoking ideas, Vivid Sydney is now in its 11th year and is only getting better with age. If you're heading along to this year's festival and your calendar of must-sees is brimming like ours, then fuelling yourself for the plethora of activities and exhibitions is just as important as the event itself. No one likes to experience things on an empty stomach—nor does anyone like to be in the presence of hangry company.
When Circular Quay is bursting with Vivid crowds, it can be tough to find a cosy nook for respite let alone a trove of culinary hotspots to satisfy your food cravings. But, as always, we've got you covered. Whether you're starving, thirsty, or just feeling a little peckish, we've teamed up with Gateway Sydney to serve up a curated list of Circular Quay's most delicious bites to ensure you're ready to take on Vivid.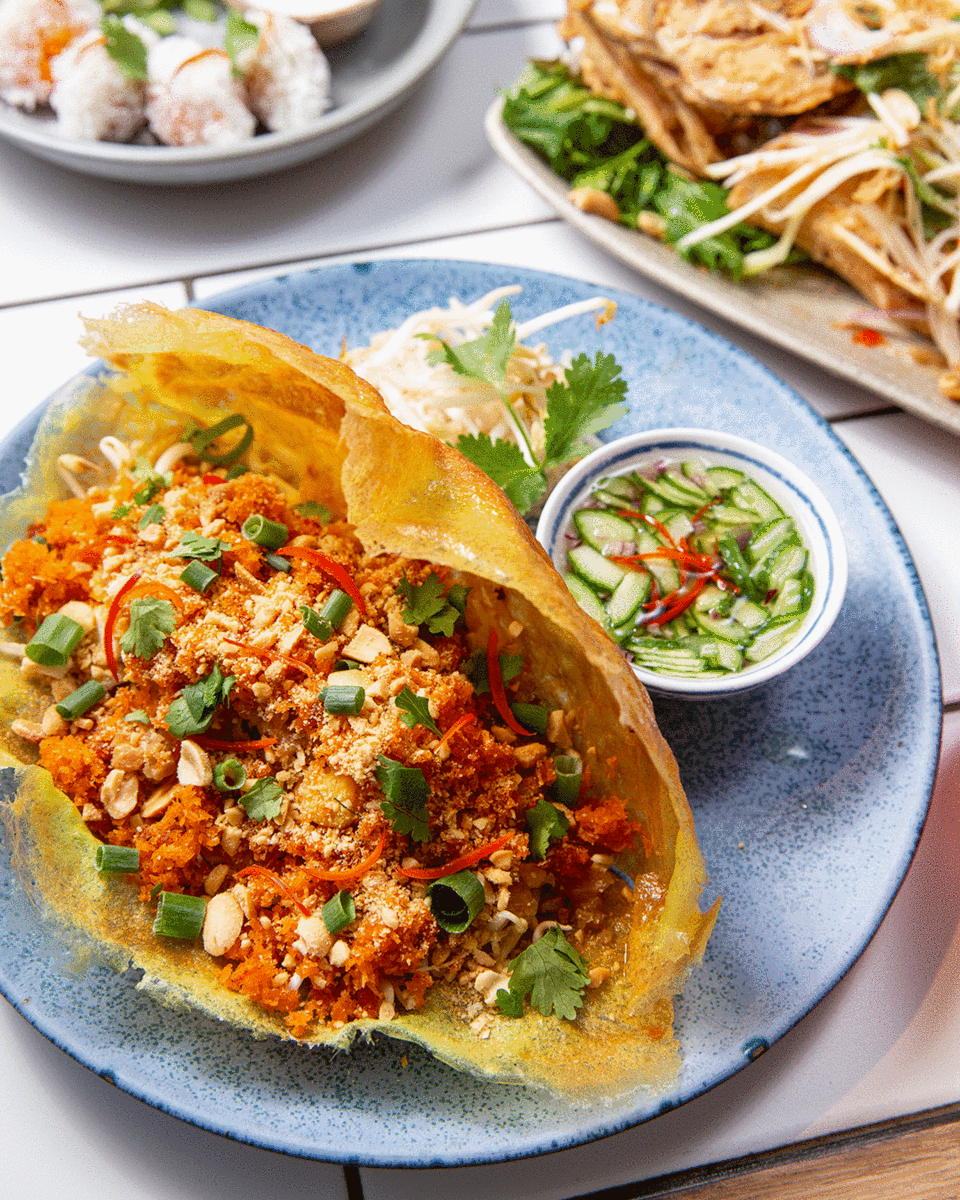 If You're Starving (Or Hangry)
Jimmy's Recipe
When it comes to authentic street food, there isn't much we don't like, but Jimmy's Recipe is the winter warmer we never knew we needed. Renowned for its signature laksa, Jimmy's Recipe serves up traditional Malaysian dishes straight from the small town of Ipoh. Think crunchy veggies and slurpy noodles drowned in a rich and creamy broth. Oh, and be sure to team your mouth-watering laksa with a crisp Tiger Beer to wash it down and a side of doughy roti canai to mop up the juices.
Schnitz
Schnitz founder Roman Dyduk and his sons were on a mission to perfect the art of schnitzel making—and perfect, they did. If you have a hankering for a hearty meal then Schnitz is where it's at. Coated in a secret special crumb, Schnitz use a healthier, pan-fried cooking technique to achieve their crunchy golden crust. Between a bun, in a salad or on its own (we don't discriminate); as far as we're concerned Schnitz schnitzels are the only way to eat chicken.
Billu's
When you're in the mood for Indian, no other cuisine will suffice. So, rest assured Billu's is only moments away if an Indian craving strikes at Vivid. From droolworthy shahi paneer and tikka masala to crunchy samosas and rawa masala dosa, Billu's jam-packed menu heroes traditional home cooking and boasts an abundance of aromatic flavours. Our pick? Billu's biryani. A celebration of everything we love about Indian cuisine, this tasty rice dish with spicy chicken is a must-try.
Chat Thai
Let's be real, everyone has a favourite Thai dish they hardly stray from, but if you're willing to step out of your comfort zone, Chat Thai is the place to do it. With over 100 authentic, tantalising Thai dishes you're bound to find a new favourite. We recommend bpla yum mamuang (a generous whole fried barramundi with fresh green mango salad) teamed with tua bap goong (steamed coconut and prawn dumplings).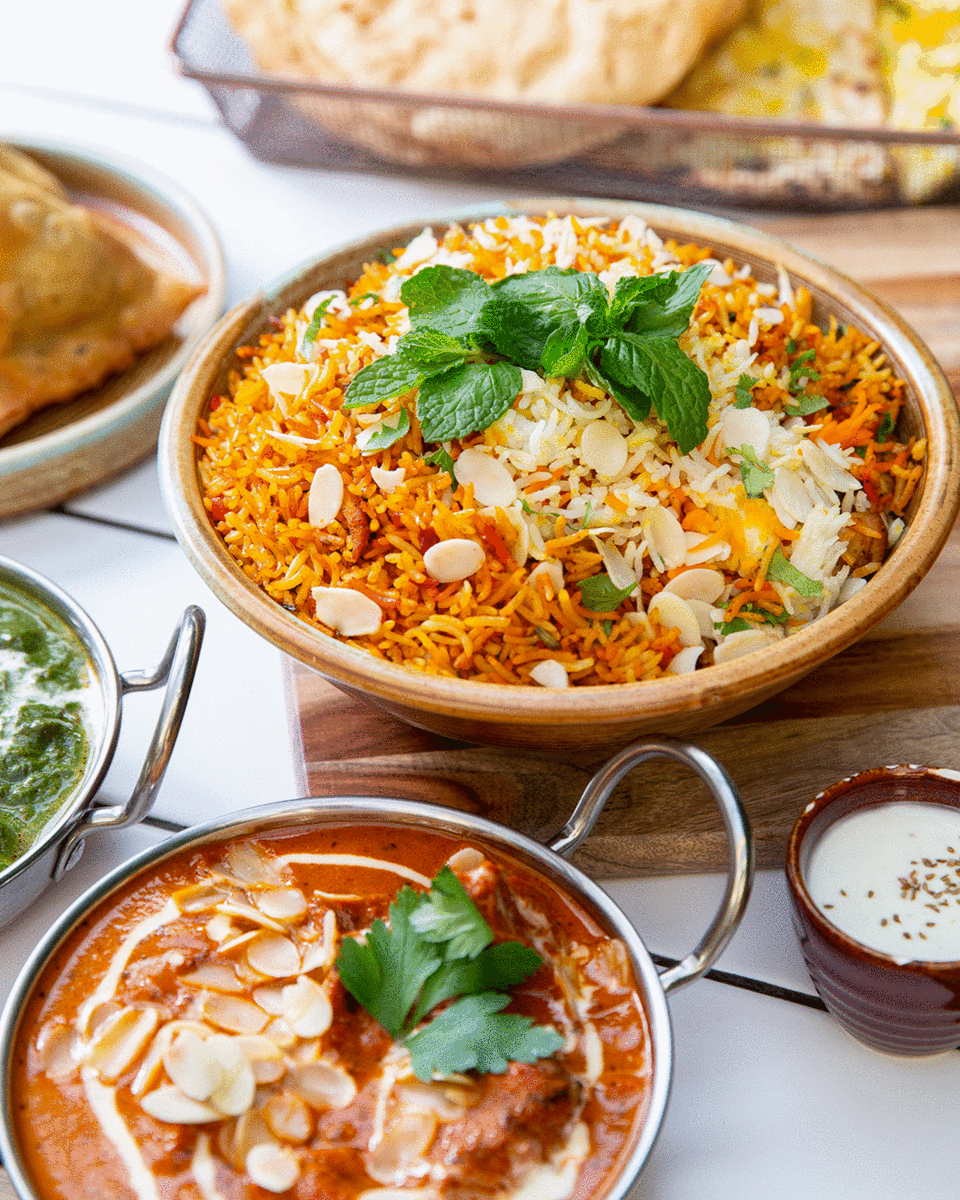 If You're Feeling A Little Peckish
Bekya
An ode to Egyptian family recipes, Bekya is all about sharing—something we're wholeheartedly on board with. Incorporating local produce and the freshest of ingredients, Bekya's menu is a smorgasbord of succulent, slow-cooked meats, golden halloumi and crumbly falafel. The standout dish? Bekya's koshari. A welcomed carb-a-thon of rice and lentils topped with macaroni, fried onions, tomato salsa and dukkah. You won't regret it.
Gelato Messina
Gelato Messina needs no introduction. Famed for their outrageously daring and delicious flavour hybrids, Messina has developed quite a cult following and we're devout followers. Deciding what flavour to choose can be a difficult feat so be sure to taste a few before committing. Think salted caramel gelato with fudge, meringue and amaretti or chocolate cherry cheesecake with cherry jam and shortbread. The possibilities are endless. First hurdle: cup or cone?
Hero Sushi
The best way to choose a dish? By train, obviously. Serving up the freshest sushi and traditional Japanese bites, Hero Sushi is perfect for a bite before a big night. Although their sushi is next-level delicious, their hot dishes is where the real flavour journey begins. From brothy prawn tempura udon to cooked mackerel miso, you'll be instantly transported to the heart of bustling Ginza. They even have takoyaki, a crispy ball-shaped batter filled with grilled octopus, which if you've visited Japan or planning a trip is a must-try dish.
If You're Thirsty
Salt Meats Cheese
The moniker says it all but what's missing is cocktails. If you have time to kill between events or you need to rest your weary feet after walking harbourside, Salt Meats Cheese's recently-opened rooftop is the place to go. Head to level two then take the lift up to find Salt Meat Cheese's hidden rooftop oasis. Our advice? Kick back against the stunning city backdrop, work your way through the curated, spritz-heavy cocktail menu and soak up the view.
Located at the heart of Circular Quay, Gateway Sydney is the perfect spot to hit up when you're in the thick of Vivid. Gateway restaurants have also extended their business hours throughout the event to ensure you're fuelled up and ready to take on the festival satisfied. You're welcome.
The Details
Where: Gateway Sydney | Alfred St, Sydney
Opening Hours: Monday-Friday 7am-11:30pm, Saturday & Sunday 8am-11:30pm (Vivid kicks off at 6pm every night!)
Head here for more information.
Editor's note: This article is sponsored by Gateway Sydney and proudly endorsed by Urban List. Thank you for supporting the sponsors who make Urban List possible. Click here for more information on our editorial policy.
Image credit: Yasmin Mund.