ICYMI, all that glitters is not gold—it's sapphires. And boy, is this one sparkly road trip. Fossickers Way is a 559 kilometre route that loops you through the New England region (AKA gemstone country), and it also happens to be home to some ridiculously delicious foodie spots.
It starts in country music haven Tamworth, travels north to Inverell and Glen Innes, then winds south to Nundle, and back to roost in Tamworth. If you've got 3 to 4 days up your sleeve, you'll find a drive that's not just rich with gemstones, but also abundant with history, nature and drop-dead gorge scenery. Very busy, much to do, horses to ride, things to eat, gotta go.
Because road trips require a lot of planning, we've asked our road trip expert mates at Destination NSW to help us plan the perfect route to make the most out of your trip. So all you need to do is spam your mates on the 'gram. In case you need even more inspo, you can find it right here.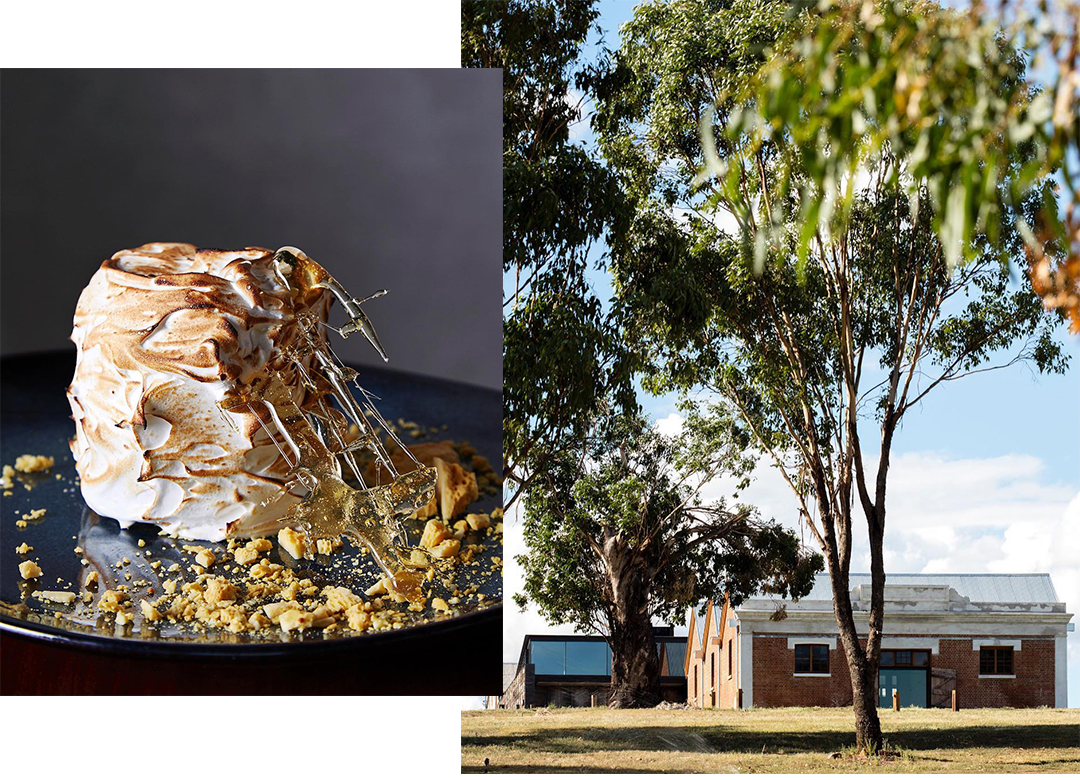 Kick Back At Luxe Accommodation | Goonoo Goonoo Station
Goonoo Goonoo
Even the fussiest city slicker won't find fault here. Sitting pretty just south of Tamworth, Goonoo Goonoo Station may be an operating cattle station, but that doesn't stop them from turning up the luxury dial for visitors. There are seven types of cottages in this refurbished, heritage-listed property, with some buildings dating back to the 1840s! There's stylish accommodation to suit couples, families or large groups—we've got our eye on The Homestead, because hellloooo billiard room. This pool shark's got fangs, yo.
And Dine In Style | The Glasshouse
Goonoo Goonoo
Glasshouse Restaurant is the onsite eatery to Goonoo Goonoo station, and what a fine beast she is. The award-winning architecture is all clean lines, warm copper and brass, and an elegant combo of old and mod aesthetics. The menu changes with the seasons, but there's always good rep in the meat department (I mean, it is located on a cattle station). Fork out for the gigantic roasts to share—perhaps a slow-cooked lamb shoulder from Armidale's Milly Hill or an 800 gram T-bone Florentine with red wine butter? The wine list is pleasingly Oz-heavy, and be warned, you must save room for the famous salted caramel bombe Alaska. This place is super-popular, so book in for their breakfasts, lunches and dinners before embarking on your trip!

Hunt For Some Jewelled Treasures
Inverell
The town of Inverell is nicknamed Sapphire City, and is it just me, or does that sound like a Pokémon city? Anyway, there are a few properties in town that allow visitors to hunt for sapphires and quartz crystals. They provide all the equipment and know-how so you can 'fossick' for the jewels yourself, and take 'em home. Want to absorb that jewel-finding power by osmosis? You can even camp on most properties overnight, huzzah.
Love Olives | The Olives of Beaulieu
Inverell
Try this: when you mouth "Olive Juice", it looks like you're saying "I Love You". Coincidence? We think not, especially after you fall in love with the olive oil at from this local grove. The property was originally a vineyard and winery in the late 19th century, before being replanted with olive trees in 1996. Since then, the family-owned grove has produced their own extra virgin olive oil, where the fruit is picked and crushed within 24 hours. You can tour the farm, taste their different olive varieties, and of course, pick up your own prized bottle of the good stuff.

Check Out Some Beautiful Aboriginal Art | Gawura Gallery
Glen Innes
The Gawura Gallery is the creative home of acclaimed indigenous artist, Lloyd Gawura Hornsby. His works are intensely colourful, and though they're grounded and inspired by Australian nature, there's a dream-like, other-worldliness to his art. The gallery features his, and other local and international artists', works and the exhibition changes every six weeks. Plus, admission is freeeeee.
Swan Around In A Edwardian-Era Mansion | Saumarez Homestead
Armidale
You know you're a long way from Sydney and its housing market when you can swan around in an Edwardian mansion like some sort of kween. The Suamarez Homestead was built between 1888 and 1906 (k, so it's technically late Victorian-slash-Edwardian for those playing at home), and features 30 rooms sprawled over two storeys of...well, plush furnishings, mostly. Though, as with all homes I visit, my favourite room to snoop is not the luxe bedrooms and bathrooms, but the kitchen and scullery. By Jove, a scullery!
There's also a two-hectare garden (including a WIP rose garden) for your mindless meandering among the flora and foliage. The homestead just received a funding boost from the state government and local government, so in time they'll have guest accommodation on site.
If You Want It, Just Do It, Ride It
Tamworth and Kootingal Horse Riding Adventures
If you went to Tamworth and didn't horse ride, did you even Tamworth? Saddle up for a two-and-a-half-hour scenic trot through the majestic Cockburn Ranges for peak sunburnt country times. They cater for all levels, from I watched the Saddle Club one time to why yes, I **am** that guy in the "Horses" insurance ad. They offer rides at 9am and 4pm every day, and it's $85 per person. To book your place, you've got to do it the old fashioned way i.e. pick up a phone and talk to a real live human. Terrifying, but worth it.
So, what are you waiting for? Get in the car and drive. For more things to do, check out the Destination NSW website.
Editor's note: this article was produced in partnership with Destination NSW. Thank you for supporting the partners who make The Urban List possible. To read our editorial policy, click here.
Image credit: via Goonoo Goonoo Station.