No need to go hungry at these Sydney bars after those last few bar nuts have been demolished. Even if you're just looking for a drink, there's no reason you can't treat your cocktail to a worthy companion.
Here are some of the best bars in Sydney where you can drink to the food as well.
Vasco
Surry Hills
This rock'n'roll bar has been a national finalist for best bar food the last two years running, so if it doesn't make your hit list, we're not sure what will. Of course the stars are the music and cocktails, but Vasco's Italian Cucina pumps out simple home style fare for you to rock along to in your favourite leather jacket. If you're in the mood to share, the polenta chips with gorgonzola sauce may change your mind, but you can always make up for your greediness with the house made pasta.
Sepia
CBD
We'll let you in on a little secret, but only if you invite us: you can enjoy restaurant-of-the-year quality food at Sepia's wine bar. If you don't feel like a restaurant experience, the smaller bar menu is still as drool-worthy, and the prices are pretty reasonable considering the wine list is also well-awarded. There's also a carefully curated collection of sake to play with the Japanese inspired menu, which is any seafood lover's dream.
White Rabbit
CBD
During the work week, White Rabbit is a sleek little café and bar dishing up some of our favourite breakfasts and lunches in the city. Fortunately, the amazing gnocchi keeps going after lunch, so you can enjoy the 150-strong wine collection with a dinner that does it justice! Evenings are also when the legendary charcuterie and cheese platters come out to play. We're highly partial to following one up with the Chambord, vodka and citrus cocktail topped with cucumber foam—the best excuse to counterbalance all that cheese.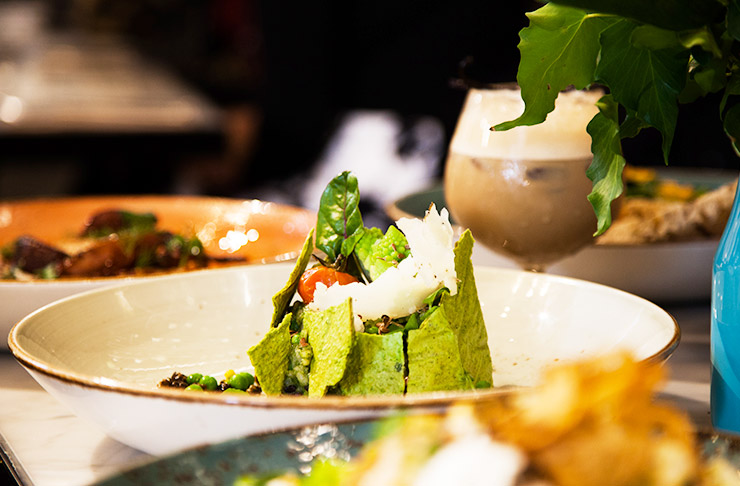 The Butler
Potts Point
With a French-Caribbean influence that you can see, eat and drink, you'd be forgiven for thinking you were actually on holiday at The Butler, until you catch the view. The Sydney city skyline is yours for the marvelling, framed by lush greenery and your favourite Instagram frame. If that doesn't keep your eyes open, make your way through all three varieties of their espresso martinis as you nibble your way through their blackened chicken or go to heaven when you try the strawberry rhubarb panna cotta.
Taylor's
CBD
This rooftop bar has rapidly risen to popularity, and now a new chef is doing its food reputation proud too. Taylor's menu strikes an excellent balance between #getinmyface and a little bit fancy, so your lunch decision could come down to the BBQ baby back riblette vs confit duck salad. Cosy up to the botanical wall over dinner with an equally refreshing cocktail. We're eyeing up the fruity Passion of the Storm (and relaxing to the live acoustic music on after 5pm on Wednesdays).
Small Bar
Kirribilli
If you need an excuse to cross the bridge, Small Bar Kirribilli is combining our favourite things. Slow cooked beef brisket + tacos. Nutella + Oreo cheesecake. All of which equal a lot of delicious, and a lot of good reasons to enjoy a glass of wine (or a cheeky cocktail to start the weekend feels). Indulged a little too much? Small Bar are pre-empting this with healthy breakfasts for that (late) morning after!
Kagura
Surry Hills
Where there's smoke, there's Kagura. This little Japanese bar may feel friendly and casual, but watching your cocktail being made is a serious spectacle. If you don't believe us, order the rum and plum blazer, a hot spicy citrus number that will have you saying sayonara to mulled wine. The liquor also guest stars in the top-notch food, where you can watch a bell jar of whisky aroma infuse your maple-smoked scallops. We can't talk about Kagura without mentioning the fried chicken either, which totally blew our brains (even before the fourth drink).
Looking for more great drinks after? Check out our round up of Sydney's 50 best cocktails!
Image credit: Nicola Sevitt at The Butler, Lisa Brooke at Vasco, Federica Portentoso at White Rabbit and Taylor's.