It's no secret us Sydneysiders love a good brew, a portion of smashed avo and a spot of free Wi-Fi. Serve them all up together and bam, you've got yourself a killer office café.
Luckily for us, there are a heap of Sydney brew joints with a work-friendly vibe. Gone are the days of your deadlines not being met because your neighbours decide to whip out the leaf blower, your cat walking over your keyboard or your precariously perched computer and cuppa falling off your lap mid-type.
Whether you're a hustling freelancer, your own boss, a struggling Uni student or you're one of those 'work from home' peeps, we've got your dream café desks sorted. Here are ten of the best Sydney cafes to get your work hustle on.
Against The Grind | Neutral Bay
This modern, trendy little coffee hub on a sunny corner in the heart of the north's Neutral Bay is your perfect desk-away-from-desk situation. Serving up yummy baked goods, epic sambo's and salads, Campos coffee and super-fast free wifii inside and outside, Against The Grind will have you meeting those deadlines (and beautifully caffeinated) every day of the week.
Roastville | Marrickville
Roastville makes for the perfect temporary workstation, with big tables and fab coffee, we think it's a 'work from home' winner. This is the place you go to if you don't want to feel cramped next to that guy who's slurping down his cold brew just a little too loudly for you to concentrate. It's a spacious converted warehouse with an all-day menu that is filled with super tasty options like fried chicken benedict and brussel sprouts bruschetta.
Veneziano | Surry Hills
Let's be honest, bottomless batch brew for a fiver sounds like any work hustler's best friend. The crew here knows a thing or two about creative vibes (here's to the polished concrete and indoor plants we kind of want in our own loungeroom) and we can confirm the internet connection here is ACE. And of course, when the munchies hit, you've got a sweet selection of energisers that look like brownies, pretzels and donuts.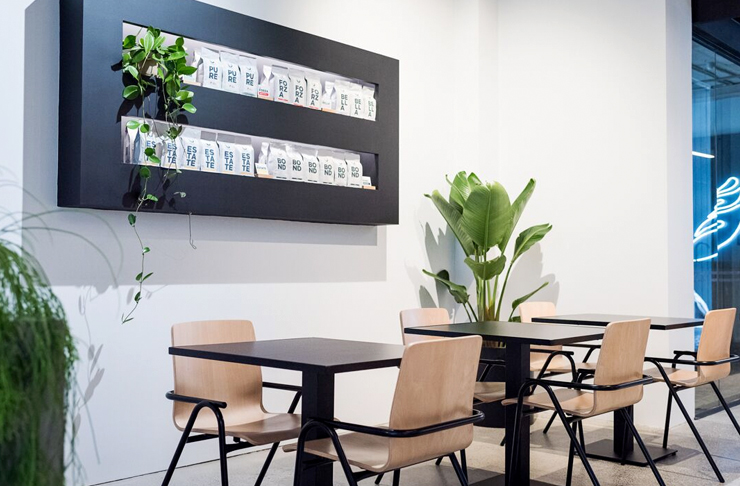 The Fine Food Store | The Rocks
It's tucked away in one of the oldest lanes in Sydney, but The Fine Food Store sure is keeping up to date with some hip n happening fast Wi-Fi. Pop your laptop at the window, grab an avo bagel or pulled brisket croissant and a coffee and chip away at that hefty workload with ease. Sidenote: this cafe also serves booze, so if you're one of those people that types better with a vino, this is the spot for you.
Orto Trading Co | Surry Hills
Orto Trading Co is no exception to the deliciously trendy Surry Hills brunch scene. It's a rustic-chic garden themed oasis which will help you channel those creative vibes over a coffee or matcha latte. Grab a street-side table in the sun and a serving of cauliflower fritters or the poached egg hash (a potato nest of deliciousness) and thank us later. You may want to take a quick break from your workload to gram your food because these dishes are always as handsome as they are tasty.
Kawa | Surry Hills
Kawa is a local's favourite among Surry Hills' creatives, being the perfect pit stop for hard-working locals to hit up an all-day brekkie classic, soak in some vitamin D and consume an endless supply of coffee. The perfect laptop companion comes in the form of either the eggs royale, avo-feta-tomato smash, ploughman's lunch or the famous chicken ball sandwich.
Rising Sun Workshop | Newtown
It's a rad motorcycle workshop and café with a big upstairs area offering super speedy wifi. Rising Sun serves up bikes, Single Origin Roasters coffee, yummy baked goods and ramen, now that's a combo we never knew we needed in our lives, until now. Grab yourselves a brekkie ramen and a brekkie cocktail because you deserve it after all that hard work.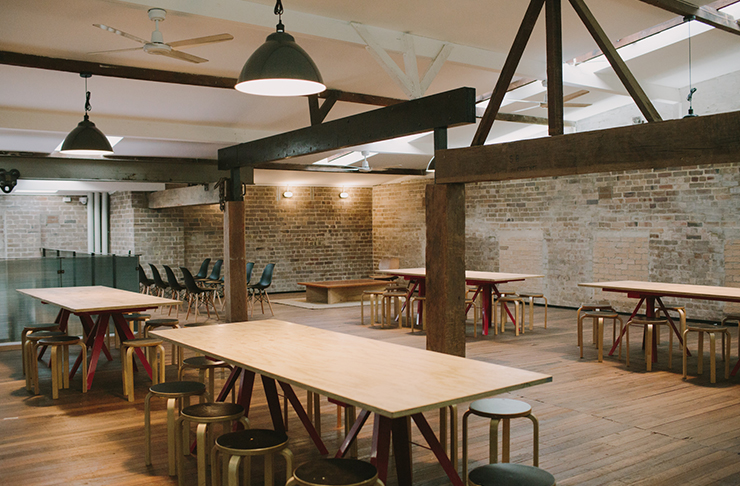 Bread & Circus | Alexandria
This vibe-y café known for its ultra-grammable plates and oh-so-stunning fruit and flora displays is actually a fab Wi-Fi hotspot bound to get the creative juices flowing. The Bread & Circus menu is always changing, but it consists of delish soups, fresh colourful salads, epic sambo's, yummy sweet treats and no shortage of organic teas. Take a seat at the country-style wooden share tables and get typing.
Cornersmith | Annandale
We know it as the charming local hub full of suburban energy, utterly phenomenal coffee and delicious seasonal food. Cornersmith is your go-to destination to get your work hustle on, so get your taste buds prepped for an ever-changing menu featuring the best of seasonal, vegetarian produce. If you're getting a bit of writers' block, go for a peruse of the cookbooks and house-made pickles, because there's nothing like some retail therapy to get the mind back in the game.
Here are the best pancakes in Sydney.
Image credit: Unsplash | Veneziano Coffee, Caitlin Hicks | Rising Sun Workshop, Kate Disher