Arriving to Wadigi Island is surreal. On the western cusp of a constellation of tropical atolls known as the Mamanuca Islands in Fiji, not too far from the location of the Tom Hanks blockbuster Castaway, Wadigi is an idyllic, pint-sized Robert Louis Stevenson style Treasure Island, surrounded by pearl-coloured sand and turquoise water.
The island is available to rent as a private retreat—complete with two chefs (Lai and Siti), a boatman (Tia) and nine staff to help you live your best island life. The luxury villa includes three large bedrooms and wide balconies with endless views west out across the vast, sparkly Pacific. There's a cocktail bar to enjoy at your leisure and seven specially staged dining spots (our favourite was beneath a traditional Bure Kalo—a towering Fijian spirit house).
The infinity pool has been levelled with the horizon, so you'll feel as if you're drifting out into the azure abyss, and one cliffside bedroom features a tub with views down to the beach below and out across the sea.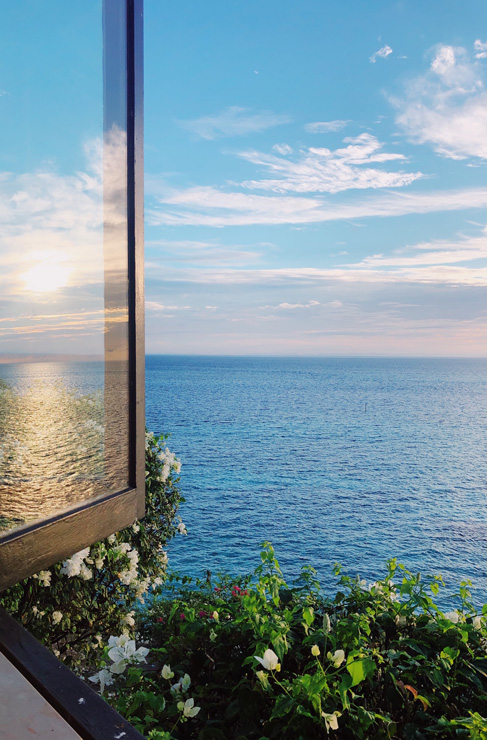 Owned by Australian couple, Tracey and Jim Johnston, Wadigi is a dreamy postcard they've created and nurtured for the last 15 or so years. Peppered with tropical flowers, palms and vibrant gardens, it's saturated with colour, and the sunset here will blow your mind and break your heart all at once.
So, yep—it's a big contender for the title of the world's most Instagrammable island, and while it is relatively small, there are a thousand picturesque settings to master your skill behind the lens of a camera—and all your best angles.
Lucky then, that Wadigi has been hired exclusively by the photography legends at Fuji Film for the next few months.
They've temporarily renamed the island "Fuji Island", and your stay now also includes access to Fuji Film's latest camera—the X-T3 mirrorless digital camera—as well as a stack of memory cards so you can go totally snap-crazy. The powerful SLR has a set of Instagram-like filter features for stills and video, that will make Wadigi's vibrant emerald greens, turquoise blues and ruby red blooms really sing.
A sojourn here will set you back a pretty penny at USD$2200 per night—but with all meals, tropical island activities and all the cocktails you desire completely included, it's totally worth it (for the 'gram, obviously).
There's plenty to do and capture too: kayaking, island hopping, line fishing with Tia, chef Lai's delicious lobster, trekking, windsurfing, dolphin spotting, a jet ski safari, snorkelling, or a helicopter ride from the island's own helipad, for example. Did we mention the sunset? Be quick, Fuji Island is only available until February 28, 2019.
For more info and to make a booking at this dreamy slice of Instagram heaven, head here.
Want an icier temperature in your next adventure? Here's our guide to tackling Katmandu solo.
Image credit: Joshua Pritchard and Sammy Preston.