Is there anything more epic than a long lunch? There aren't many occasions more indulgent and fabulous than gathering round a table with your fave people, immersed in some of life's most simple pleasures: excellent food, good wine and plenty of time to enjoy it in. When all the factors magically combine, it can be a totally unforgettable experience.
And speaking of magical, no one does a long lunch better than the ultra-gorgeous restaurant and retreat, Spicers Clovelly Estate in Montville. We've teamed up with this Sunshine Coast stunner to bring you six ways to totally nail your next long lunch:
#1. Choose Your Company Wisely
Almost any situation is made that much better when you're surrounded with good people, so when the setting is already amazing, a great group will take your day next-level. Special occasions require special peeps, so invite your nearest and dearest and those you know will embrace the little details (and provide great banter over the table).
#2. Go Somewhere Beautiful
Escape the hectic city hustle—we're blessed with so much incredible countryside, and the Sunshine Coast Hinterland is arguably some of the most world's most dazzling. Epic views and gorgeous surrounds will ensure some great memories, and the picturesque Clovelly Estate, with its restaurant nestled amongst 22 acres of lush, landscaped grounds, mini orchards, colourful trees and sweeping hinterland views is one killer backdrop. The estate is like a little piece of the south of France, but only 90 minutes out of Brisbane (AKA How to Feel European Without a Plane Ticket 101).
#3. Food, Glorious Food
If there was ever an excuse to eat to your heart's content, an indulgent long lunch is it. And if you're going to do it, do it well! Clovelly Estate's two-hatted, award-winning restaurant The Long Apron is where you can experience some of the country's most phenomenal plates of food. The signature chef's tasting menu is where it's at, with inventive, unexpected European-style dishes taking you on a journey through the region's best produce for an incredible gourmet experience. And another winner? All the menus can be tailored to suit any dietary requirements and preferences for a totally seamless experience, leaving you more time to savour the food and conversation.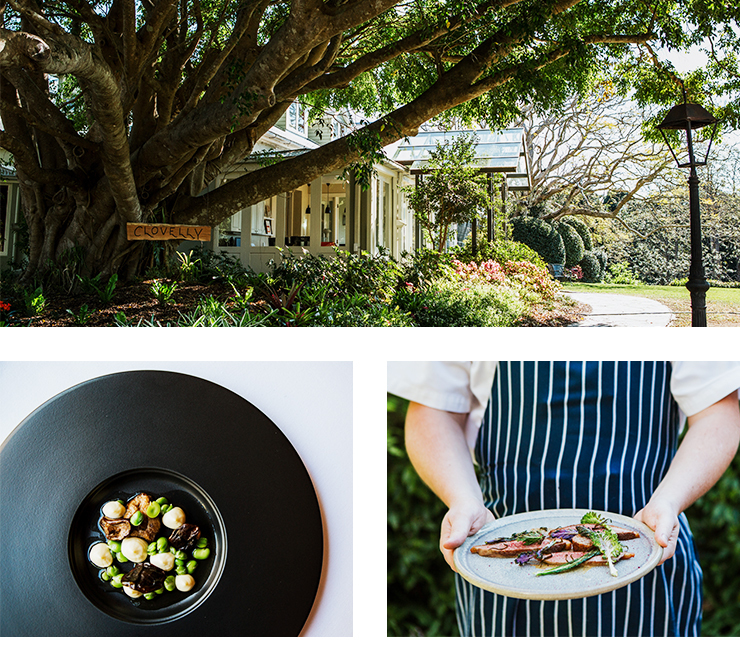 #4. Yes, Order The Wine
The best food always strikes the ultimate balance of flavour profiles, and this is only enhanced when you pair it with the perfect vino. Make delectable dishes taste even better by going all out and ordering matching wines with your degustation, and experience the joys of the ideal food and wine harmonies that bring your tastebuds (not to mention the table conversation) alive.
#5. Indulge Your Sweet Tooth
No matter how full you are, there's always room in your dessert stomach (we checked the science and it's definitely a thing). Even if you're not normally a "dessert person" (which is beyond our comprehension, but different strokes, we guess…) in a degustation, dessert is designed to complete your culinary odyssey. And how could you resist anyway, with the likes of stunningly plated beeswax sorbet with roasted white chocolate and honey meringue at The Long Apron, or dreamy dark chocolate mousse with bitter orange puree and passionfruit pate de fruit at Clovelly Estate's more relaxed, a la carte sister restaurant, The Short Apron.
#6. Make A Night Of It
It's only when you really have nowhere to be that you can truly relax—so choose a long lunch location that has accommodation nearby. After a post-lunch nightcap at Spicers' onsite bar and lounge, you can take your pick of where to fall into a food coma, from the main house to the French cottage, spa and estate suites—and hey, why not request a bath butler or make use of the on-site day spa while you're at it. From the luxe furnishings to the huge beds and picture-perfect views, staying the night is well worth the splurge, and Clovelly Estate's Gourmet Getaway package, with luxury accommodation, wine and cheese on arrival, Chef's tasting menu at The Long Apron, and gourmet a la carte breakfast is frankly a heavenly way to roll it all into one.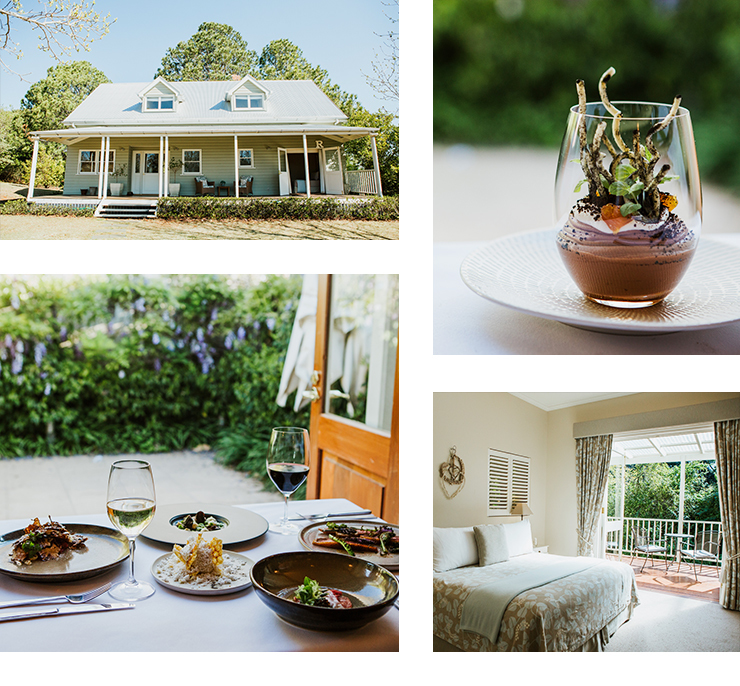 Image credit: Amy Higg for The Urban List
Editor's note: This article was produced in partnership with Spicer's Clovelly Estate. Thank you for supporting the sponsors who make The Urban List possible. For information on our editorial policy, click here.