If you're anything like me, your motivation to try and maintain any kind of summer 'beach body' is slipping – and fast, might I add. As we dive back into the daily grind, it doesn't matter whether you're a clean-eater or paleo-fanatic from back before it was cool, we can all admit it can be hard to keep on top of healthy food choices when the chaos of work and general life come back into full swing. Sometimes it is just easier to buy your lunch than to meal-prep the night before, and that crumpled takeaway menu stuck to the fridge is your 12:30pm saviour when you haven't had a chance to go grocery shopping.
Don't let the taunts of greasy takeaway ruin all your hard work! We've handpicked some of the best takeaway and delivered healthy lunch options for you, so you can stay true to your health commitments, without even leaving your desk. And if you're after something easy and healthy to grab on the way home we've got you covered as well.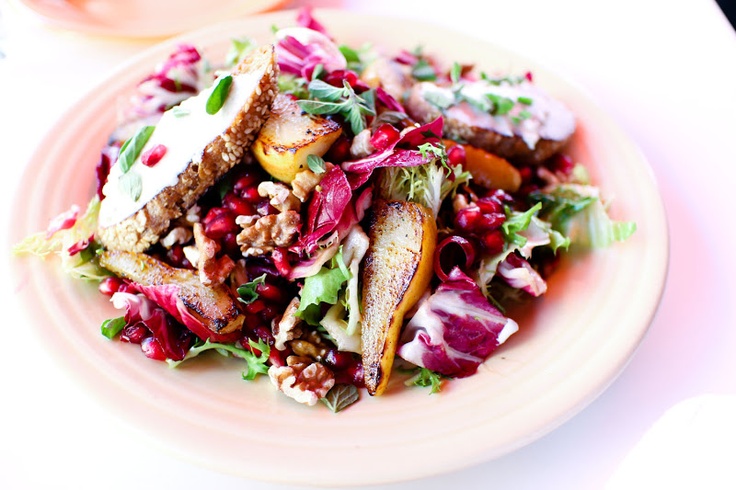 HelloFresh
This is it. We've found the perfect way to be lazy and never have to go grocery shopping or flip through old, tired cookbooks again! The team at HelloFresh have put to rest your worries about what to make for dinner. They create healthy recipes for you AND they deliver all the necessary ingredients to your door! No frozen meal nonsense ? these are innovative, healthy recipe ideas, plus all the ingredients are set out for you for creating a fresh meal. You can't get much better than that!
YummBox
Heads up, vegetarians! Yummbox is here to solve your daily dilemma of not being able to find healthy yet affordable lunches, that you aren't going to get sick of. Yummbox is here to save your lunch hour with freshly packed vegetarian and gluten-free organic lunches delivered to your door! Order the day before and your lunch will arrive fresh and flavoursome for the next day in time for lunch. Thoughtful? No question! The options change every day so you can be sure to get a variety of choices to mix up your lunch routine. One of Brisbane's best healthy lunch delivery options!
Botanica Real Food
We here at TUL are big fans of Botanica. It's an artfully arranged little space, overflowing with fresh, colourful food and really, really good salads. The team at Botanica are helping you solve the great conundrum of trying to eat well when time poor, in a location that has few on-the-go options. Botanica can even cater for your last minute team lunches as well, with catering services for small and larger get-togethers. As an added bonus, the food options are vegetarian, raw and vegan diet friendly! AND, they do some of the best vegan and gluten free sweet treats in Brisbane (the cinnamon bundt donuts are what unicorn kisses and rainbows taste like).
The Lunch Box Kiosk
These guys are putting a twist on the classic lunchbox meal. The Lunch Box Kiosk serves ready-to-eat, locally made and affordable meals and drinks, conveniently packed into a little lunchbox for you. It's perfect for your lunch hour, when you can take a stroll down to the team at Wandering Cooks and pick up a delicious packed meal for lunch. With new special offers on the board each day, variety won't be a concern!
Plenty
West End's newest lovacore haven, Plenty, has a variety of super fresh salads ready to for lunch from 11:30am. All of their salads are takeaway, and the menu's always changing, so you can be guaranteed of lunchtime variety. Tip: Follow Plenty on Facebook to keep up with their daily menu.
Perfectly Yum
If you're after a delivered meal that has all the comfort of home cooking with none of the effort, you want Perfectly Yum. Their home delivered meals can be tailored for individuals or for families, and they are happy to design the meals just for you, whatever your requirements (gluten-free, paleo, vegans, vegos, etc.). Perfectly easy? You bet!
Primal Pantry
It's no secret we're big fans of Primal Pantry. It's just too convenient for us to pop down for lunch to take a pick from the enormous variety of fresh, filling salads. Perfect for Newstead-ers if you don't have the time to sit and eat but still want something fresh and healthy. And, it's all totally Paleo.
The Farmer's Son
Another healthy Brisbane lunch delivery service that is serving up 100% organic meals is The Farmer's Son. They're even delivered in environmentally-friendly cargo bikes! All the meal options are gluten-free and vegetarian and can be delivered within 2 hours.
Jak + Hill
Jak + Hill is giving you CBD-ers great options for enormous and delicious sandwiches and wraps on-the-go. They'll even cater your team lunch if you're wanting to order for a group!
Wholesomeness
Want to get ahead of the game and set out your meals in advance for more than just one day? Wholesomeness is delivering organic lunches and dinners throughout Brisbane and you can pick exactly how many portions you need! Think of them as your own wholesome personal caterers. The meals are also dairy-free and gluten free as well. Now you can come home at the end of the day to a delicious, comforting, yet healthy meal.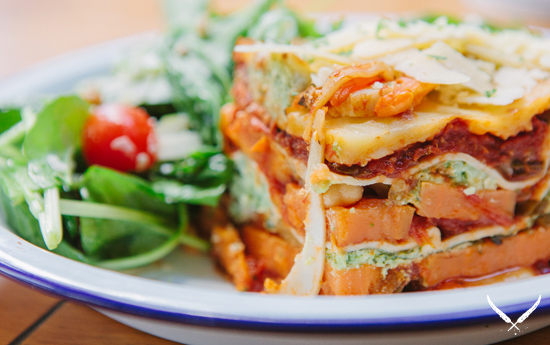 Pasta Pantry
If you're looking for something light, or more of a carb-load for your lunch time refuel, Pasta Pantry has a wonderful variety of pastas, salads and wraps for your on-the-go bite. Tucked into the charming Rosalie Village they're a few minutes from the city for a lunch time jaunt, or open until 7pm if you want to swing by for dinner. And the wide range of prepared meals means you can take an extra one home, so you've got tomorrow sorted as well (plus a sneaky dessert, if you're so inclined)!
Image credit: You Chew, Daniel Maddock Photography, Still in Berlin