Waving the flag for cool mums everywhere, Miranda Kerr is probably the only mortal who can turn the school run into a cause for paparazzi scuffles, but that doesn't stop us from wanting to steal a bit of her street swag'.
Whether you've got a tot in tow, or you're just a fan of Ms Kerr's day-to-day dressing finesse (who could blame you—we want three-metre-long pins!), we could all take a leaf out of Miranda's book when it comes to upping the anti on a weekday. (Her bub, Flynn, isn't doing too badly, either.)
To get M-Kerr's look, tone down a dark chambray with sailor-fresh flares, platform clogs, this season's essential cat's eye frames, and a too-cool-for-school bag that's big enough to fit all the essentials (which, in Miranda's case, we imagine, contains Wet Wipes, an emergency boxes of sultanas, and some Victoria's Secret Angel wings).
Little Flynn is just as stylish as his supermodel mama, playing it safe in reliable, kid-friendly basics. A striped tee is a gender-neutral favourite, while his on-trend drop-crotch pants and high tops bring some serious street appeal.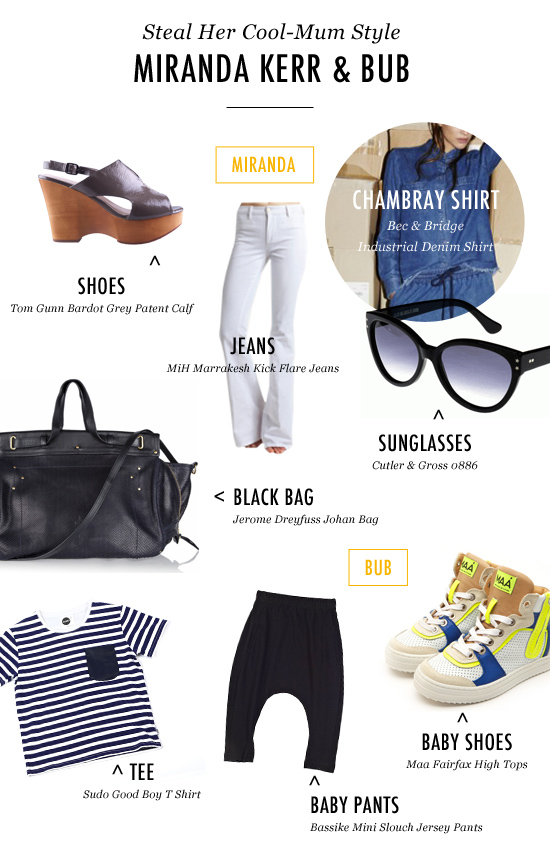 Miranda
MiH Marrakesh Kick Flare Jeans
Bec & Bridge Industrial Denim Shirt
Jerome Dreyfuss Johan Bag from Samantha Ogilvie
Bardot Grey Patent Calf from Tom Gunn
Cutler & Gross 0886 at OnePointSevenFour
Flynn
Sudo Good Boy T Shirt
The Mini Slouch Jersey Pants from Bassike
Maa Fairfax High Tops from Tiny People
Click here for more of the best shopping in Brisbane!
Image credit: I Love Fashion News