We love it when new Brisbane cafés pop up in unexpected places, so we were pretty psyched to try Gertrude & Mabel, a new Dutton Park gem with Greek inspired breakfast fare, and oodles of cuteness.
Nestled next to a Laundromat on Gladstone Road (across the road from St Ita's primary school), the unassuming shop front hides Gertude & Mabel's undeniable charm, which it has in bucket loads.
The décor is an artful mash-up of refurbished Queenslander and quaint Australian country homestead, with clean white VJ clad walls, polished wooden floors, pressed metal ceilings and a not-too-OTT mini-chandelier hanging in the centre of the room. It's your Nana's kitchen, sans Nana.
In fact, Gertrude & Mabel is owner Danielle Diacos' love letter to both her grandmothers and their D'Park street addresses, and boy, are we glad she decided to share it with us.
The succinct but clearly thoughtful (and seasonal) menu features numerous homemade goodies, sourced locally — and from throughout Australia — some of which clearly draw on the Diacos' Greek heritage.
For breakfast and lunch there are delights like Mum's Bircher Muesli, French toasted brioche with ricotta, berries and honey (from Danielle's own granddad's backyard beehives), My Family's Spanakopita with side salad, and the G&M ploughman's lunch, plus a daily soup and changing lunchtime specials.
We were in a brunching mood so had the fasolatha — a homely dish of baked white beans with tomatoes, chorizo, egg, and bread — and Gertrude & Mabel's avo' on toast with cherry tomato, fresh-made buffalo mozzarella, basil, and the most amazing tasting olive oil on black bread. [Editors Tip: I took the option of house-cured ocean trout on the side but I would recommend also adding the 8-minute egg for a heartier option.]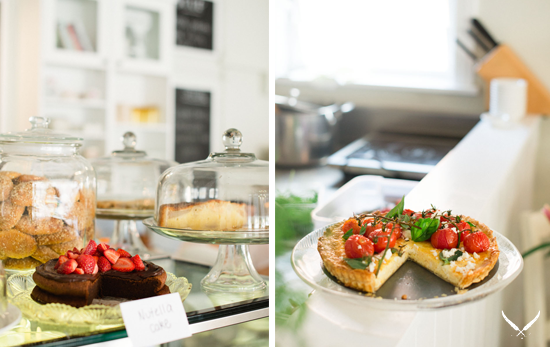 Our mugs of Two Seasons coffee were the perfect remedy for the chilly temps outside, and we couldn't pass up a glass of the fresh squeezed orange juice.
The fresh flowers on the tables, embroidered serviettes, and some cute-as vintage crockery were lovely flourishes not lost on us, and they added to the homely Nana vibe nicely.
This is a quaint and tasty addition to Brisbane's breakfast scene; Gertrude & Mabel, we'll meet again.
Have you been to new Brisbane café Gertrude & Mabel? Let us know what you think in the comments below!
Image Credit: Hannah McCawley