It's that time of year when we're once again faced with the challenge of buying beautiful and personalised gifts for our loved ones. To make things a little easier, we've sourced a wonderful collection from independent designers and boutiques, to bring you great gifts for less than $50. And if you're stuck for Kris Kringle ideas? Here's our very special guide to Secret Santa.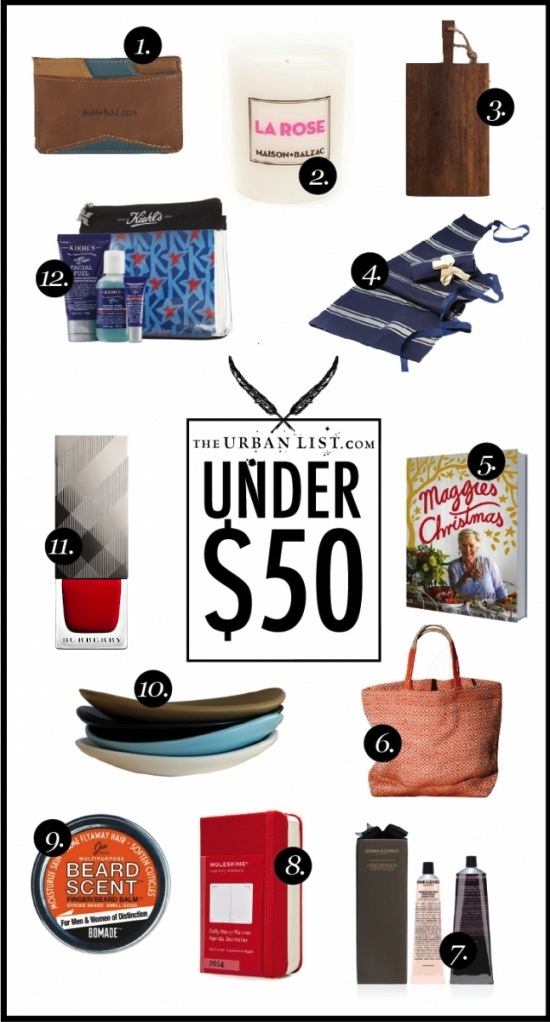 1. Incu— Cheddar Pocket: Feta—$25.
This slim men's wallet features six external card slots that are tabbed for easy access and organisation.

2. Poepke—Maison Balzac La Rose candle—$45.

3. Koskela—Recycled Timber Share Platter—$50.
This lovely handcrafted platter is made from recycled hardwood and is suitable for both chopping and food presentation.

4. Hudson Meats—Butcher's Apron Full Bib—$29.95.

5. The ABC Shop QVB—Maggie's Christmas—$49.99.
From roasting the perfect turkey to turning ripe summer fruits into luscious desserts, Maggie Beer shares her most cherished Christmas recipes.

6. Shelf Life—Jute Shopper—$32.
This Fair Trade bag has been hand-woven by women in Bangladesh using sustainable jute and natural dyes.

7. Grown Alchemist—Intensive Hydro-Body Set—$39.95.
The set includes: Grown Alchemist Intensive Hand Cream: Persian Rose & Argan Extract 65ml; and Intensive Body Cream: Rosa Damascena, Acai & Pomegranate 120ml.

8. MCA Store—Moleskine Diary 2014 Weekly Vertical Large Red Hardcover—$36.95.

9. Alan White Anthology—Bomade Beard Scent—35.
The new 100% natural balm is designed to keep facial hair at bay, whilst simultaneously softening nail cuticles and hair follicles.
10. Quintessential DuckEggBlue—David Edmonds Handmade Ceramics—From $35.
Ceramic designer David Edmonds' original range of tableware includes plates, platters, and bowls in vanilla and black. All pieces are hand-made in his Sydney studio.

11. Burberry Australia—Burberry Nail Polish Poppy Red—$29.

12. Kiehl's at the QVB—Kiehl's Men's Total Refuel Set—$49.
Pimrary image credit: Lia Griffith