The Rocks is great for many things—getting lost in those cobblestone streets, checking out a bit of contemporary art, and feeling quietly smug about how pretty Sydney is, but this scenic pocket of the city is also a fantastic place for lunch.
From upscale Japanese to casual dining with one of the best views in town, these Sydney restaurants are our picks for lunch in The Rocks.
Pei Modern
Image credit: Pei Modern
Long lunches are always a good thing (and some of the most enjoyable events in our calendar) and nothing makes it more special than strolling through The Rocks precinct to get there. Committed to locally sourced, quality seasonal produce and a decadent range of wines, Pei Modern is an exciting restaurant offering a modern twist on classic dishes. With Mark Best running the kitchen, the food is as stunning as the restaurant's surrounds, so do yourself a favour and make a reservation at one of Sydney's best new restaurants.
MCA Café and Sculpture Terrace
Image credit: MCA Cafe and Sculpture Terrace
Located on level 4 of the Museum of Contemporary Art, the MCA Café is a bit of a secret Sydney dining gem with its uninterrupted views of Sydney Harbour. Looking out over Circular Quay and the Opera House, you seriously can't get a better view in town. And what makes this spot even better is that the food here is a winner too. Whether you just want something light like the smoked trout salad, ploughman's lunch or a heartier rigatoni with Italian sausage, tomato, ricotta and parmesan, the MCA Café has you sorted. Be sure to take in one of the fabulous art exhibitions when you visit and you've got yourself a cultured lunch out. Just grab a friend, a glass of wine and tell work you won't be coming in for the rest of the day.
Saké Restaurant & Bar
Image credit: Saké Restaurant & Bar
Among the beautiful laneways and heritage architecture of The Rocks is arguably one of the best Japanese restaurants in Sydney. You can't talk about modern Japanese dining without Saké being mentioned at some point. Led by sushi master Shaun Presland, he uses his traditional training and passion for flavours to prepare some of the most innovative and exciting dishes in town—think sashimi tacos, steamed "Glacier 51" toothfish and the ever popular popcorn shrimp. Cool food, cool location. Happy days.
La Renaissance
Image credit: Lisa Brooke
People from all over the world love to come down and explore everything The Rocks has to offer. People in the know head to La Renaissance to have a taste of classic French pastries, cakes and macarons. La Renaissance is easily one of Sydney's best patisseries where Head Patisser Jean Michel Raynaud and his team create all their indulgent treats on site every day. Place your order at the counter and enjoy a coffee and a fresh pastry in their Parisian style courtyard, and you'll almost forget which city you're in!
The Push
Image credit: The Push
The Push is a Sydney bar that showcases everything that's great about The Rocks. Located beneath the much-loved Russell Hotel, it is steeped in history (ask the staff about the resident ghost) and designed with plenty of character. Dining at The Push is the perfect place to soak up some of the atmosphere while you dig into a kangaroo burger or traditional English pork pie. Keep an eye out on their weekly specials where you can find great value lunches and signature cocktails.
Ananas Bar & Brasserie
Image credit: Ananas Bar & Brasserie
This French restaurant in The Rocks is flirty, sassy and full of 1920's charm and decor. The food by Chef de Cuisine, Neil Martin, is fantastic and wonderfully French, and the drinks list will turn a quick bite in to a long lunch (you've been warned). If you're more pressed for time, the 45 minute, 2-course express lunch is the way to go. Let's be honest, the only thing better than a sunny Sydney lunch in The Rocks is adding some steak frites into the mix. The space itself is lavish, which is a little bit infectious—you'll want to get a bit lavish yourself and get stuck into some bubbles while you're enjoying your lunch. And hey, why not? You deserve it.
The Rocks Friday Foodie Market
Image credit: Alana Dimou
The Rocks Friday Foodie Market is a haven for food enthusiasts and market lovers. Stroll down the streets while you're cramming your face with all sorts of deliciousness in what may be the prettiest market spot in Sydney. A melty, cheesy gozleme? Sure thing! Seasoned cured meats? You got it! Pick up something to eat to sustain you while you wander the stalls and purchase tasty treats to be enjoyed long after Friday comes to an end.
The Rocks Friday Foodie Market is on every Friday 9am – 3pm.
The Cut Bar & Grill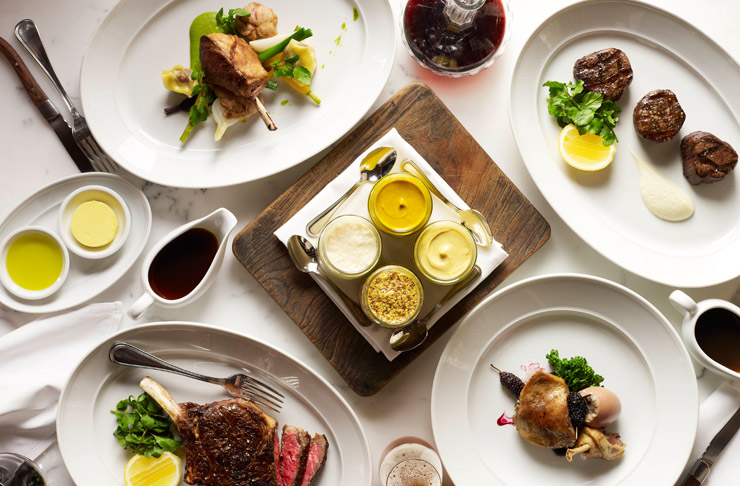 Image credit: The Cut Bar & Grill
Got a hankering for steak? The Cut Bar & Grill should be your go to for New York style steak in The Rocks. With Head Chef, Joseph Webb at the helm, you can trust that your meal is in good hands. The space itself feels opulent, which is the perfect environment for a decadent long lunch with good wines, good steaks and good company. You know… The kind of lunch where you don't need to rush back to the office. If you and your buddy are feeling particularly ravenous, the côte de boeuf is a huge 1kg grass fed steak served with two sides and sauces of your choice—delicious!
Getting to The Rocks
Hungry and keen to get to The Rocks quick smart? We hear you. Head here to find out the best way to get there.
Editor's Note: This article is proudly sponsored by Sydney Harbour Foreshore Authority and endorsed by The Urban List. Thank you for supporting the sponsors who make The Urban List possible. Click here for more information on our editorial policy.