Did you see the story recently about the deconstructed coffee? Yes, you read that right. A café in Melbourne is now serving up its milk-based coffee in three parts; one beaker of frothed milk, one beaker of espresso and one beaker of boiling water. It's a DIY latte, which is odd because I'm sure the reason people go to cafes is so they don't have to do it themselves.
Now, before I cop a barrage of clarifications, allow me to cover a couple of bases for you. Apparently, the protagonist of this story actually ordered her coffee like this before making fun of it. Also, apparently there are a few Sydney cafes that have been doing this for years.
I don't know really.
All I know is that the deconstruction of my food and beverage choices is a trend that has been doing my head in for years. Likewise, foam. Stop turning delicious ingredients into flavoured foams. If I wanted to pay for air, I would… yeah, I can't even finish that sentence because I wouldn't pay for air. It's free, guys. Free!
When it comes to fine dining, I have held mild reservations (the pun is always intended) for a number of years now and it all comes back to these questionable trends. I feel as though opting for a more sophisticated dining experience can put flavor at serious risk.
But I am pleased to say, culinary creativity without the pomp still exists, and my recent visit to Mekong in Chippendale proves it.
Sitting pretty above Kensington Street's colourful Spice Alley, Mekong is the refined counterpart of its downstairs neighbour, Lower Mekong.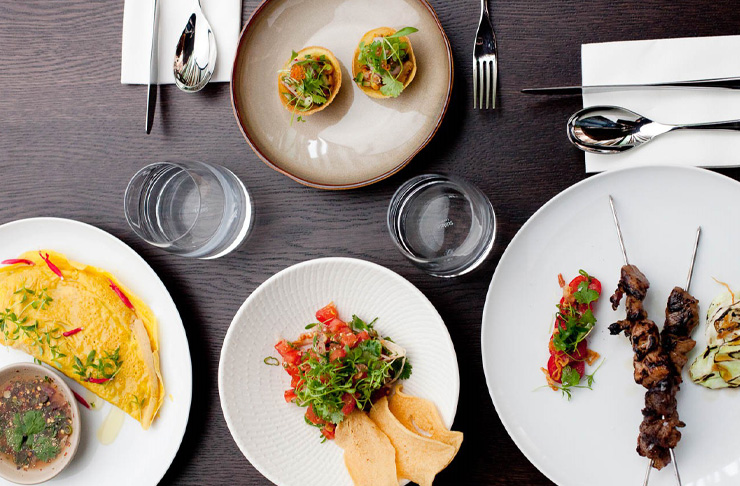 Both deliver Indochine cuisine (think Lao, Cambodian, Thai, Vietnamese) under the tutelage of head chef Tiw Rakarin, but Mekong does so with a little added polish—a comment on the intended styles of both establishments and not a criticism of 'Lower'.
On our visit, we were greeted first by restaurant manager, Ryan, who looked after us throughout the night with a good balance of not-too-familiar familiarity. His immediate affinity with my husband, a fellow red-head, helped his cause.
We then met Kensington Street's creative director Nicky Ginsberg who offered a little background. I was glad to have the insight because, I admit, I might have otherwise overlooked the intricacies of the menu, some of which are worth noting.
Like the cover, which features a Graham Kuo original watercolour, commissioned especially for the project. Or the poem that weaves throughout the menu – "you there, traveller, this shall be your map" – written by 19-year-old Lucia Nguyen, Ginsberg's very talented assistant.
"It was important to me to convey the culinary, spiritual and religious context of the journey," says Ginsberg.
"We had a lot of fun developing the brand and really fine-tuning it to align with Tiw's vision and cuisine."
Of course, to some, commissioned artworks and rhythmic poetry might be akin to deconstruction and foam. But regardless of where you stand on such arts, the food remains the star at Mekong.
The menu is "a travelling feast along the river"—that'd be the Mekong in Southeast Asia, of course—and our journey begins with baby heirloom carrots topped with spicy chilli jam and coated in pork floss, a complimentary starter with a surprise crunch.
The Thai pineapple stack with smoked salmon and caramelised onion was a tasty little morsel, likewise the coco and chick (pancake with chickpea, tomato, coconut strips and fresh chilli chutney), but of the entrees (all designed to share) it was the squid ink dumplings that impressed me most.
A highlight on the menu, both visually and to the palate, the silky black dumplings stuffed with crabmeat and prawn were beautifully complemented by a fragrant broth that I could have honestly sipped from a glass.
As we "enter mainland", the poached chicken salad with house made crispy chickpea tofu managed what no meal before it has achieved. It made me enjoy tofu.
In the "curried fields", the royal seafood amok, a Cambodian-style curry, boasted a decent kick, but I totally handled it! The "family chan", a Burmese salad including tomatoes, shallots, coriander and roasted peanuts, isn't an intended match but it was served to us concurrently and offered a fresh balance.
We decided to give two desserts a try, not because we are two people, but because my separate dessert stomach knows no bounds.
The Bangkok ice cream bowl was part delicious, part confusing. Served in a coconut shell complete with flesh (tick), the coconut ice cream was perfection and the rice and pomegranate made for a great textural touch. I could take or leave the rehydrated plum seeds and roasted peanuts, and I could do without the corn kernels, which left me slightly bemused.
The rosewater lychee mousse was pretty as a picture and tasted just as sweet. With delicately placed pieces dotted over the plate, it's about as close as our experience came to the aforementioned showiness, but with no foam in sight. Phew.
Although the food and conversation demanded most of my attention, the fit-out didn't go unnoticed, thanks largely to the gorgeous copper bar juxtaposed with striking bamboo feature panels. The pendant lights, too, are a standout and I would like some for my home please.
"As the lights go down," we conveyed our thanks to Ryan and Tiw and promise to return. It wasn't lip service. We'd barely scratched the surface of Mekong's lengthy, appetite-whetting menu and we're definitely up for another journey.
For more verdicts, check out what we thought of One Penny Red in Summer Hill.
---
Image credit: Mekong