Sydney's CBD is an awkward place for hungry people to be at breakfast time, between the serious business crowd, average coffee shops and limited brunch options. Or so you thought. The CBD is actually heaving with top-notch breakfast spots, if you know where to look that is, and oh boy, do we know where to look.
Because life is far too short for bad coffee—this is where to head for the best breakfast in the Sydney CBD.
The Grounds In The CBD
George Street
Your favourite magic garden-style cafe has opened a brand new cafe in the city and if you haven't taken the menu here for a spin yet, then it's time you did. They've switched up the formula for this outpost, with strong 1920s vibes and a roaming trolley, meaning you can fill up your bottomless cup and menu items like house-made crumpets with cultured butter and jam, or a more substantial steak and eggs (we're talking seared grain fed fillet steak with mushrooms, onions, spinach, fried egg and chimichurri).
The Walrus
Pitt Street
The Walrus is Sydney's newest CBD brunch spot and if you're a sucker for the clean designs of all things Swedish, then this one's for you. This place is serving up winners like breakfast tacos with light scrambled eggs, chorizo, creamy feta, avo and salsa fresca as well as fan faves like French toast, with roasted spiced plums, caramelised banana, flaked with almonds and maple syrup.
Pablo & Rusty's
Castlereagh Street
An institution on the Sydney café scene, Pablo & Rusty's is a foolproof option for your daily coffee fix, regardless of whether you prefer espresso or filter (they do both). The space is all exposed wooden beams, hanging plants and high ceilings, while the menu is filled with hearty winter warmers and filling café favourites. Order the XO mushrooms with carrot & konbu fondant, charred lettuce, poached eggs and crispy shallot on toast. If you don't, we will.
Bowery Lane
O'Connell Street
Can't afford a trip to New York? Same. But what we can afford is a trip to Bowery Lane where we can pretend we're in the second best city in the world, scoffing waffles and sculling flat whites. It's nestled inside one of O'Connell Street's high rises, so don't be put off when you have to walk past three times before finding the door (or was that just us?), because the ricotta stuffed French toast (an egg custard soaked brioche, stuffed with ricotta, vanilla cream, ginger maple and seasonal fruits) and the smashed avocado (with heirloom tomatoes, quinoa, creamy Persian feta, pomegranate molasses and soft poached eggs on sourdough) are well worth the search.
Dutch Smuggler
George Street
These legends have decided to nail the humble toastie and make it, well, not so humble anymore. We're talking about mi goreng toasties stuffed with super saucy mi goreng noodles and a fried egg, along with daily specials involving pulled pork, pastrami (reuben-style) and spicy chorizo baked beans. They're also serving up a killer cold brew, matcha lattes and breakfast classics like smashed avo with feta.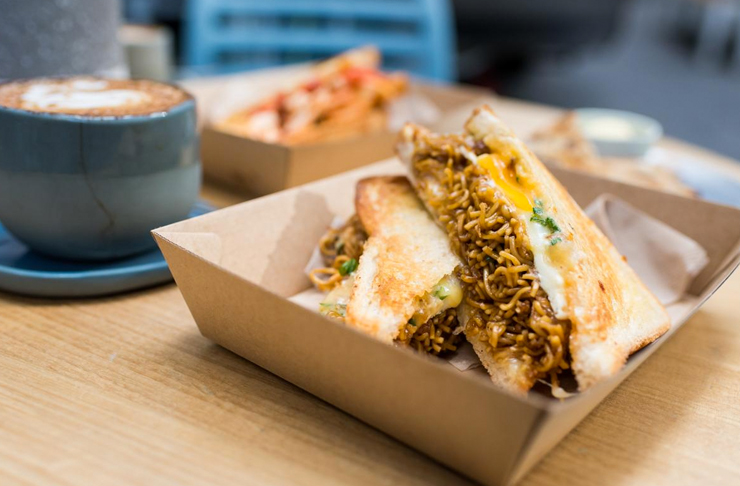 Cross Eatery
Clarence Street
Airy and light-filled are words that come to mind when strolling into Cross Eatery on Clarence Street. It's a welcome respite from the bustling CBD and the aroma of freshly brewed coffees only sweeten the deal. This place is serving up one of the best breakfasts in the CBD, and the menu has been thoughtfully created with sustainability in mind, serving things like 63˚ eggs with single origin olive oil, black salt and sourdough dippers and pearl barley and oat porridge with spiced pears poached in red wine and oat crumb.
Fratelli Fresh
Westfield Sydney
You may not immediately think of Fratelli Fresh when you hop out of bed in the morning with a hankering for eggs on toast. But that's not all they do, because they have a menu filled with classic breakfast fare, each dish featuring their signature Italian spin. Think eggs Benedict bruschetta or poached eggs, hollandaise, tomato, basil and extra virgin olive oil or avocado crostini with pancetta, tomato and ricotta on sourdough (go on, add a poached egg too). Our personal favourite is the baked truffle eggs, because truffle.
Klink Handmade Espresso
Clarence Street
It should come as no surprise, but Klink is the place to head for coffee if you have very particular tastes, because they do it all. No really, V60 pour over, cold drip and espresso are all on the cards, utilising their staggering range of single origin blends, boutique beans and their old faithful; The Golden Cobra. This is one for people who need breakfast on the go since they also serve a small range of classic toast combos. Our faves are the smoked salmon and cream cheese on sourdough, and the ricotta, honey and cinnamon.
Single Origin Roasters
Reservoir Street
As one of Sydney's most trusted coffee suppliers, visiting the Single O café is like going straight to the source, since they are one of Sydney's biggest and best coffee dealers. Their beans are on display in store and treated with the respect and awe they deserve, set in recessed porthole-style shelving along the main wall. And while coffee is most certainly the main event here, the food doesn't disappoint, with their brekkie box and next level toasties. Toasties are always a good idea, but when they involve things like provolone, truffles salami, and pickled chilli, they're even better (obvs).
Happy As Larry
MLC Centre, George Street
Happy As Larry is the brainchild of pizza food truck (also named Happy As Larry, FYI) and beautiful café Flower Child. Just like their other cafes, everything is next level 'grammable and our top picks from the menu are the acai bowls, burnt butter eggs benny, and truffled mushrooms on toast. With a coffee to go, obviously.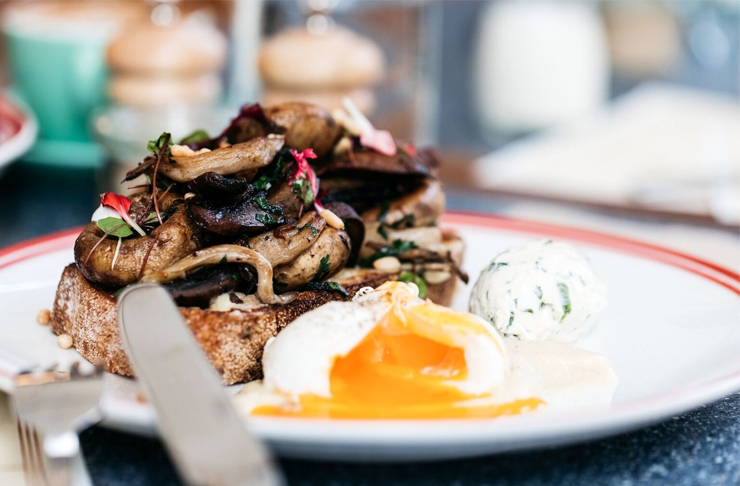 Blaq Piq
Alberta Street
They serve Five Senses coffee and brew matcha lattes like a boss, so on the beverage front that is all you need to know. But the food menu at Blaq Piq is where things really get interesting, since they serve Japanese-inspired café fare with gusto. Rightfully, their most popular breakfast dish is the pandan buttermilk pancakes, served with coconut ice cream, fresh berries, nata de coco, pecan crumble AND salted coconut sugar syrup. You can see why it's popular, right? There are also less intimidating options, like the bacon and egg roll, served on a soft milk bun with chilli jam and mayo.
Boon Cafe
Pitt Street
A Thai-inspired café by the same folks behind Chat Thai, Boon is a café and South East Asian supermarket thrown into one. Their selection of Thai drinks is staggering, with house-made iced tisanes, traditional Thai coffee and matcha as well as classic Single Origin blends for the coffee addicted among us. In the way of food, there are sweet options like fig and walnut sourdough with mascarpone and house jam and for savoury lovers, there is crab congee, the boon omelette with rice and jalapeno sriracha sauce.
Kansas City Shuffle
Gloucester Street
Kansas City Shuffle is the kind of place that makes basically everything in house, from the pillowy brioche to the butter and condiments. American diner is their food theme and you can expect to see beef brisket waffles with chilli butter, pancakes with lemon curd and cream cheese parfait and pancakes with lemon curd, cream cheese parfait, and seasonal berries. The coffee is by Single Origin, which you can grab on the go from their Little City Window, or settle in to wrap your cold fingers around before heading to the office.
Looking for foodie inspo in the inner west? Check this out.
Image credit: Bowery Lane | Federica Portentoso, Dutch Smuggler | Caitlin Hicks, Happy As Larry