If there's one thing we wish we could get delivered to our front doors hot and fresh every morning, it would be a steamin' cup of coffee. Yep, nothing quite beats a cup of joe made exactly the way you love it, be it creamed with your choice of milk, or poured straight and packed with crunchy ice for the perfect cold brew to kick off your day.
In Sydney, we're lucky to be spoilt for choice when it comes to choosing places to score caffeinated drinks. Whether you want a boiling mug of the good stuff (with extra chocolate powder), your own roasted speciality coffee beans made especially for drip filters or plungers, we've found a sling of Sydney cafes delivering right up to your front door (which means more couch time for you).
Here are all the best Sydney cafes delivering cups of coffee and coffee beans to your door.
Veneziano Coffee
These Surry Hills-based purveyors of all things caffeinated are giving you 20 percent off all online and instore coffee for home purchases over a kilogram with the code "matesrates". This applies to single one-kilogram bags or can be a mix of four 250g bags. And look, we'd be lying if we said Veneziano's coffee subscription, which gives you regular coffee deliveries straight to your door, wasn't worth your time. You'll be able to choose from a range of beans and the type of grind based on how you brew (whole beans, drip filter, espresso, plunger and even stovetop), and you can personalise delivery right down to how many bags of coffee and how often you want the delivery too.
Single O
Sydney's OG coffee legends haven't skipped a beat. These guys know caffeine is essential—and so, their exceptional coffee and breakfast fare is still available takeaway from their Reservoir Street cafe, which they've also flipped into a corner store—selling avocados, eggs, fresh-milled flour, Pepe Saya butter and sourdough crumpets. All this alongside pastries, cappuccinos and cold brew. Order your pick up on the Single O Bopple page here.
As for what's being sent to your door, as ever, Single O's ace beans are available to shop online. Try the coffee parachutes, or skill up with accessories like Aeropress or a Brewista smart kettle. We're also digging the Single O merch.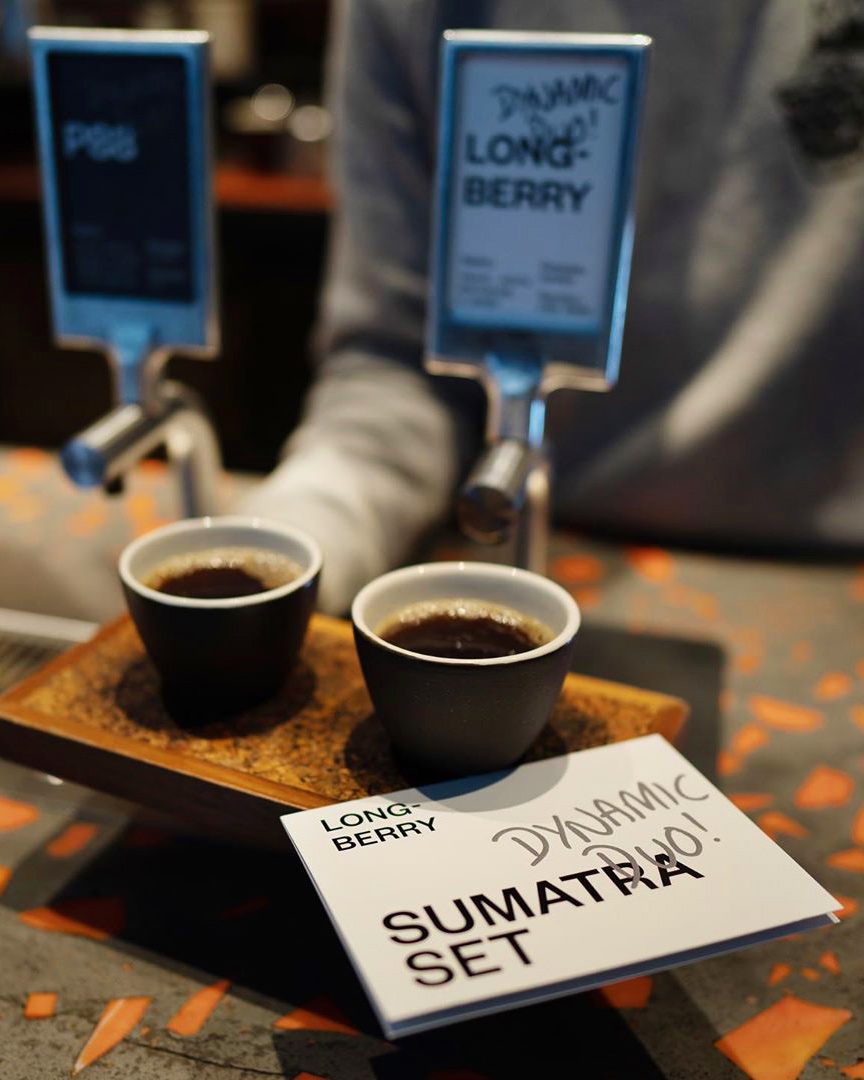 Porch & Parlour
There's no denying Porch and Parlour is a bona fide North Bondi meeting place. Helmed by travellers and gastronomes Sarah Hendriks and Sammy Smith, this institution has stood loud and proud on the bustling strip of Ramsgate Avenue for over a decade now. The team here has also launched coffee delivery through Hey You, which means you'll be able to down Will & Co coffee without actually leaving your homey sanctuary (made of pyjama times and Netflix). You can add almond, coconut, oat, macadamia and soy milk to any coffee order and there's also #303 coffee filter and cold brew if that's more your vibe.
Toby's Estate Coffee
Australian speciality coffee roaster Toby's Estate has your backs with nationwide online shipping—providing you with fresh-roasted coffee right to your doorstep (no matter where you are). There's a number of espresso blends, cold brews, coffee bags and organic teas to get into, plus all the equipment you could need if you want to try your hand at improving your barista skills and perfecting your own cup of the good stuff with filtered coffee kits, brewing pots for both hot and cold brews, hand grinders, scales, milk jugs and thermometers.
Rocker
Make your morning that much better with a coffee delivery from Rocker. From 9.30am, you can get Single O coffee in whatever way you love best alongside a breakfast feed including Rocker's ever-iconic cauliflower cheese toastie.
Daily Greens
Paddington's Daily Greens is a mecca for sustainable and zero-waste feeds. On the bevvy front, you're in for all the stops from long blacks to iced long blacks, mochas and cold brew. There's also a slew of speciality lattes including mocha lattes on ice, turmeric lattes, organic chai and even a red velvet beetroot latte. Your milk options span soy, almond, oat, coconut and the regulars.
Circa Espresso
You can rest assured that while you work from home and you're kicking the productive shiz out of your brain this week that Circa Espresso has you covered. The team here is offering free delivery of their coffee beans across Sydney. Shop here.
Seven Miles
Based on the Northern Beaches, Seven Miles has a full suite of beans available for all of us at-home baristas. From a special blend that's perfect for cold brew and a cold brew starter kit, to recyclable coffee pods and single origins, these guys have the lot. Shop it all here and ship it to your house for morning goodness.
Sample Coffee
If the limit of coffee you can consume on self-isolation does not exist, then prep your pockets for the good stuff at Sample Coffee. Its online shop will be open as usual which means you can go hard on fresh beans and home-brewing equipment so you can drink tasty coffee within your own space.
Bar Indigo
People, the coffee at Bar Indigo (one of the greatest places on earth to score brunch) is from The Reformatory Coffee Lab, so you know it's going to do good things to your soul in the morning. On warmer days, the ice coffee is an absolute go here.
The Rusty Rabbit
The Rusty Rabbit does more than just killer cheesecake pancakes, we're talking some serious quality when it comes to caffeinated drinks. On the coffee side of things, the crew here are churning out cups of long blacks, mocha, batch brew filters, cold brew and iced lattes which can all be delivered straight to your door.
And these are the best desserts to get delivered to your front door right now.
Image credit: Jayda Novak, Single O, Nathan Dumlao, Olena Sergienko, Nathan Dumla