As far as we're concerned, being cooped up inside is as good a reason as any to shake up some margaritas, crack open some Coronas and order a smorgasbord of Mexican food, right?
While we can't eat out, we thought we'd do our due diligence and round up all of Sydney's best takeaway and delivery Mexican, for your at-home dining pleasure.
Here's Sydney's best Mexican, served takeaway or home-delivered.
Bad Hombres
Surry Hills
Repping a Mexican-inspired, all-vegan menu, Bad Hombres know how to turn plant-based food on its head. Lucky for us, they're serving up a solid takeaway menu so vegans and Mexican-lovers alike can still live their best isolation life. Take your pick of starters like charred chipotle corn, tacos and nachos, mains and sharing plates, sides and desserts. There's even a dope range of bottled cocktails, natural wines, beer and cider. Order for pick up, here.
Mejico
CBD
Boasting regional flavours and traditional techniques, Mejico whips up some of Sydney's finest modern, market-to-table Mexican cuisine. Saving us from our feeble Old El Paso attempts, these guys are coming through strong with everything from tacos to corn ribs and jalapeno poppers. If you're looking for something more substantial, get onto their "Menu Box", which serves up a three-course meal for two for just $60 (menu changes weekly). Order for pick up or delivery, here.
Chica Bonita
Manly
If you're looking for a burrito of epic proportions to take your iso life from drab to delicious, look no further than Chica Bonita. Serving up bountiful burritos filled with everything from veggies, chicken, crumbed fish and steak, these guys are always a good option for an easy and cheap meal, at only $14 a pop. They also serve up a selection of Mexican bowls, tacos (hint: there's a cheeseburger taco) and margaritas if you're looking to really get the party started. Order for pick up, here.
Pazar Food Collective
Canterbury
Inspired by Middle Eastern, Mediterranean, Asian and Mexican flavours, Pazar Food Collective is leading the way when it comes to big and bold flavours. Now offering a drive-through, contactless pick up from 3.30pm until 8pm, there's never been a better excuse to eat your body weight in their famous slow-cooked lamb shoulder. Other favourites include Pazar's smoked labneh, cucumber whipped feta tzatziki, zucchini herb and feta balls, harissa spiced roast chicken and slaw. Or if you suffer from choice paralysis, you'll be pleased to know you can feed the whole household with their four-person $95 feast. Order for pick up, here.
Carbon Mexican Woodfire
Bondi
Bringing a piece of Tulum to Bondi, Carbon Mexican Woodfire uses traditional South American "parrilla" techniques to create inventive dishes, full of flavour and unique flavour combinations. These guys are coming to the rescue with an extensive menu featuring all of our favourites with a tantalising selection of nachos, burritos and tacos as well as serving up margaritas by the litre (yes, litre). To get full bang for your buck, opt for one of their fiesta packs, complete with plenty of food and booze for a certified good time. Order for pick up or delivery, here.
Rosa Cienfuegos Tamaleria & Mexican Deli
Dulwich Hill
With her culinary journey beginning as a young girl in Mexico City receiving cooking lessons from her Dad, Rosa Cienfuegos is as traditional as it gets. While you can't indulge in her mouth-watering meals, Rosa is still selling delicious handmade products and imported quality ingredients to help level up your Mexican cooking at home. Stock up on everything from tortillas, chilli powders, sauces and salsas, here.
Don Pedros
Paddington
As the home of fresh, modern Mexican cuisine and Southern Californian share style food packed with Latin American flavour, it's no wonder that Paddington's Don Pedros is a new crowd favourite. There's something for even the fussiest of households with the takeaway menu featuring starters, tacos, burritos, burgers, quesadilla, sides and desserts along with wine, beers, cocktails to help you wash it all down. The best part? Order online, here and snap up free delivery.
Fonda
Bondi
Fonda is home to some delicious Mexican street food made using quality fresh ingredients. It's easy to see how Fonda in Bondi is one of Sydney's most popular destinations for an epic Mexican feed. While we can't dine in and soak up those epic Fonda vibes, they're pulling out all the stops with their huge menu available for pick up and delivery. Get among their starters, quesadillas, burritos and salads and take your night in from zero to 100, real quick. Order for pick up or delivery, here.
Flying Fajita Sistas
Glebe
Using fresh, seasonal produce along with imported spices from Mexico and the U.S, Glebe Point Road icon Flying Fajitas Sistas takes the best of Mexican cuisine and fuses it with Western influence. Forget DIY Mexican nights, these guys have you well and truly sorted, offering up their full menu of taquitos, quesadillas, chimichangas, fajitas, burritos, enchiladas, albondigas, chips, dips and sides. Click here to view the menu and phone (02) 9552 6522 to order for pick up.
Calaveras Mexican
Newtown
If there's one thing you can count on at Calaveras Mexican, it's an electric atmosphere and some of Sydney's best Mexican fare. While we can't bask in the neon lights, tunes and good times, we can certainly try to emulate the vibes at home with their takeaway menu, complete with all of the dishes you know and love. Get around their mouth-watering $5 tacos with fish, spicy chicken, pulled pork or huitlacoche, snack on an array of starters or tuck into their tasty quesadillas and main meals. Click here to view the menu and give them a buzz to order for pick up.
Tequila Mockingbird
Paddington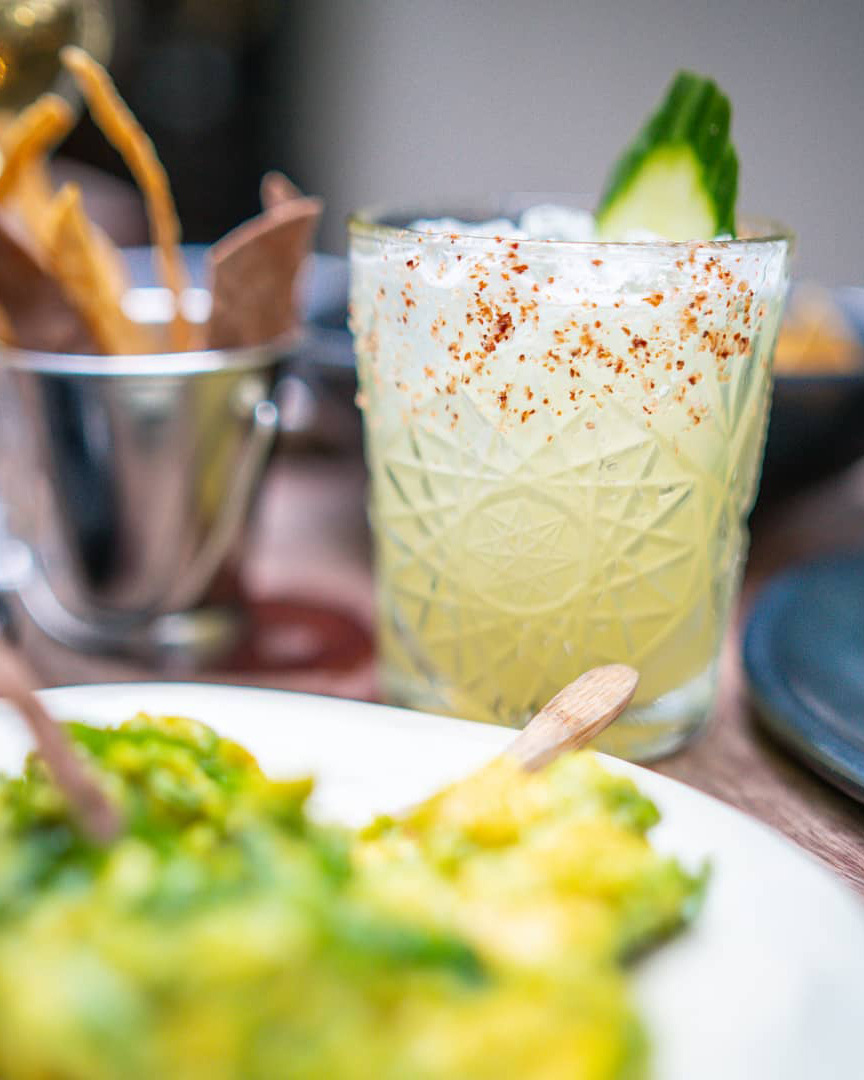 Dishing up a unique blend of Mayan, Aztec, Spanish, Portuguese, Japanese, Chinese and Afro Caribbean flavours, Tequila Mockingbird serves up one of Sydney's more diverse spins on Mexican. Get boujee at home with Atlantic salmon ceviche, espresso grilled rump cap steak and chargrilled chicken, or take advantage of their pulled pork, spicy grilled chicken or slow-roasted lamb shoulder taco boxes, which come with tomatillo salsa, guajillo salsa, diced onions, pickled jalapenos, fresh cilantro, eight tortillas and a choice of either potatoes or corn—heaven. Order for pickup or delivery, here.
Mexicano
Narrabeen
With a strong focus on locally sourced produce, high-quality meat and fresh seafood, Mexicano certainly delivers the goods when it comes to authentic Mexican dining and its a big-time favourite on the Northern Beaches. While you can't feast on their usual menu these guys are serving up daily specials on their Instagram, made up of a selection of starters, sides, burritos, taco and sometimes a couple of beers and even a bottle of wine for just $60. If you thought the deal couldn't get any sweeter, they're also offering free delivery, score. Order for pickup or delivery by phoning 02 9970 8975.
Muchacha
Curl Curl
Sharing our passion for deliciously tasty Mexican feeds, Muchacha cooks up healthy, delicious modern California Mexican food on the daily. Having recently set up a "Grab N Go" service from their storefront, you can order all your favourites like tacos, nachos, burritos, quesadillas and a range of delicious starters to enjoy in the comfort and safety of your own home. If you're not keen on the wait you can pre-order for pick up or delivery. Taco Tuesdays have never looked so easy. Click here to view the menu and phone 0450 958 978 to order.
For more Sydney restaurants offering takeaway and home-delivery, head over here.
Image credit: Kitti Gould, Bad Hombres, Mejico, Kitti Gould, Carbon, Tequila Mockingbird