Making time to catch up with mates can be tough—everyone's busy, working late, taking holidays, playing sport, saving money, or dirt poor after their big sunny European holiday.
When you do finally find the time to get together, the last thing you want to be doing is slaving over venue options in your group chat, or standing idle outside a venue waiting for a table big enough for everyone because no, this spot does not take bookings.
It's true, no one size fits all when it comes to food these days (we've all got mates that are vegan, vegetarian, gluten-free or meat-free on Mondays). Luckily Sydney's got options, and lucky for you, we've narrowed down the best restaurants that bag big vibes, big tables and wait for it—group bookings. Whether you're celebrating something big, or you and your crew are just well overdue for hangs, this list will sort you out. And if you are that friend that's saving your pennies (go you), our new Urban Feast card means you can order dessert minus the guilt.
Behold, eight of Sydney's best restaurants to catch up with mates.
Don't Tell Aunty
Surry Hills
Don't Tell Aunty is all about breaking the rules; owners and chefs Jessi and Amar Singh are plating up a very "unauthentic" approach to Indian food in Sydney. Take a culinary adventure with your friends and order cross-regional curries and flavourful fusion ideas like "Nachos of the Motherland" and "Colonel Tsao's Cauliflower", an Indo-Chinese-style fried cauliflower served with tomato and chilli sauce. We recommend ordering a round of Don't Tell Aunty's eponymous signature cocktail, made with mezcal, beetroot and agave nectar. And if someone in the group wants to skip booze, Don't Tell Aunty's fresh chaat cobbler and mango lassi are non-boozy winners.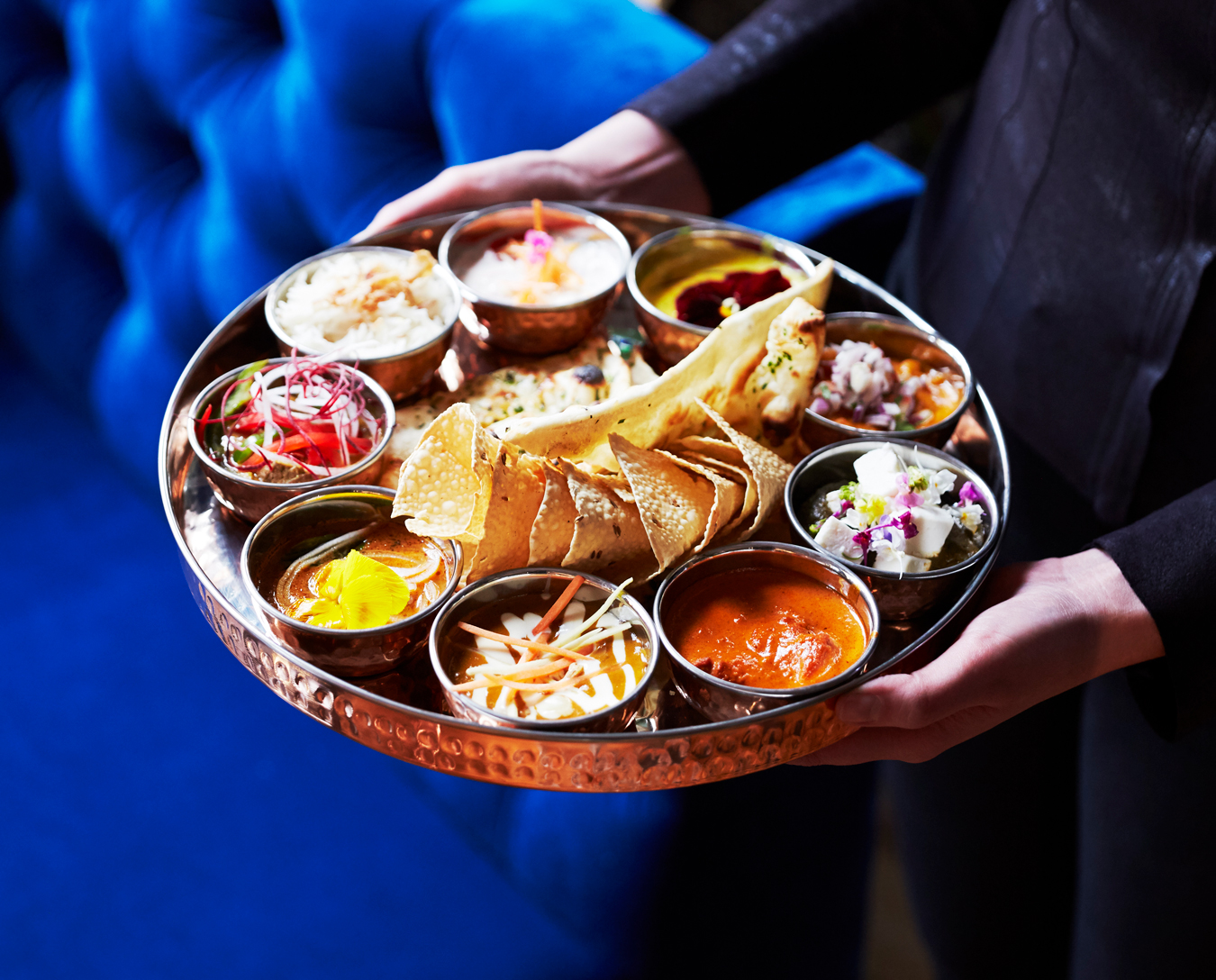 Totti's
Bondi
Now the weather's heating up, why not emanate the Italian summer you and your crew had or didn't have this year at Totti's? This beer garden turned minimalist European piazza is a Sydney favourite for a reason: the burrata, the wood-fired flatbread and the Negronis that you can order by the litre. If eating in the glorious outdoors is your vibe, book yourselves a table under Totti's 50-year-old olive tree and live the life you all deserve.
XOPP
Darling Square
Here's a new one to try. From the absolute legends that gave Sydney Golden Century and pipis with XO sauce, comes XOPP—a brand new Darling Square restaurant dedicated to those pipis and a new era for the Golden Century family. It's led by second-generation restauranteur Billy Wong and designed by his brother, Alex. With private dining spots to book that feature big tables and lazy susans, as well as a menu that features Golden Century classics plus some new ideas to try (jasmine bubble tea pannacotta and a coconut ice-cream bao sandwich, for example), this one is guaranteed to be a winner with everyone.
Bar M
Rushcutters Bay
For a catch up that's heavy on the Italian feasting, look no further than Bar M. This sprawling subsidiary of iconic Sydney CBD Italian, Machiavelli, has you sorted with a rotating selection of antipasti, hand made pasta like fettuccine duck ragu and gnocchi quattro formaggi, and plenty of space to house all your friends. What's more, their new dessert menu has us swooning.
Mary's Pitt Street
CBD
Our love of Mary's can be a tough love. We love the burgers, we love the natural wines, the beers and the vibes—we don't love the lines. If you and your friends share the same sentiment for this iconic burger hub, owners Jake Smyth and Kenny Graham have answered your prayers. Their brand new CBD outpost boasts the best of all that Mary's has given us so far (including the vegan options available at Mary's Circular Quay). It also takes bookings for 8-60 people, so you can guarantee some epic burger-filled party times with your nearest and dearest.
Toko
Surry Hills
While all things Italian have been a big vibe in Sydney for a while now—we'll always have a place in our hearts for izakaya-inspired dining and fresh, sliced-to-order sashimi. Toko in Surry Hills has been a big player in this space for years, and trust us, it has still got the goods, as well as a private dining space for catch-ups and special occasions with your crew. Order a Shimamoto sour or some sake, and you're in for a tasty night.
Restaurant Hubert
CBD
Yes, Restaurant Hubert is predominately a walk-in venue. But how many times have you and your group wandered in through its covert door, and down the secret spiral staircase lined with a collection of antique bottles only to be met with disappointment in the low-lit dining room when you're told there's, ahem, a one hour wait for a table (minimum). So, Hubert does take bookings, where you can lock in a spot to witness some live jazz, enjoy Hubert's famous French-leaning tartare, escargot XO, charcuterie and gnocchi Parisienne. We're also pretty keen on their Movies and Magnums nights at Hubert's very charming, red velvet-clad underground cinema.
Franca Brasserie
Potts Point
With foundations in classic French cooking, but a library of flavours and food stories from all the neighbouring beaches of the Mediterranean, Franca Brasserie covers a lot of ground, with a few new surprises thrown in. Book your group a table at one of the plush, wine-coloured booths and enjoy a night made up of things like spanner crab tagliatelle, corn-fed chicken with walnut and butter lettuce, and French desserts from a former Bennelong pastry chef.
While you're here, check out some of our favourite cheap date night spots.
Want to hit up all the venues in this article but can already hear your wallet screaming? That's what Urban Feast is for; if you see an icon next to a restaurant's name, then you can get $25 off your bill. Learn more about Urban Feast here.
Image credit: Don't Tell Aunty