Just when you thought you were gonna save your tax return this time round, iconic Aussie label Dinosaur Designs have just launched their stunning new collection of jewellery and homewares.
In true DD style, the 'Crystallised' collection is another ode to nature—this time exploring nature's geometry to create bold faceted pieces featuring unique geometric patterns. Think dreamy icicle-like earrings and necklaces, and dark marble-esque vases with metallic flecks that catch the light just right. Divine.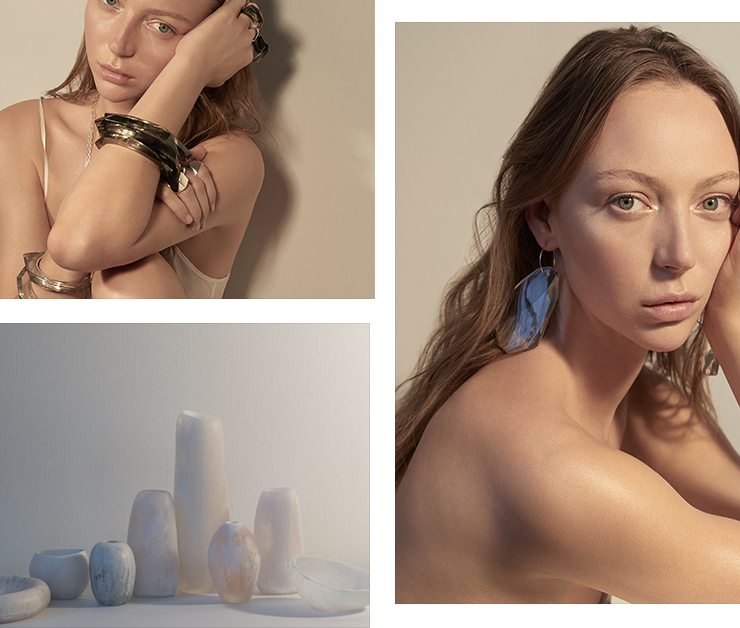 All hand-made in their Sydney studio, the collection resembles quartz, yet is made with DD's signature resin. This got us thinking, what sort of wizardry did they use to achieve such an authentic quartz look?
While magicians never reveal their secrets, co-creative director Louise Olsen shared a lil' pearl of wisdom with us on how the 'Crystallised' collection came to look exactly that.
"Crystalline swirls are achieved through the hand-mixing of the resin. The colours were very important to this collection. Smoky greys and earthy tone of crystals inspired the palette," said Louise.
"It is a form of art and science - it's all about the art of timing."
Technicalities aside, with over 20 years in the biz, it's safe to say these guys know a thing or two about creating statement pieces – for the body and the home. So whether you're after a gift that's a little bit extra, or just fully embracing the 'treat yo'self' life, check out the full 'Crystallised' collection right here.
Bye-bye money, helloooo luxe new earrings, necklaces, rings, dinnerware, etc.
The Details:


What: Dinosaur Designs' new collection 'Crystallised'
When: Available from August 15
Where: Dinosaur Designs' Sydney, Melbourne, Brisbane, New York and London stores, and online.
Image credit: Supplied.